Grant Macdonald – International Silversmith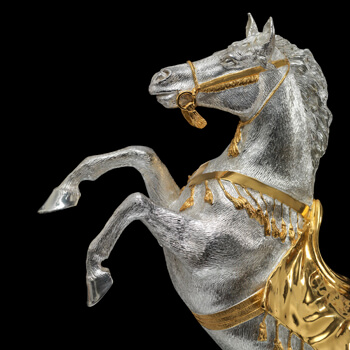 Goldsmiths' Hall, London EC2V 6BN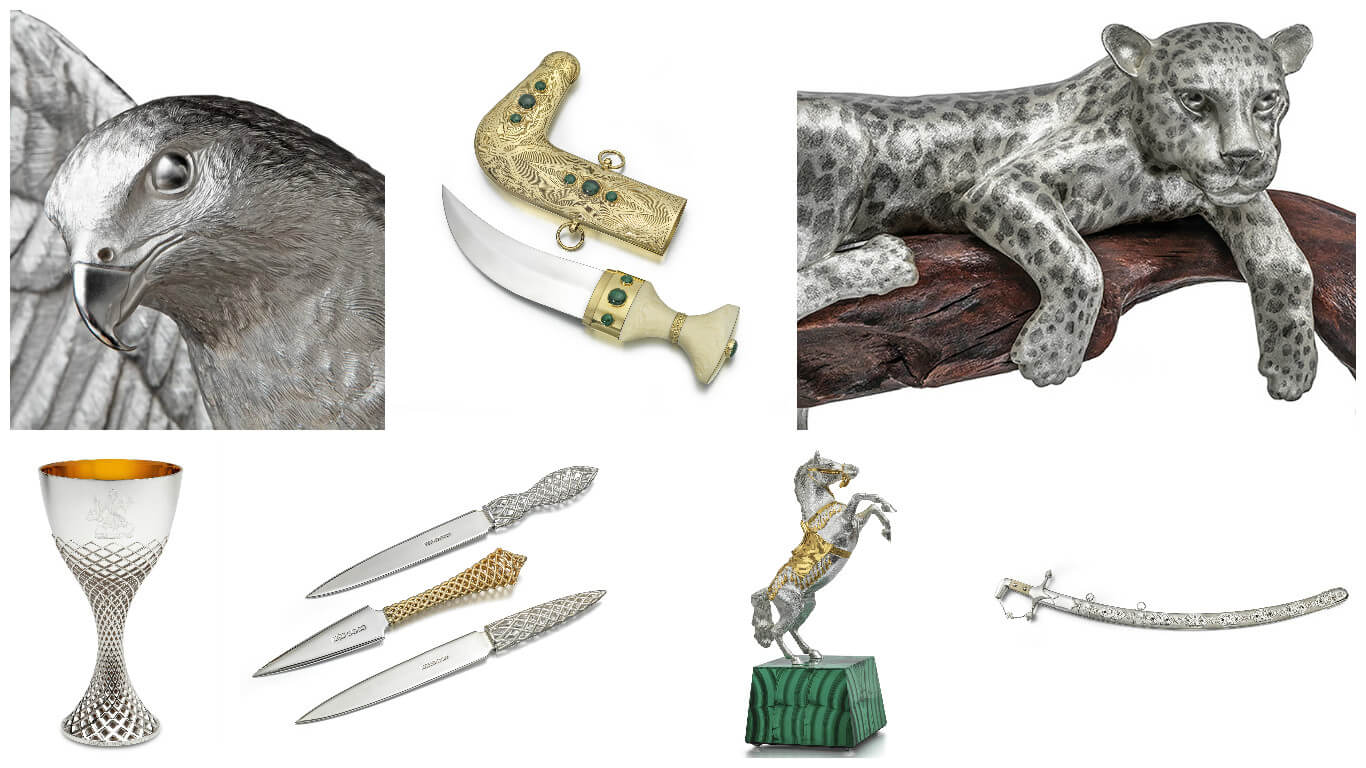 Grant Macdonald – International Silversmith
Goldsmiths' Hall, London
This glittering exhibition features exquisite gold and silver items of superlative design and craftsmanship from a leading London-based silversmith and represents decades of international export success and national achievement.
The Goldsmiths' Company is proud to present Grant Macdonald – International Silversmith, an exhibition celebrating five decades of elegant modern design and excellent craftmanship fuelled by the extraordinary creativity and entrepreneurial spirit of silversmith Grant Macdonald.
This major exhibition brings together stunning silver and gold objects designed by Macdonald to tell the inspiring story of the exceptional British craftsmanship and innovative design that is celebrated everywhere from UK civic institutions to royal palaces throughout the Gulf states of Qatar, Bahrain, United Arab Emirates, Oman and Saudi Arabia.
Specialising in custom-made silver and gold items of the highest standard, Macdonald received the Queen's Award for Enterprise in International Trade in 2006, Grant Macdonald was honoured to be granted a Royal Warrant as Goldsmiths & Silversmiths to HRH The Prince of Wales in 2016.
A master of his craft, Macdonald combines traditional silversmithing bench skills with the latest technology, such as rapid prototyping, to realise one-of-a-kind creations. His in-house team of expert silversmiths and specialist craftsmen works tirelessly to meet the challenges of the most remarkable commissions. Whilst the company bears his name, throughout his career Macdonald has openly credited his team.
"My silversmiths are dedicated to creating exquisite pieces of decorative art and domestic silver. They take pride in their skills and the company's reputation as a leader of modern British design".
The exhibition tells the story of Macdonald's wide-ranging success across a range of visual themes.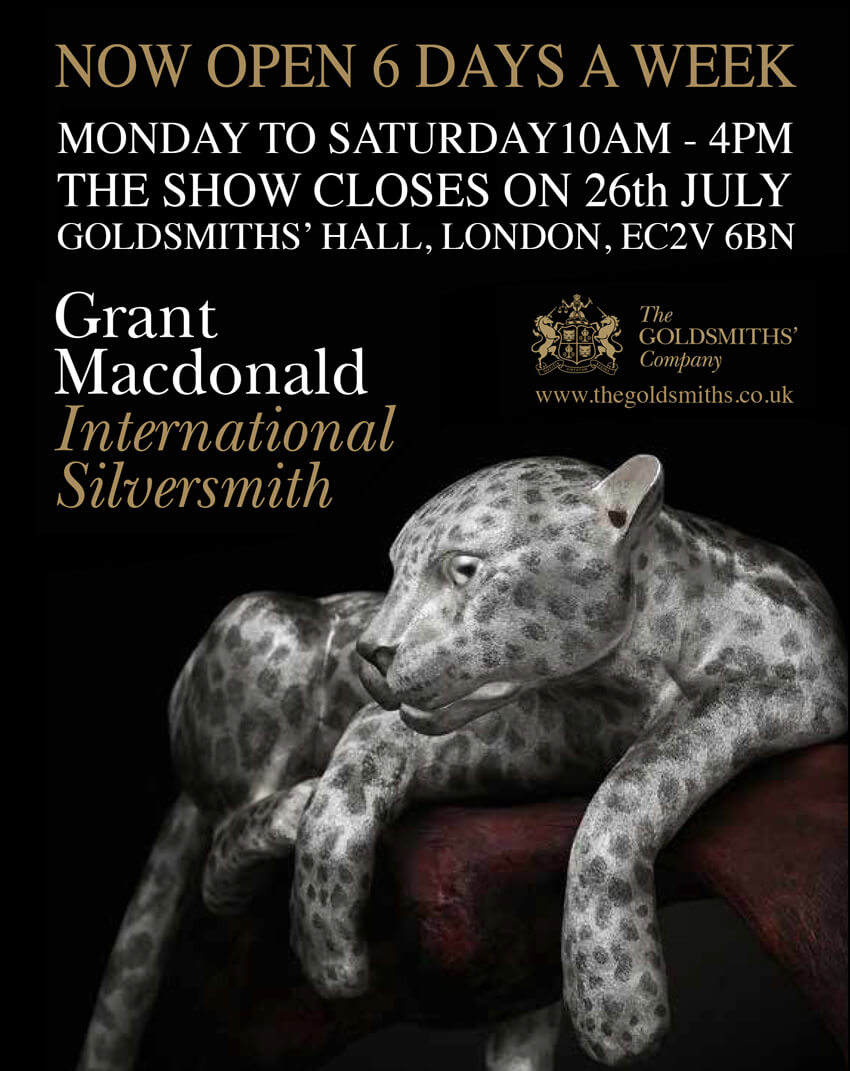 Career Highlights
The exhibition explores Macdonald's formative period as a young silversmith. At the age of 19, he undertook the commission of a large silver mace for the Worshipful Company of Barbers'. In 1977 he took over the former Southwark design studio and workshop of pioneering silversmith, Gerald Benney. This creatively fertile period sees Macdonald taking on substantial commissions such as the massive golden orb and cross for the top of the Frauenkirche for the Dresden Trust. The church was bombed by the Allies in WWII and restored to its former glory in 2005. Macdonald's shining orb and cross featured as a symbol of reconciliation between Britain and Germany.
The Arabian World
A central theme in the exhibition is Macdonald's work for the countries of the Arabian Peninsula. 96% of his workshop's current output of luxury silver and gold items is bought by clients in the Gulf states. Macdonald's sensitivity to modern Arabian culture and tradition is a key feature of his designs. His signature work evokes both the rapid modernisation and traditional culture that are hallmarks of the region whilst his use of Islamic art motifs is sensitively interpreted in a modern way.
Macdonald's contemporary designs, expressed in beautiful gold and silver items and made to the highest standards of craftmanship, are now sought after by many royal families.
In Arabian culture, the virtues of honour and hospitality are expressed through gifts. Traditional ceremonial swords and daggers have been made modern through Macdonald's stylish interpretation. The exhibition features two magnificent swords. One is a Presentation Scimitar Sword in 18ct gold, embellished with rubies and diamonds. Its scabbard and hilt are crafted and decorated in Macdonald's London workshop with its functional steel blade damascened in Russia. Traditional desert life is expertly evoked with silver models of Arabian horses, camels, oryx, palm trees and even desert forts made into elegant ornaments and clocks.
With an understanding of the hospitality at the core of Arabian culture, Macdonald designs for the complete dining experience be it for 600 guests dining in a palace, or 36 guests dining on a luxury yacht. Macdonald excels at contemporary silverware, china, glass and linen incorporating Islamic decorative motifs. Whilst the silver is made in his workshop he collaborates with specialist manufacturers of the highest standard for other items and always ensures the excellent quality and craftsmanship. Only the best will do for the Grant Macdonald client.
Product Design
Macdonald's expert collaborations with high-profile brands such as Dunhill and Aston Martin are also featured, showcasing his unique skill for creating exquisite silver items that reflect the stylish values of luxury brands.
City of London Commissions
Another major theme of the exhibition is Macdonald's longstanding collaboration with City of London Livery Companies, from whom he has received many commissions. He himself was Master of the Barbers' Company in 2000 and Prime Warden of the Goldsmiths' Company in 2008. Macdonald has made 34 Shrieval Chains and Badges of Office for Sheriffs of the City of London, 20 of which have been lent to the exhibition. In addition, he has made 29 City of London silver scroll holders presented by The Rt. Hon. Lord Mayor on behalf of the Corporation to important visiting heads of state including former President of South Africa, Nelson Mandela, and former President of France, Nicolas Sarkozy.
TUSK
Lastly just one exhibit speaks volumes.
Since 2007 almost a third of Africa's elephants have been killed by poachers for the ivory trade. Inspired to fight this horrific trend Macdonald actively supports Tusk, the pioneering charity founded to reverse the slaughter of these majestic animals. The exhibition features the beautifully designed silver elephants that are sold through the Grant Macdonald concession in Harrods with a percentage of the sales going to Tusk.
Grant Macdonald – International Silversmith is a celebration of a truly exceptional designer craftsman. His remarkable work inspires and fascinates all who see it. The Goldsmiths' Company is proud to celebrate Grant Macdonald's unrivalled contribution to the cultural heritage not only of this country but of numerous countries across the Arabian Peninsula. He is truly a modern international silversmith.
Venue
Goldsmiths' Hall, London EC2V 6BN
Exhibition Run
25 April - 25 July 2018
Open
Monday – Saturday, 10:00am – 4:00pm
FREE ADMISSION
Related articles:
Grant Macdonald – International Silversmith Hours Extended by Popular Demand
Grant Macdonald – International Silversmith
Grant MacDonald: Timed To Perfection
Grant Macdonald creates 'Ruaha' for TUSK