Curated Ears make a Comeback
Hoops are back in Back in a Big Way for 2020
1 min {{readingTime}} mins
Hoops are a mainstay in jewellery, reincarnated with new flair each season. For 2020, they've been forecasted to take front and centre on the jewellery stage, with jewellery lovers finding every excuse to wear bold styles.
The refreshed interest in hoop earrings may be a byproduct of a bigger trend for 'curated ears'. Mixing assorted hoops and studs offers fashion-enthusiasts an oportunity to be their own editor, showcasing collections that speak to their individual style.
This seasons catwalks inform the trend of the 'curated ear', with extreme examples of ears crowded with chunky hoops. Alexander McQueen's AW19 collection makes ear curation easy, creating an ear cuff (pictured above) that gives the impression of carefully selected hoops enveloping the ear. Mixed metals also prove popular this season, antique golds and silver work together to draw attention to the ear, amplifyin the editorial look. With 'punk' touted as another important reference for the season, it meets at the intersection of three key trends.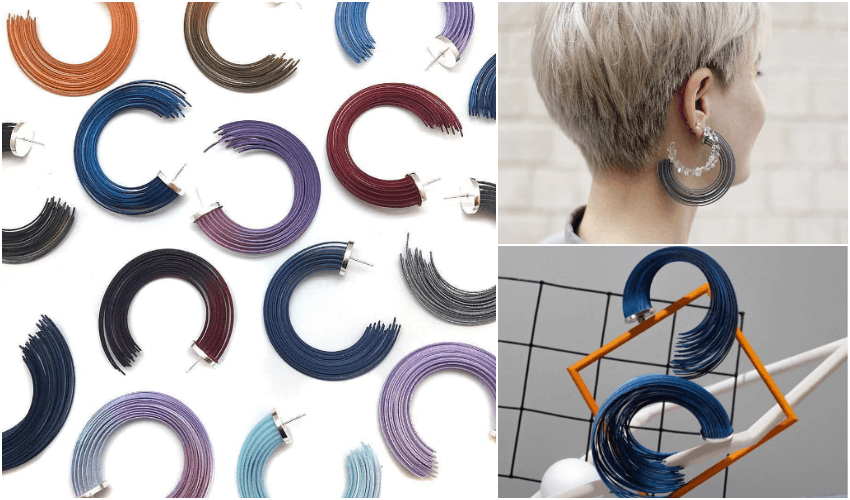 Contemporary jeweller Eve Balashova breathes new life into bold hoops with striking colourful designs (pictured above). Straying from the rigidity of metal hoops, these are created with 3D printed nylon, coloured by hand, providing texture and and movement. Unique enough to hold their own, yet a great basis for layering (as demonstrated by @Readmyjewels top right), these jolly hoops are a definite conversation piece.
Variations in shape on the classic staple, different widths, squashed circles and geometric shapes, add a modern twist. MAYA Gemstones 'Out of Office' collection reimagines the hoop earring as a paperclip, treading the line between corporate and contemporary. Elongated shapes, such as the Continuity Hoops pictured (centre top) by Alessa are poular, with more surface area for design, as well as different edges, spikes (such as the Nikos Coulis Spectrum hoops, bottom right) add a grungy edge to a glam hoop.
{{'2020-01-24T13:28:30.2531881+00:00' | utcToLocalDate }}