Freelance Jewellery CAD Designer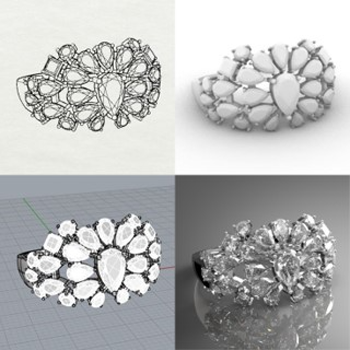 {{'2021-11-21T08:36:06.3725062+00:00' | utcToLocalDate }}
I have many years' experience within the jewellery and silversmithing industry, I am experienced in creating and preparing designs for all types of rings, setting, earrings, brooches, bangles and pendants.
I began CAD drawing as part of the design process for creating bespoke pieces for my clients and have moved on to specialising in providing one off designs for jewellers and manufacturers. I also have a volume of past designs available on CG trader.
I have experience in the 3D printing and casting process so I am able to offer services outside of the design work if required.
Please feel free to check out my Instagram page to see my previous work, and I happy to provide references from the companies I currently work with.
CG Trader; www.cgtrader.com/apmarley
Instagram; www.instagram.com/apmarley
Facebook; www.facebook.com/apmarleyjewellery
Website; www.apmarley.co.uk
Mobile; 07938450706 (whatsapp)