Top Jewellery Brands To Shop in 2020
1 min {{readingTime}} mins
When it comes to selecting your favourite pieces of jewellery, it's a bit like picking your favourite fragrance - personal.
Some will always opt for golden showstoppers, others will love nothing but silver whilst others may prefer the mix and match of bright colours and different textures.
Whilst the majority of us will vary on our top jewellery picks, what remains the same for everyone is the need for our jewellery accessories to suit our personality.
Whether you're more partial to a chic and classic style or prefer the glitz and glam of eye-popping drama, there's nothing like wearing a new pair of earrings, rocking a new eye-catching necklace or showcasing some dainty new stones on your fingers to take your look to the next level.
With hundreds of jewellery brands to sift through, trying to find a style or collection that ticks all your boxes can be time-consuming - not to mention annoying - so to make your life easier, we've rounded up 7 of our most favourite jewellery brands for 2020.
It's time to fall in love with some of the prettiest pieces to kickstart your spring with a flourish!
Wolf Circus
Wolf Circus is a line of demi-fine jewellery thoughtfully designed and hand made in Vancouver, BC. Each Wolf Circus piece is hand fabricated or cast using the lost-wax casting process.
Wolf Circus uses either recycled sterling silver or recycled bronze that is coated in a high-grade 14k gold plating. If you're looking for dainty jewellery with a bit of edge then Wolf Circus jewellery is one to watch!
From left to right: Silver chain droppers, Silver blue gemstone ring, Gold moonstone ring, Silver shell signet ring, Gold ying yang pendant
Stone and Strand
Inspired by the power of femininity and its evolution, Stone and Strand created to be the place for the modern and in-the-know woman to find amazing, beautiful, dainty little things.
Nadine, Founder of Stone and Strand wanted to do away with the boring world of high-end jewellery, as it felt dry and irrelevant for the new creative set. Instead, she saw an online space for fine jewellery, combining super-relatable customer service with a hand-picked offering of expressive, cool, and on-trend pieces.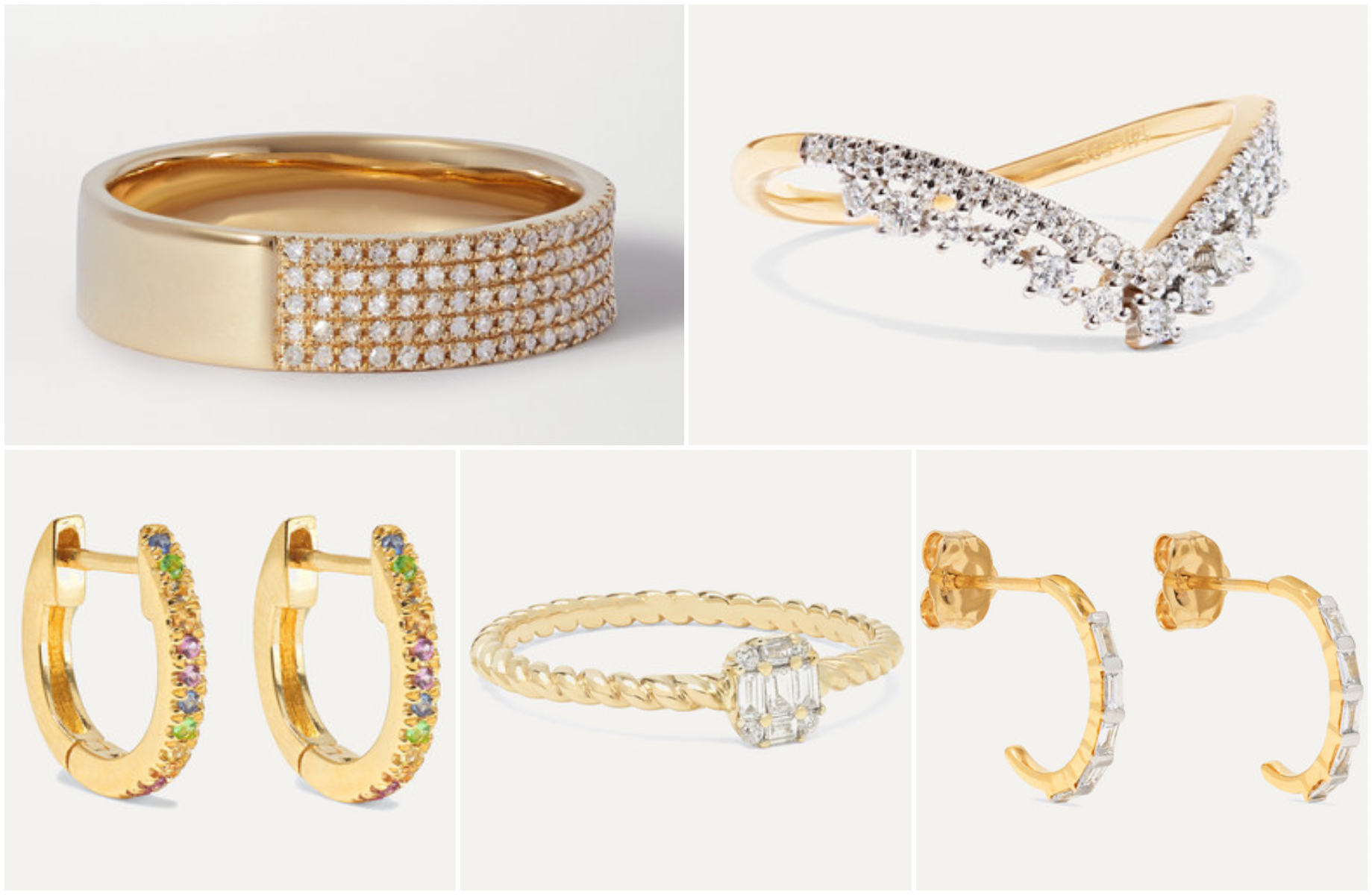 From left to right: Thick gold diamond band ring, Gold and diamond 'V' ring, Gold multicoloured huggie hoops, Gold twisted diamond ring, Gold and diamond hinged hoops
Roxanne Assoulin
The cheerful, almost childlike aesthetic of Roxanne Assoulin's recent 'Chiclet' collection has been a hitting the fashion sphere hard with many it-girls rocking the bold and daring hues.
Known for her bright beaded collections and crystal earrings, if you're looking for some injection of summer fun then look no further than Roxanne Assoulin.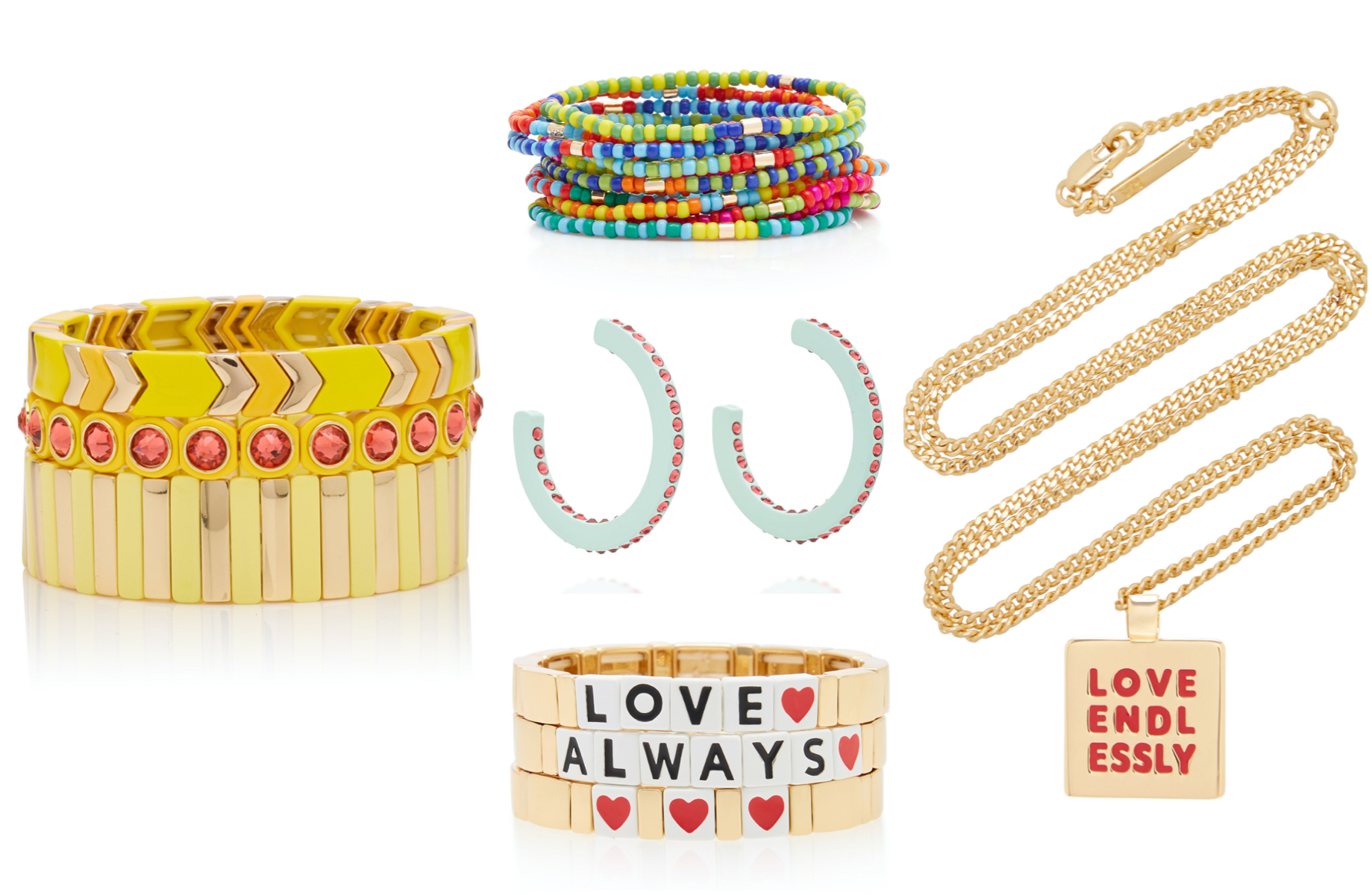 From lef to right: Yellow and pink gemstone stacked bracelets, Multicoloured beaded bracelets, Blue hoops with pink gemstones, Love always gold bracelets, Love endlessly long necklace
Alison Lou
Alison Lou is a fine jewellery brand based in New York City, inspired by the deceptive simplicity of modern communication and beyond. Most recently, Alison has added a wide variety to her core collections such as signet rings, pendant necklaces, and diamond hoops, all with enamel accents which have become a brand staple.
Arguably, one of the most in-demand pieces is her "jelly hoops" which went viral when she launched her ''' diffusion collection last year.
With a background in cyber graphics and the inspiration for her first collection born from her love for Italian pasta, it's hard not to have a girl crush on Alison Chemla!
From left to right: Gold heart square ring, Gold pink heart ring, Red gold heart hoops, Green jelly hoops, Peridot droppers
Brinker & Eliza
Founded by a mother (Brinker) and daughter (Eiza) duo, the brand's inspiration comes from their love of making things together during Eliza's childhood and collecting sea glass on the beach where they lived.
With Brinker's experience as a trained metalsmith and Eliza's education in fashion merchandising, Brinker & Eliza was born from their hope that anyone wearing their pieces feels like it was designed specifically for them. If you're looking for a unique piece handcrafted with care and natural materials, then look no further than Brinker & Eliza.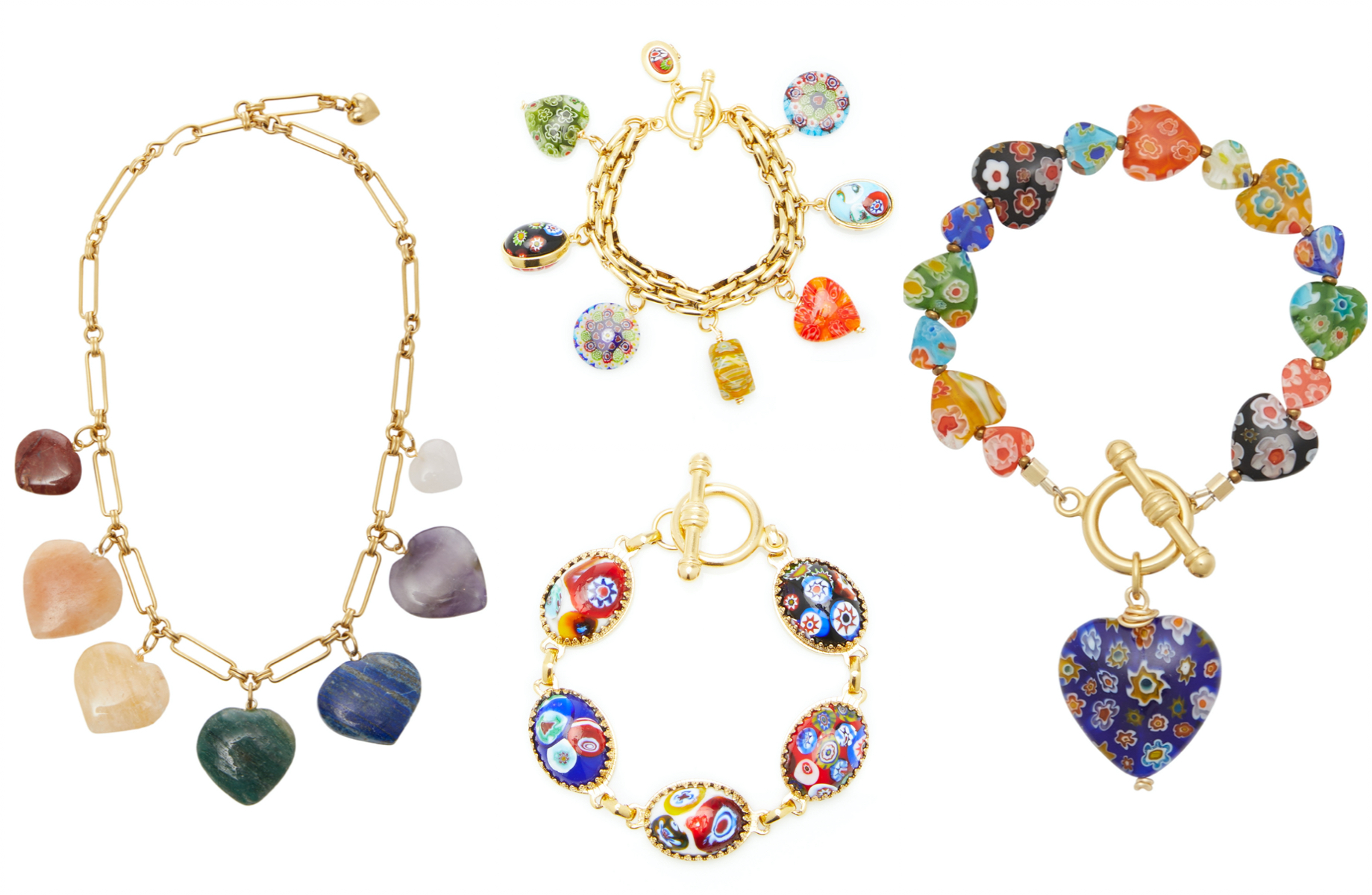 From left to right: Multicoloured heart necklace, Multi-patterned gold charm bracelet, Multi-patterned heart bracelet with blue heart dropper, Multi-patterned round bracelet
Baublebar
Already a cult hit in the US, Baublebar was born after best friend duo Amy Jain and Daniella Yocabovsky jumped on a gap in the market for affordable yet trendy jewellery. If you're looking for a jewellery brand that covets the latest trends with playful hints of colour and design then Baublebar is where you should look.
Look out for vibrant crystal embellishments and the bold beaded pieces that'll complete your spring fashion refresh.
From left to right: Gold twisted necklace, Gold and diamond huggie hoops, Gemstone encrusted huggie hoops, Pearl gold star earrings
Missoma
Leading the way in demi-fine jewellery, Missoma is run by sisters Marissa and Sophie. Inspired by nature, graphic design, architecture and interior design, the colourful gemstones and use of 18ct vermeil gold stem from Marissa's lifelong love of gemstones.
Marissa sources gemstones from all over the world including India, Hong Kong and Thailand to name a few. Missoma's latest collaboration with designer Lucy Williams includes 80s thick gold chains which tap into 2020's biggest nod to chain link jewellery.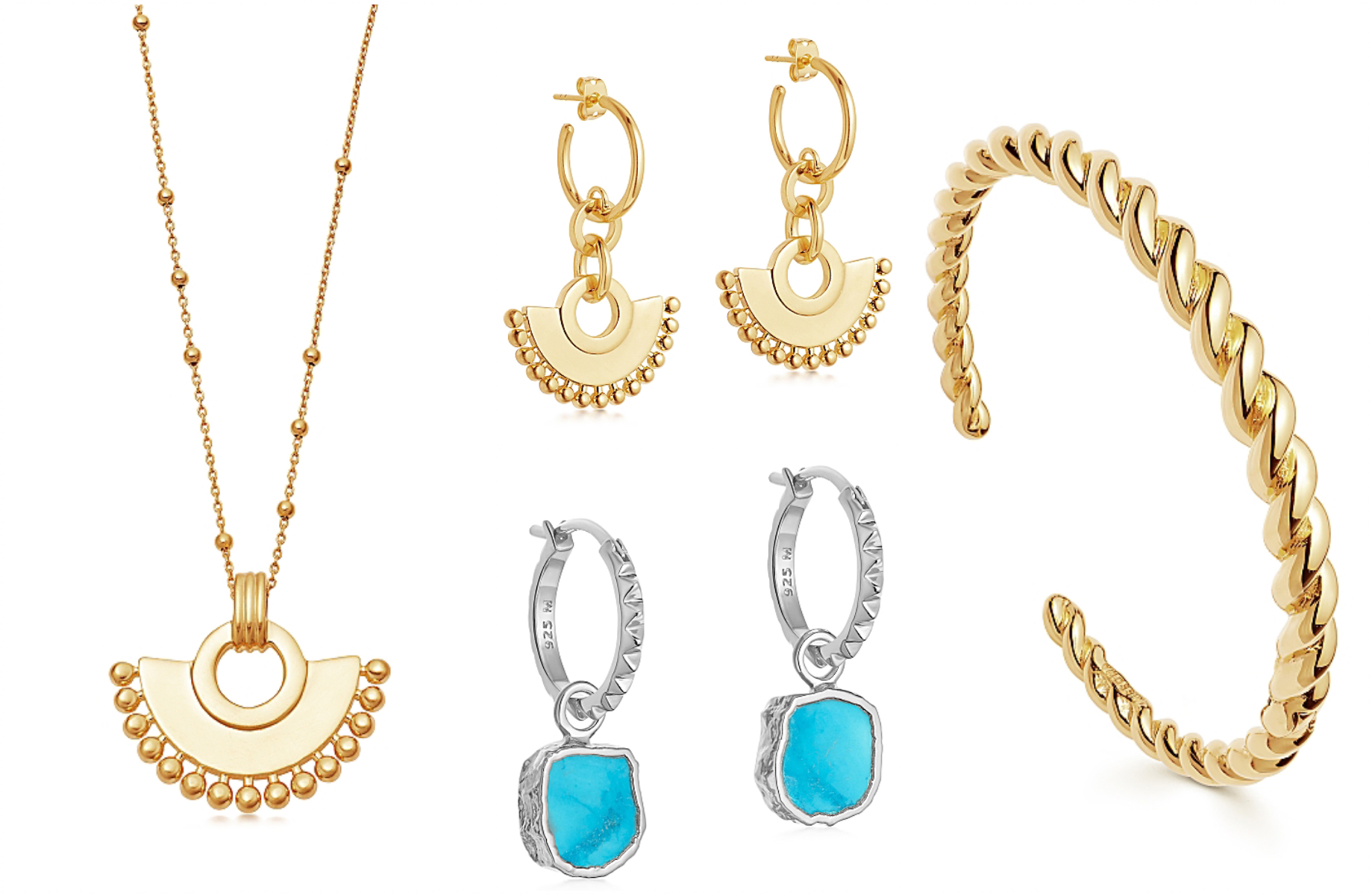 From left to right: Gold fan long necklace, Gold fan droppers, Twisted Gold Cuff, Turquoise Silver Droppers
Image and source credits: whowhatwear, cosmopolitan, harveynichols, net-a-porter, julychild, modaoperandi, pinterest
{{'2020-02-22T11:07:52.3895170+00:00' | utcToLocalDate }}