Crafting Creative Magic: Origami Jewellery
1 min {{readingTime}} mins
Beautifully delicate, light, infinetly refined and undeniably eye-catching, Origami can only be described as a touch of magical tradition folded within creative craftsmanship.
The elegant art of Japanese paper folding encapsulates not only an innovative drive of talent and imagination but an artistic way of expressing personality.
Folded, flipped and curled into a mix of precious fine metals, the fresh and charming appeal of Origami Jewellery is the inspired child of French designers Claire Naa and Arnaud Soulignac.
Influenced from the beauty of Japanese originality, these two founding partners sought to showcase the light and dreamy allure of oriental art by moulding these folded shapes into eye-catching chic adornments.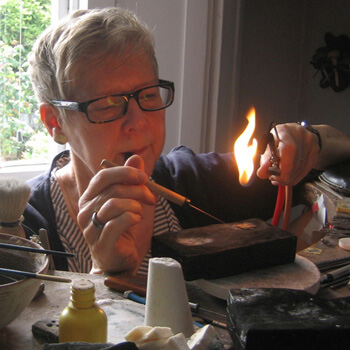 Image caption or copyright
Each piece of Origami jewellery is handcrafted to tell its own story of sleek charm and style from symmetrical geometric shapes of folded charm to shapes inspired by the natural world and animal kingdom.
Saturate your summer jewellery style with a touch of playful origami craftsmanship for some contemporary subtle seductiveness and flirty fun.
From left to right: Rose Argent Cat, Sautoirs Argent Vermeil, Argent Massif Pendant, Rose Boat Necklace
From left to right: Origami Crane Locket, Silver Paper Plane Cufflinks, Wooden Crane Necklace, Silver Paper Plane Necklace
Silver Butterfly Necklace by Hannah MacDoull​ (Top)
From left to right: Safari Swan Rhodium Necklace, Origami Silver Rhodium Swan Studs, Mini Silver Origami Charm, Cuir et Argent Origami Bracelets
From left to right: Pink Crane Origami Locket, Sterling Silver Bunny Necklace, Origami Deer Swarovski Locket Necklace, Love Heart Charm Necklace
From left to right: Magical Unicorn Necklace, Bat Necklace, Bunny Charm Necklace, Parrot Circle Necklace, Silver Crab Necklace, Swinging Parrot Charm
From left to right: Origami Little Fox Pendant, Rose Gold Cat Pendant, Silver Canon de Fusil Necklace, Silver Origami Swan Necklace, Origami Crane Studs
From left to right: Flying Swan Droppers, Gold Origami Stud Cufflinks, Stag Silver Droppers, Japanese Fabric Flower Necklace, Silver Cat Necklace
[Image credits: Pinterest, jewelstreet, thepommier, podarok, wolfandbadger, alyssiasmith, johngreedjewellery, notonthehighstreet, etsy]
{{'2017-05-05T11:13:11.9238749+00:00' | utcToLocalDate }}