International Jewellery Design Excellence Award 2019 (IJDE Award) 2019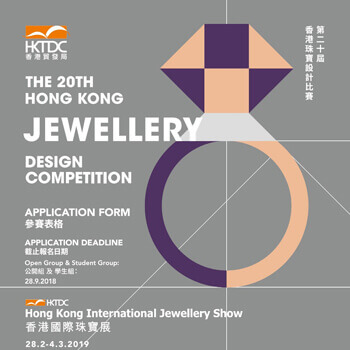 November 2018 - February 2019
International Jewellery Design Excellence Award 2019
Call for Applications: International Jewellery Design Excellence Award 2019 (IJDE Award)
To honour creative and outstanding jewellery designers from all over the world, the IJDE Award provides a platform for international jewellery designers to exchange experience and compete for the highest honour "Champion of the Champions". In 2017, this biennial event attracted 165 champions of world's leading jewellery design competitions from 27 countries and regions.
Trophy of "Champion of the Champions"
Who can apply?
Jewellery designers who have won the championship of any jewellery design competitions worldwide whose result was/will be officially announced between 1 December 2016 and 17 November 2018 are eligible for participation.
All entries must be human-wearable and contain precious metal or stone comprising gold, platinum, silver, diamond, pearl, gemstone or semi-gemstone.
Judging Criteria
Judging Criteria include Innovation, Craftsmanship, Aesthetics, Wearability and Functionability.
Prizes
Prizes include
Champion of the Champions Award (1 winner),
Aesthetic Award (1 winner),
Craftsmanship Award (1 winner),
Innovative and Uniqueness in Design Award (1 winner),
Distinction Awards (4 winners) and
Merit Awards (4 winners).
Winners will be provided sponsorship to attend the award presentation ceremony which will be held during the HKTDC Hong Kong International Jewellery Show 2019 in March 2019 in Hong Kong.
Media Exposure
The winning designs will be publicised worldwide:
Winning pieces will be featured and showcased at the Hong Kong International Jewellery Show 2019, the world's preeminent market place for fine jewellery that attracted nearly 52,000 international trade buyers each year.
Booklets featuring winning pieces will be distributed at the Hong Kong International Jewellery Show.
Coverage in Organiser's and Co-organisers' publications.
Application Details
2019 International Jewellery Design Excellence (IJDE) Award is NOW open for application until 30 Novemeber 2018.
How to Apply
Applications should be submitted on or before 30 November 2018.
Only online application would be accepted.
Click the applications form: hktdc.com
After the online registration, please submit 5 photos of your winning design(s) by email to: ijde@hktdc.org with quoting your reference number of the entry.
The 5 photos should be shoot with different angles of the entry (top-, front- and side-view would be appreciated) in high resolution (1900 x 1280 pixel in jpeg format).
Please also provide the copy of your award certificate; notification letter or any other documents issued by the organiser of the corresponding jewellery design competition to ijde@hktdc.org as proofs.
Competition Timeline
March – November 2018 - Open for application
30 November 2018 - Application deadline
December 2018 - First round of judging to select eight finalists and four merit award winners
December 2018/ January 2019 - Result announcement of first round of judging
27 February 2019 - Final judging in Hong Kong (Remarks: Finalists need to submit their actual jewellery pieces for final judging in Hong Kong)
28 February 2019 - IJDE Award Presentation Ceremony at Hong Kong International Jewellery Show
Contact
E-mail: ijde@hktdc.org
Tel: (852) 1830 668
For more information