FREE Jewellery Production 1 Course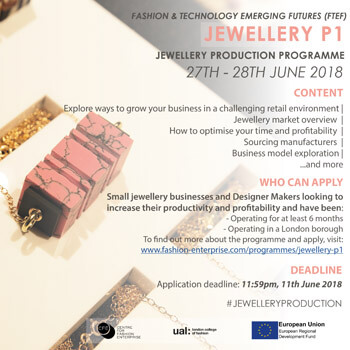 Centre for Fashion Enterprise
fashion.enterprise@fashion.arts.ac.uk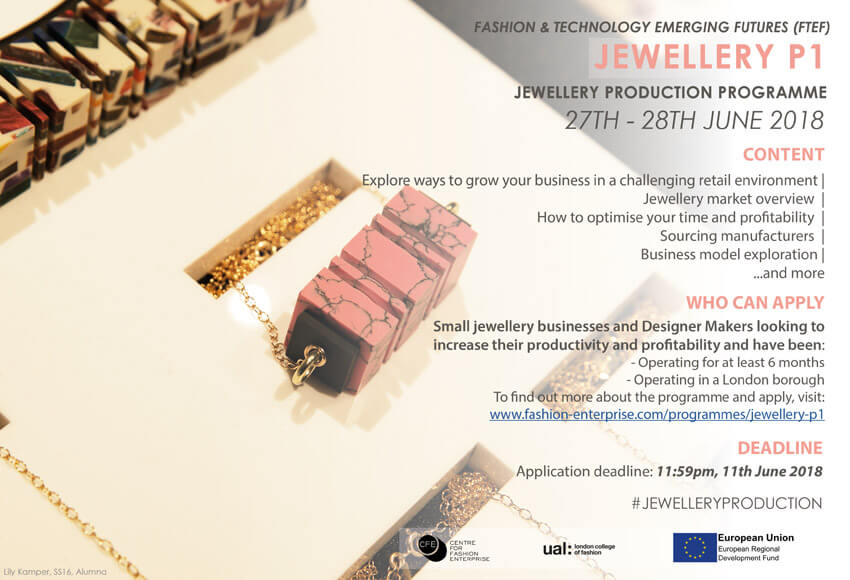 FREE Jewellery Production 1 (Jewellery P1)
Professional Development Course
Jewellery P1 is designed to support small jewellery businesses and Designer Makers looking to increase their productivity and profitability. Taking place on 27th and 28th June, this two-day intensive course will cover a range of topics designed to provide businesses with the knowledge and tools to help increase profitability, maximise time and attract new customers; exploring some of the ways in which they can extract more value from their business, without diluting their brand.
Eligibility criteria:
All businesses must be operating in a London Borough
All businesses must have been operating for a minimum of 6 months
Deadline: 11.59pm, 11th June 2018
Send all applications to: fashion.enterprise@fashion.arts.ac.uk
For More Information
Please return your completed form to fashion.enterprise@fashion.arts.ac.uk before the deadline.
If you have any further queries, feel free to contact the programmes administrator on 020 7514 8375.