Call for Applications: Top Drawer | Craft 2017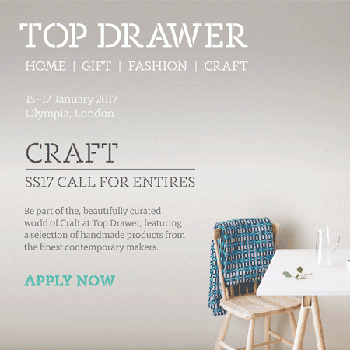 Alis.Clement@clarionevents.com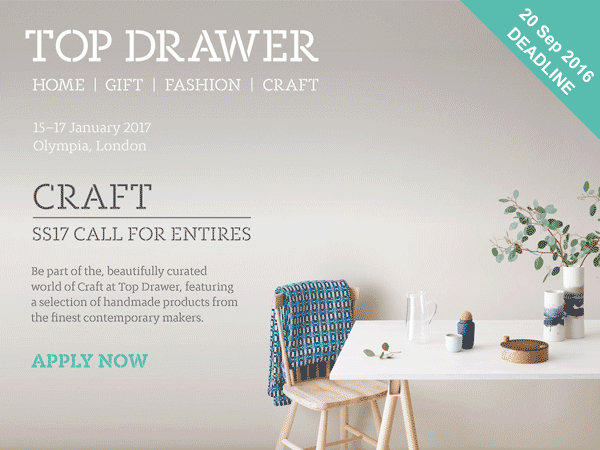 Call for Applications: CRAFT | Top Drawer SS17 Edition
January 2017 sees the return of Top Drawer | Craft for its fourth edition, introducing leading designer-makers to professional retailers, galleries and museums as they make their first buying decisions for the year.
This is an international opportunity to showcase your unique work at the UK's fastest growing trade event for contemporary makers here in the heart of London.
The number of applications is likely to exceed the space available. Makers and groups are encouraged to apply from a broad range of disciplines including: ceramics, glass, jewellery, fashion, textiles, mixed media, furniture, metalwork, sculpture, woodwork and prints.
"Due to the contacts we have made through Craft, our creative business has grown from strength to strength. It has provided us with a regular income and the confidence to grow our business – our sales continue to increase year on year." Returning Craft exhibitor, Matthew Adkins, Glass Relief
All individual and group stands benefit from a comprehensive package, including a ready built stand, carpet and lighting, plus free marketing support. Crafts Magazine and Ceramic Review are amongst the key media partners supporting this event.
How to Apply
For more information, please contact Alis.Clement@clarionevents.com or call +44 (0)20 7384 7959
For further details and to download your information and application pack:
www.topdrawer.co.uk/craft-call-for-entries
** Apply now to choose your preferred location and take advantage of the full marketing campaign.
Application Deadline
Call for entries close on Tuesday 20 September 2016.
Please note that there is limited space available and stand locations are allocated on a first-come-first-serve basis**
Further Information
Top Drawer is the UK's leading international design-led trade event; with over thirty years' experience curating an impeccable cross-section of products from the finest brands and designers across Home, Gift, Fashion and Craft.
Show Dates
Top Drawer | CRAFT AW16 Edition
11 – 13 September 2016 │Olympia, London
Top Drawer | CRAFT SS17 Edition
15 – 17 January 2017 | Olympia, London