Call for Applications: Jewellery Production 1 2018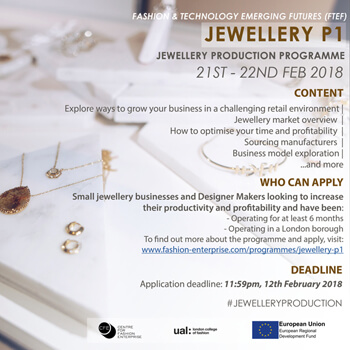 21st & 22nd February 2018
Centre for Fashion Enterprise
fashion.enterprise@fashion.arts.ac.uk.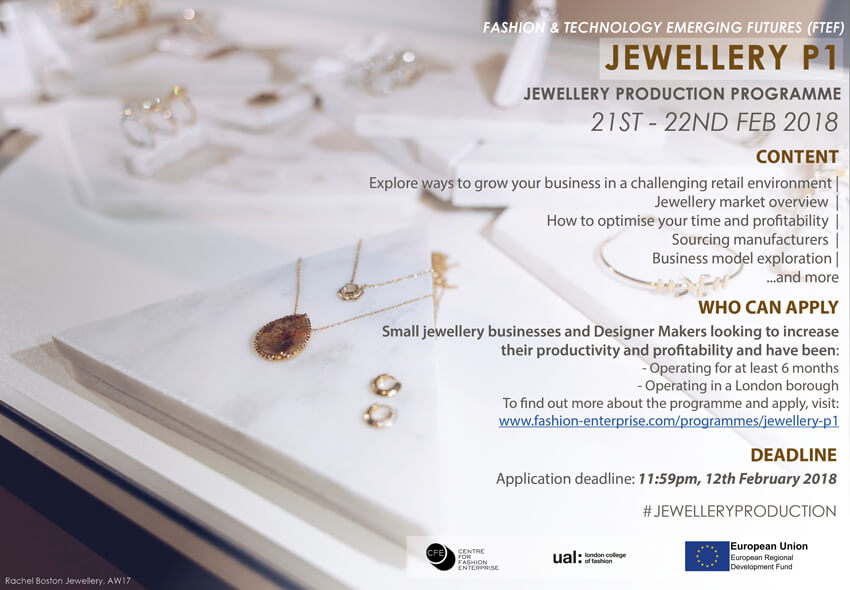 Call for Appliations: Jewellery Production 1
Jewellery P1 will empower small designer-maker businesses to ready themselves to work with larger scale suppliers. Topics covered will include sourcing manufacturers, costing and business model planning.
The Programme is open to jewellery businesses who:
have been operational for at least 6 months
are operating in London
are looking to sell to larger stores and/or increase production capacity and profitability
Application deadline: 12th February 2018
Workshop Dates: 21st & 22nd February 2018
Eligibility criteria has changed across all our programmes, so if there are businesses who hadn't been operating long enough to apply to programmes previously may find they are eligible now!
Link to programme is hyperlinked and applications can be sent to fashion.enterprise@fashion.arts.ac.uk.
Centre for Fashion Enterprise
www.fashion-enterprise.com