Initiation 2018-Kallichoron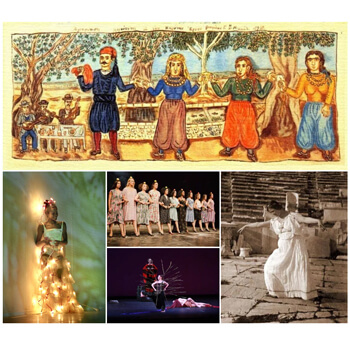 Open Call for Munich Jewellery Week
8 - 11 March 2018
Call for Aplictions: Initiation 2018-Kallichoron @ Athens Air
Munich Jewellery Week 2018
Initiation 2018 – Kallichoron addresses international artists working in the field of jewellery regardless of their knowledge of or connection to Greece or/and Greek culture.
Initiation 2018 – Kallichoron includes an Artist Residency program with curated visits to sites/museums' collections relevant for jewellery artists, intensive workshops on ritual dance/performance/story telling + media work in Athens, as well as a following group show in a down town Munich venue during the Jewellery Week, 8 - 11 March 2018.
Initiation 2018 – Kallichoron is our fourth project for Munich Jewellery Week. We are visual artists Christoph Ziegler and Loukia Richards aka ZLR Betriebsimperium Hamburg.
About the Project
The project Initiation 2018 – Kallichoron focuses on "Body – Ritual – Narrative" as a means to bridge jewellery with the context of its origins and to foresee its future development. No previous knowledge or skills regarding dance, body movement or performance are needed to participate in our project.
Like our previous projects, Initiation 2018 – Kallichoron represents an holistic approach to jewellery and aims at retrieving valuable associations that will boost the participants' knowledge of the medium – thus adding depth, insight and meaning to their work.
We believe that only meticulously designed and curated shows with innovative concepts, daring exhibition staging and a perfectly interacting team have a raison d' etre at MJW and reach the international audience interested in works and proposals beyond the obvious that visit Munich's major jewellery art event every year.
In Initiation 2018 – Kallichoron we add the element of a more dynamic approach to jewellery by focusing and taking creative care of its sine qua non element: the body. We think it is essential for artists working with a medium that is linked to the body to know how they can use movement to make the most out of their work – regarding both designing and displaying it. We also think that the discoveries they make at the dance and performance workshops deserve to be put in words to tell the story behind the symbolic.
How does it work?
You come to Athens between mid October 2017 to mid February 2018 for the Artist Residency: a series of curated visits to important sites and museums' collections and intensive workshops on Ritual Dance/Performance/Story Telling and Press Work.
Practical details
The project is also "holistic" in terms of logistics, because room, breakfast, workshops, curated visits and show participation plus promotion and PR/Press work are included in the fee.
Why Athens?
Athens is a city inhabited non stop since 3,000 BC. It is a vibrant Eastern Mediterranean metropolis with an amazing street beat!
It is THE place to be for international artists and designers right now, as the Greek capital attracts creatives, artists, designers, gallerists and curators from all over the world after the successful co-hosting of DOCUMENTA 14 (April 9 to July 15, 2017).
Athens museums display some of the most impressive ancient and medieval jewellery collections that next to their complex motifs and concepts are also technological riddles to resolve.
Initiation 2018 – Kallichoron at Munich Jewellery Week offers:
Participation in the group show INITIATION 2018 – KALLICHORON at Munich Jewellery Week (8-11 March 2018).
Original exhibition design and staging of exhibition opening event.
Professional placement of objects and lighting effects (optional).
Print/digital invitation
Project website featuring artists and works.
Communication and PR/networking services through the international Press/social media/partners and sponsors/mailing lists.
Professional advice on design/sales/promotion issues.
A Six-Nights/ Seven Days Artist Residence in down town Athens/Greece in flat/atelier on given dates between mid October 2017 – mid February 2018 (Options: shared room- two beds w.shared bathroom or single room w. shared bathroom or whole flat). Breakfast.
Customized visits of very important art and jewellery collections in Athens with on the spot lectures on symbols, techniques, history, meanings, uses of jewellery and additional insight on ancient Greek and modern culture, social practices and metaphysical beliefs.
Customized tours of archaic/ancient/medieval Athens topography — including fabulous archeological sites and modern day secret addresses. Insider tips for spots and venues of interest to contemporary jewellery artists and designers.
An intensive workshop on Ritual Dance and Movement.
An intensive workshop on Performance, Symbols and Rituals.
An intensive workshop on Story Telling and Media Work.
Professional advice on possibilities to exhibit in Athens/Greece. (Optional)
And much more.
For more information go here
For more information on our previous jewellery art projects, please visit:
www.initiation2017.com
www.myths2015.de
www.testdrive2016.tk
www.leaveyourcrisis.com
www.zlr-betriebsimperium.tk
For further information, please contact