Handmade Oxford 2018 Emerging Talent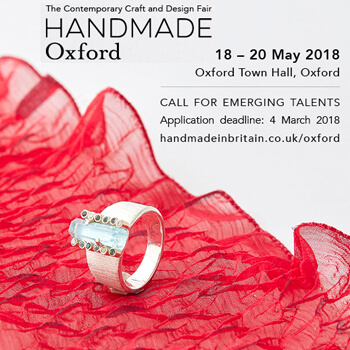 Friday 18 May to Sunday 20 May 2018
nicola@handmadeinbritain.co.uk
Call for Applications: Handmade Oxford 2018 Emerging Talent
Handmade in Britain would like to welcome you to the first edition of Handmade Oxford, the contemporary crafts & design fair at the elegant and historic Oxford Town Hall.
The event will take place from Friday 18 May to Sunday 20 May 2018, with a private view evening reception on Thursday 17 May.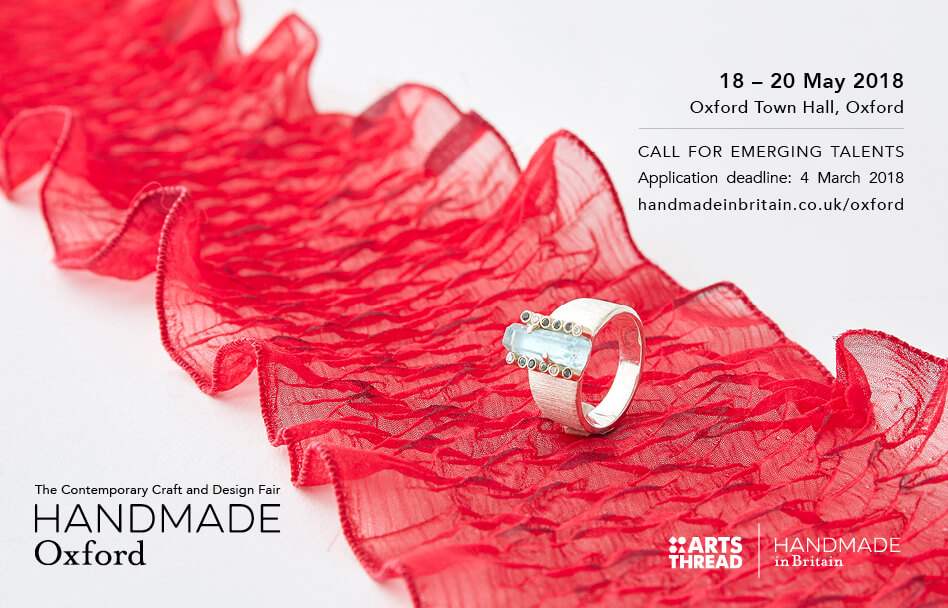 For the past decade, Handmade in Britain's shows have become the top contemporary craft selling events for designer makers in UK. This three day showcase sees the industry's biggest talents exhibiting alongside new graduates and emerging designer-makers. With innovative design alongside truly exceptional craftsmanship, visitors are treated to a unique event, set to the beautiful backdrop of Oxford Town Hall. The Town Hall is located at the heart of Oxford. It is a centre of local government in the city and also houses the Museum of Oxford.
The event targets and appeals to an informed and highly motivated audience of local and UK consumers, collectors and aficionados as well as a select audience of professionals;
including those who represent corporate and public sector buyers. The consumer audience includes local residents; tourists; shoppers and craft/design collectors. Selected press, trade buyers, media and VIPs are also invited to attend.
Handmade Oxford welcomes applications from individual makers, groups and galleries of contemporary craft working in the following disciplines: furniture, metal, ceramics, glass, jewellery, textiles, woodwork, paper and sculpture.
To Apply
Please see the application pack for more details and apply online at www.handmadeinbritain.co.uk/oxford
Event Dates
18 - 20 May 2018
Application Deadline
The deadline for Handmade Oxford applications is 4 March 2018