Call for Applications - Handmade Chelsea 2021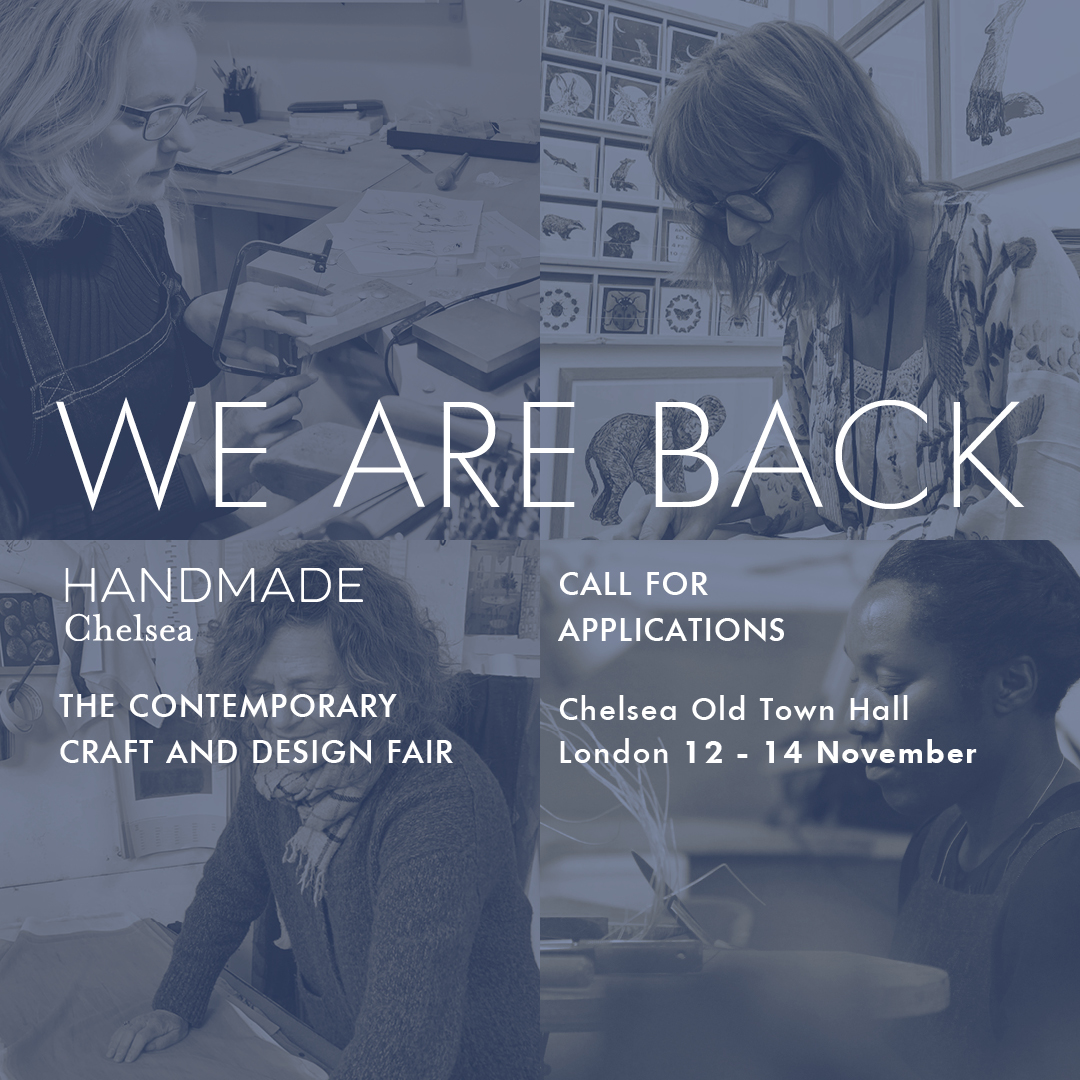 Chelsea Old Town Hall, King's Road, Chelsea, London SW3 5EE
https://www.handmadeinbritain.co.uk/event/handmade-chelsea-the-contemporary-craft-and-design-fair/#Tickets

Call fro Applicarions: Handmade Chelsea
12 - 14 November 2021
Chelsea Old Town Hall, King's Road, Chelsea, London SW3 5EE
Curated and organised by Handmade in Britain since 2007, Handmade Chelsea is an established high-end craft and design fair that celebrates the very best of British craftsmanship. Featuring over 100 of the most exciting international and UK-based designer makers who work across a wide range of disciplines – from glass and ceramics, jewellery and fashion, prints and textiles, to sculpture and wood – Handmade Chelsea has unique, eye-catching craft to suit all tastes.
This year, Handmade Chelsea will take place in the form of a dual-model. For the first time ever, those wishing to take part in our event will be able to do so both in-person at the beautiful Chelsea Old Town Hall and/or digitally through our dedicated online platform.
Handmade Chelsea Fair
Friday 12 – Sunday 14 November 2021

Held in the iconic Chelsea Old Town Hall

Shop for unique handmade items across the Christmas gift-buying period.

Meet designer-makers face-to-face and commission bespoke items.
Handmade Chelsea Online
Wednesday 10 – Sunday 14 November 2021

Held on a customised and easy to use platform

Interact with exhibitors, watch live demonstrations, attend talks programs, and shop for unique products from anywhere in the world.
This is an exceptional opportunity for designer-makers to make the most out of the Christmas gift-buying season by showcasing their work to an informed and craft-loving audience in the very heart of affluent London.
12 - 14 November 2021
Thursday: Opening times TBC
Friday/Saturday: 11am - 6pm
Sunday: 11am - 5pm
For more information, and to apply, click here.