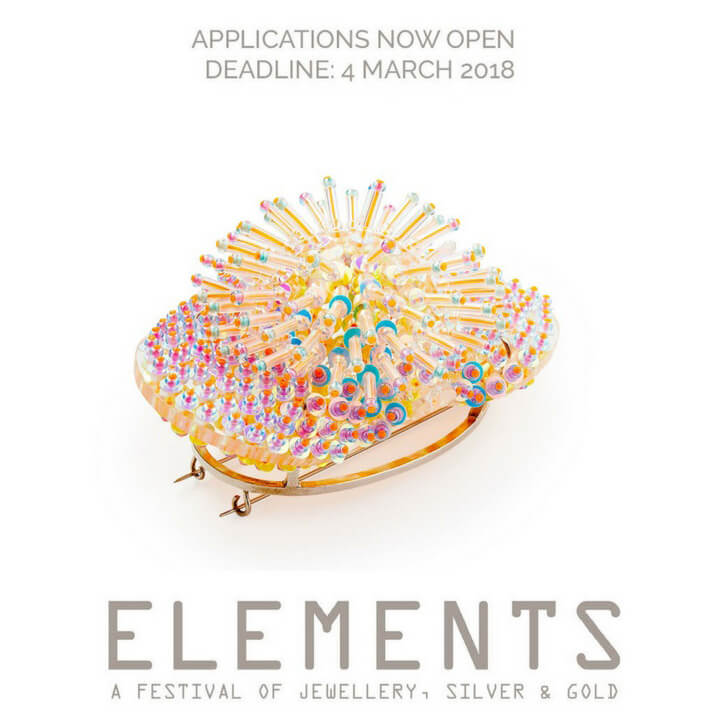 Lyon & Turnbull, 33 Broughton Place, Edinburgh, EH1 3RR
The Incorporation of Goldsmiths
info@elementsfestival.co.uk
Call for Applications: Elements 2018
Elements: A Festival of Jewellery, Silver & Gold is returning to Edinburgh from 19-21 October 2018.
Following the great success of its first three years, Elements 2018 will see the finest jewellers and silversmiths from across the UK come together for Scotland's only selling fair of contemporary jewellery and silver, an exhibition, and a series of events.
Where
Lyon & Turnbull, 33 Broughton Place, Edinburgh, EH1 3RR
When
19-21 October 2018
Application Deadline
Midnight, 4 March 2018
Eligibility requirements
To be eligible to exhibit at Elements, you must meet the following criteria:
Currently living and working in the UK
Be available to attend your own stand for the duration of the Fair
Represent yourself, sell only your own work, and not act as an agent for others.
A range of materials and styles are welcomed, but work sold at the Fair must:
Be made of precious metal (other materials can be included)
Be compliant with the 1973 Hallmarking Act
Be made up of individual or small batch production
Be compliant with the current restrictions regarding CITES and materials that require licences or are prohibited.
To Apply
Download the application form at www.elementsfestival.co.uk