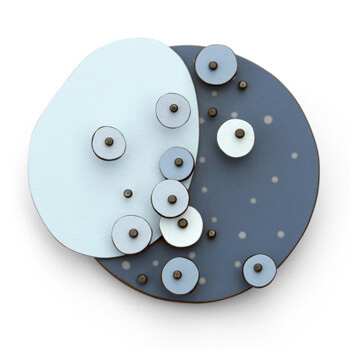 Gill Wing Jewellery, 182 Upper Street, London N1 1RQ
info@gillwingjewellery.co.uk
Call for Applications: Beyond The Blue
"Any colour as long as it's blue"
A colour once more precious than gold, blue pigment, has been highly prized as a status symbol where owning and displaying paintings in this intense shade was an opulent sign of wealth.
The original Ultra-Marine blue pigment was only achieved precious lapis lazuli from Afghanistan where it's first use was seen in cave paintings.
The natural mineral was so vivid it was believed to be a piece of the sky fallen to Earth. Falling in love with blue over and over again, we are celebrating this captivating
colour by showing the work of a range of artists using blue in a special piece of jewellery.
Open Call
Gill Wing Jewellery would like to invite jewellery designers and makers to apply with a piece of their own Blue Jewellery to be featured in our show, Beyond the Blue.
The exhibition is planned to run through July and August 2017 here at our Islington jewellery gallery with pieces for sale for the duration.
To Apply
For your submission we require:
Name & address
Your contact details
A link to your website
Artist statement about you and your work (300 words max)
High quality images of your BLUE jewellery piece or pieces as a j.peg file saved with your name and description of your piece
Your wholesale price of the piece
Please send your application via email to: info@gillwingjewellery.co.uk with the subject header "Blue Exhibition".
Application Deadline
Applications are open until 7th May 2017.
Venue
Gill Wing Jewellery, 182 Upper Street, London N1 1RQ