All That Glitters: Britain's Next Jewellery Star - Series 2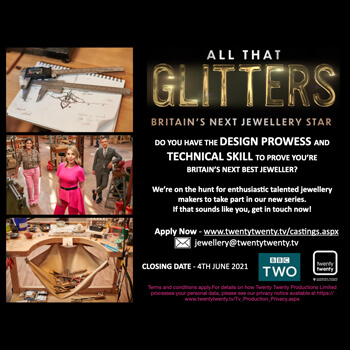 Twenty Twenty Productions Limited
www.twentytwenty.tv/casting/all-that-glitters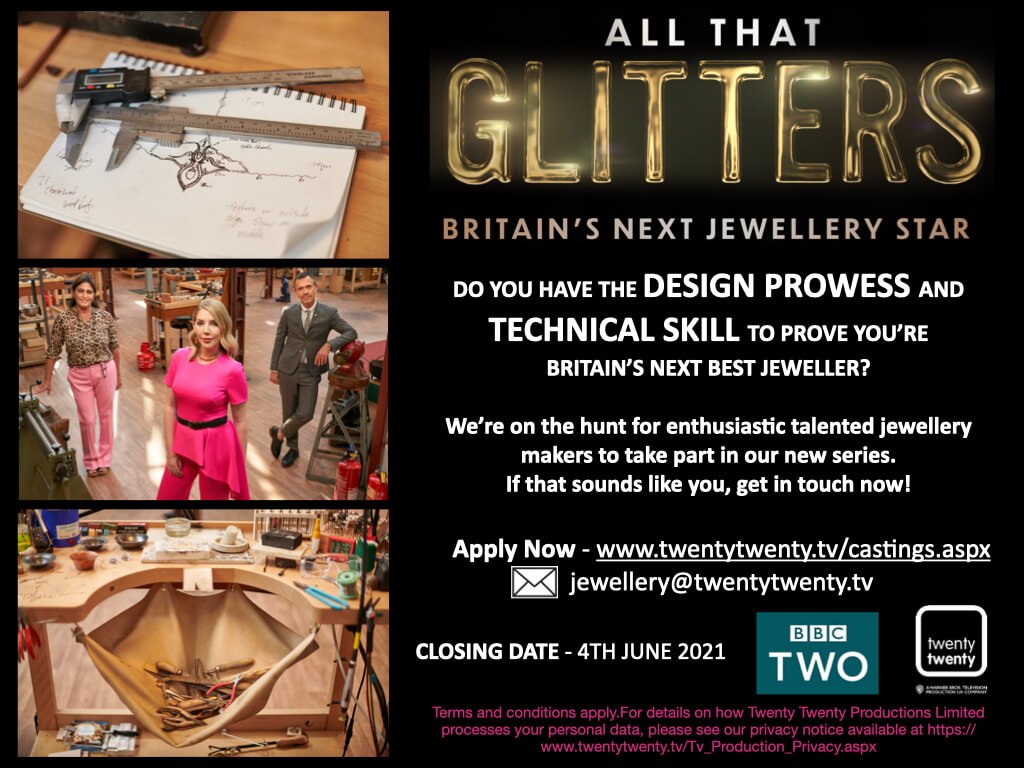 Call for Applications: All That Glitters: Britain's Next Jewellery Star
- Series 2
Twenty Twenty Productions Limited are responsible for making award winning programmes such as First Dates, The Choir, A House Through Time and most recently BBC's Two's brand new show, All That Glitters: Britain's Next Jewellery Star and they are on the hunt for people to take part in the next series.
The current series is presented by Katherine Ryan and judged by industry experts Shaun Leane and Solange Azagury-Partridge and is on air from 8pm Tuesday 13 April, BBC2.
Call for Applications - Series 2
'All That Glitters Britain's Next Jewellery Star' is a talent search to find the country's most talented up and coming jewellers. It is produced by Twenty Twenty for BBC Two.
Unfolding inside a specially built workshop, nestled in the heart of Birmingham's historic Jewellery Quarter, this contest is built on the extraordinary skills of talented jewellers from all walks of life.
Each week, the jewellers will battle it out to impress two of the biggest names in jewellery business by creating 'bestselling' pieces as well as making real clients' dreams come true, transforming incredible stories into 'bespoke' objects of beauty that will last forever.
Working with some of the most valuable objects on earth including silver, gold, and precious gemstones, the challenges will explore the wildly diverse styles and aesthetics that can be found across different types of jewellery design and craftmanship. Every episode will be bursting with science, history, and culture.
Only one jeweller can prove they are a cut above the rest and claim the 'All That Glitters' crown.
Applications Now Open - Series 2
Applications are open to amateur or professional jewellers, aged 18 or over – everyone is welcome to apply, provided they meet the Eligibility Requirements set out in the Application Terms and Conditions.
To Apply
Those who would like to be considered can apply here:
www.twentytwenty.tv/casting/all-that-glitters
Closing Date For Applications
The application closing date is Friday 4 June 2021.
Applicants are encouraged to get in touch as soon as possible.