Orkney Landscapes inspire new Zoe Davidson collection: Spring Tides
Zoe Davidson to unveil new 'Spring Tides' collection at upcoming Scotland's Trade Fair
1 min {{readingTime}} mins
An Orkney-based jeweller will unveil her new Spring Tides collection at a Scottish Trade Fair this week. The striking new collection takes its inspiration from the sea-carved shorelines of the designers home-land; and sits amongst her previous collections as another tribute to Orkney's unique landscapes: Saltaire, Barriers and Hoy Sound.
The collection will launch with a selection of pendants, earrings, bracelets and rings. Each piece consists of silver and combines Zoe's signature fold-formed metalwork with contrasting gemstones, accents of gold and bold patina treatments; all handmade with great craftmanship and care from her Stromness-based Studio, open to visitors on the 'Creative Orkney' trail.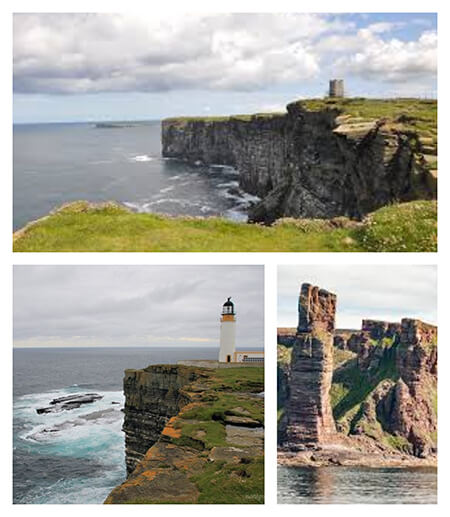 The 27-year-old designer graduated in 2013 with a Bachelor of Design Degree from Duncan of Jordanstone College of Art & Design in Dundee. Since then, she has travelled and worked with the likes of Haute-Couture/Fashion Designer: Iris Van Herpen, Scottish Jewellery Maker: Gilly Langton, and most recently, with two Orkney-based jewellery companies; before starting her own brand in 2016, where she designs, makes and sells her own collections as well as bespoke commissions.
Despite growing up in South-East Asia, and travelling to Amsterdam as a graduate, it's
clear that Zoe's heart belongs to Orkney. The 27-year-old designer says "Orkney, the ocean and the local coastline, are a constant inspiration for me. The Spring Tides collection came about when exploring all the sculptural shoreline formations and rock fractures that are created by the sea around the islands here.

"I've sought to capture those natural processes through the fold-formed elements of the collection, while adding in pink, green, yellow and blue gemstones to represent the flowers growing between cracks in the rocks, along with lichen, pebbles and the ocean itself."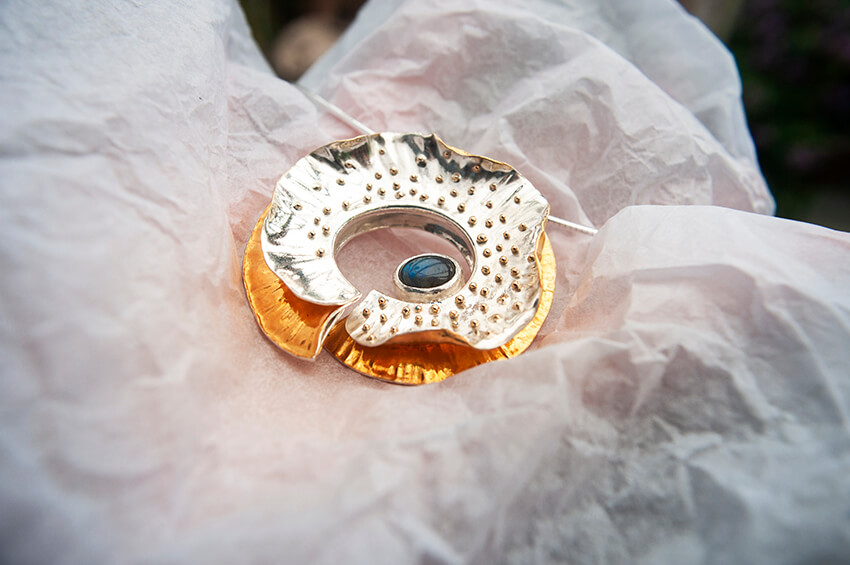 (Above: Large Ocean Swirl Pendant - Made from Sterling Silver, 18ct gold plate, 9ct gold granules and a labradorite gemstone.)
As well as taking inspiration from her surroundings, Zoe is also passionate about giving back to the Island and its inhabitants. Last year, Zoe launched two collections that contributed to both the preservation of the Longhope Lifeboat Museum and the RNLI.
Zoe Davidson's 'Spring Tides' will be available to preview at the Scotland's Trade Fair, from tomorrow to Tuesday 22 January. The designer comments "I'm very much looking forward to unveiling this latest collection, and showcasing my other work, at the Scotland's Trade Fair event. It's also a great opportunity to tell people all about Orkney and hopefully encourage them to visit!"
For more information, visit-
https://spring.scotlandstradefairs.co.uk/
{{'2019-01-19T05:25:00.0000000Z' | utcToLocalDate }}