The
Xifu
International Gold Wedding Jewellery Design Competition 2017 Judges
Xifu Announce Judging Panel for International Jewellery Design Competition
1 min {{readingTime}} mins
The

Xifu

International Gold Wedding Jewellery Design Competition 2017 has announced its prestigious panel of judges, comprising distinguished luminaries in the fields of design, jewellery and the arts.
Organised by JNA and CJNA of UBM Asia, the World Gold Council and the People's Government of Yantian District, Shenzhen, the biennial competition aims to usher in a new era in gold wedding jewellery by encouraging designers from around the world to reflect wedding traditions and customs through fresh and creative designs.
The independent judging panel of the competition's inaugural edition consists of highly respected, esteemed leaders from the jewellery and art industry, chosen for their extensive knowledge and expertise. They will run a two-part thorough, fair, transparent and rigorous judging process. Entries will be evaluated on their creativity and originality, their adherence to the theme, and their understanding of craftsmanship and manufacture processes.
Chairman
The judging panel is chaired by renowned academic and educator Norman Cherry. He is joined by leading trend forecaster Paola De Luca, Japanese artist Ben Mori, Professor XuXiang Tang and trailblazing fine jewellery designer Stephen Webster.
Norman Cherry
Norman Cherry worked for many years in the British Higher Education sector, nurturing talent in the fields of art and design. From 1996 to 2008, he was Head of the internationally acclaimed Birmingham School of Jewellery. His last position in the academe was as Pro Vice Chancellor for Arts at the University of Lincoln. Norman currently runs a consultancy as a creator, educator and curator. His projects include working on behalf of international clients to connect Chinese and other universities, and advising jewellery manufacturers on the development of young designers.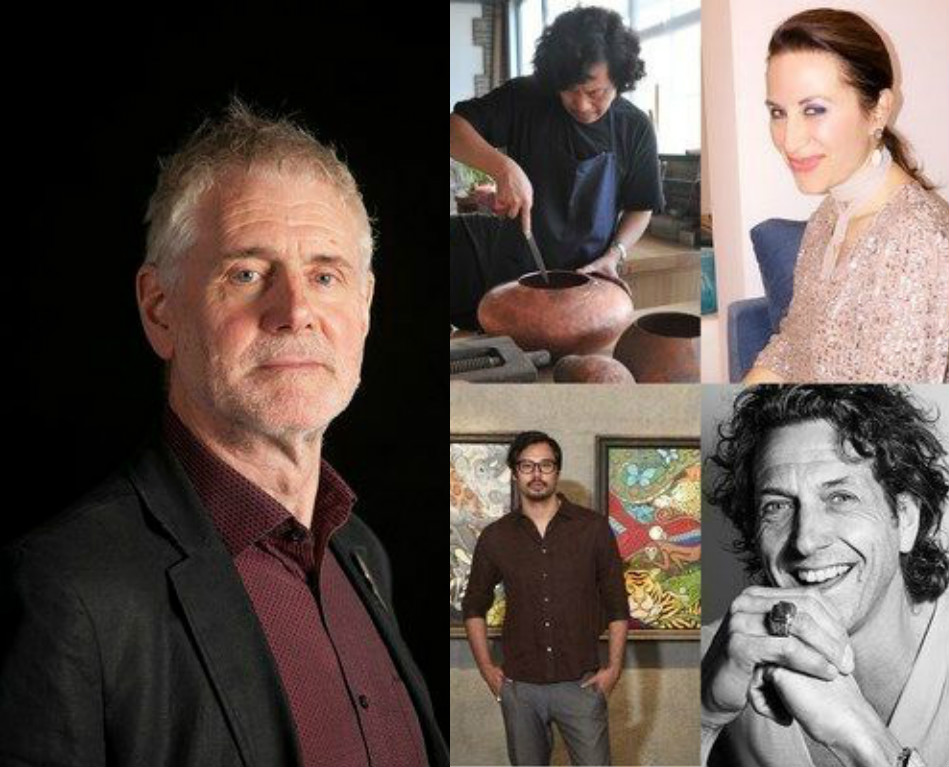 Paola De Luca
Paola De Luca is a world-renowned trends forecaster from Italy, with particular expertise on global jewellery design trends. She is the Founder of The Futurist Ltd, a creative intelligence firm specialising in strategic projects in the luxury and jewellery sectors. Paola runs design projects and educational programmes for buyers and government organisations, and conducts seminars on global jewellery design trends at international trade fairs. Her much-sought-after trend books are considered among the leading resources on jewellery design.
Ben Mori 
Ben Mori is an artist and designer from Japan. He studied different art disciplines including 2D and 3D drawing, liberal arts and graphic design. Ben favours mostly heavy colours in his artworks, which have been exhibited in several countries. In an interview, he revealed his design philosophy as "Good artists just keep making art."
Professor XuXiang Tang
Professor XuXiang Tang is a professor, doctoral advisor and the director of the Jewelry Studio of the Academy of Arts and Design at Tsinghua University. He is also the Judge of Arts and Crafts Masters, Deputy Secretary-General of the Chinese Traditional Arts and Crafts Association and Deputy Director of China's Jewelry Design Committee. He is an expert on traditional Chinese metalcraft as well as modern art and design, bridging the gap between Chinese traditional and contemporary art.
Stephen Webster
Stephen Webster is a celebrated English jewellery designer known for his largely pioneering designs that infuse Rock 'n Roll influences into fine jewellery. His fresh, bold and modern designs have amassed a celebrity following. Stephen curates Rock Vault, an initiative of the British Fashion Council to mentor, support, showcase and promote Britain's most innovative, fine jewellery talents.
{{'2017-04-05T14:15:10.2462284+00:00' | utcToLocalDate }}