Goldsmiths' Fair 2018 awards 'best designs'
Winners of the Goldsmiths' Fair Best New Design Award Week 1 & 2
1 min {{readingTime}} mins
The winners of Goldsmiths' Fair Best New Design Award for Week One and Week Two have been announced during the event's run in the last two weeks.
This year's Week One winner was chosen by Victoria Broackes, senior curator for the department of theatre and performance at the Victoria and Albert Museum.
Vicky chose Hazel Thorn as the winner, for her latest collection of work. Hazel uses a combination of base and precious metals, constructing metal sheets which she transforms into sculptural vessels. Hazel then applies the same chemical patination to the whole object which affects the mixed metals in varied ways, producing contrasting colours that highlight the structure of the sheet.
Hazel grew up in a remote part of the Highlands, and has always loved wild places and natural objects. She explores intuitively with metal, and finds that her admiration for the complexity, order and chaos of such forms and places surfaces indirectly.
Vicky also chose Kayo Saito for a special commendation. Kayo's work is influenced by plants and organic forms, whose apparent fragility, structure and vital energy always awaken her creativity. Kayo was also featured in the Goldsmiths' Fair 'Excellence Made' film, created by Petr Krejčí for 2018, showcasing the inspiration and extraordinary talent of the Fair's silversmiths and jewellers.
The winner of Best New Design Award for Week Two of Goldsmiths' Fair was announced as Andrew Lamb, whose Vortex Brooch was chosen by jewellery expert and Antiques Roadshow regular, Joanna Hardy.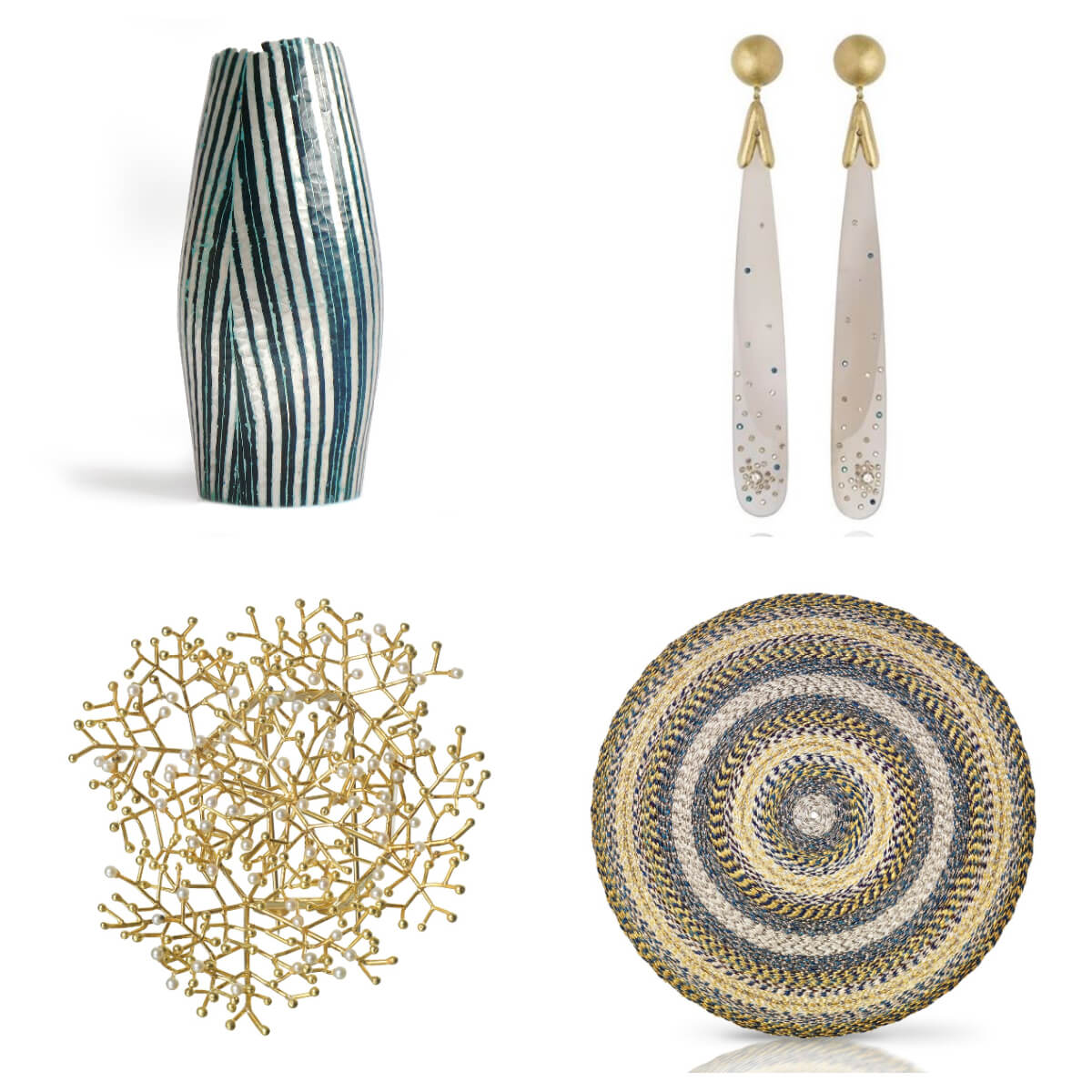 Joanna said of Andrew's piece:
"This for me is craftsmanship of the highest calibre. Andrew Lamb is a goldsmith that keeps pushing his boundaries as a goldsmith. This brooch is made by entwining tiny thin sheets of silver, gold and titanium, a material which is extremely hard to manipulate, and then soldering the strands together on the reverse. Andrew never knows what the front is going to look like as he continues to change the combination of 'metal ribbon'. This is an antique of the future without any doubt. No computer-aided design is used, just Andrew and his incredible skills."
A Special Commendation went to Jacqueline Cullen, for her new body of work, 'Galactica' created in semi-translucent grey Agate with accents of white Cachalong, a form of opal. Jacqueline is known for having worked almost exclusively in Whitby Jet for the last 15 years. Her new collection represents a bold venture into new materials and extraordinary techniques, whilst maintaining a voice that is unmistakably hers.
The winners of the Best New Design Award were awarded £1,000 and a bottle of Gosset Champagne.
Image credits
Jacqueline Cullen
Kayo Saito
Hazel Thorn
Andrew Lamb: Brooch from the Vortex Series
{{'2018-10-06T21:40:14.9797767+00:00' | utcToLocalDate }}