Veronika Fabian's idea-led jewellery isn't afraid to make a statement
Veronika Fabian: The Political Jeweller
1 min {{readingTime}} mins
Veronika Fabian is not your average jeweller. Born in a colony of artists in small-town Hungary, she originally rejected her creative roots, opting for a career in finance. After studying at the University of Economic Sciences in Budapest, and successfully forging a career in banking, she missed the tactility of art. Now a multi-award-winning contemporary jeweller, her work can be described as "a rebellion against her past".
There's not much that escapes the ubiquitous nature of politics, even jewellery. Veronika Fabian attributes her initial aversion from a career in the arts, in part to the post-communist state of her home-country, stating
"Compared to Western Europe, in Hungary the art field was more restricted even a decade after the political change, and this influenced my initial decision a lot. Previously, jewellery for example was seen as a capitalist institution and the state had total control over the usage of precious metals, which certainly had a huge impact on the jewellery market."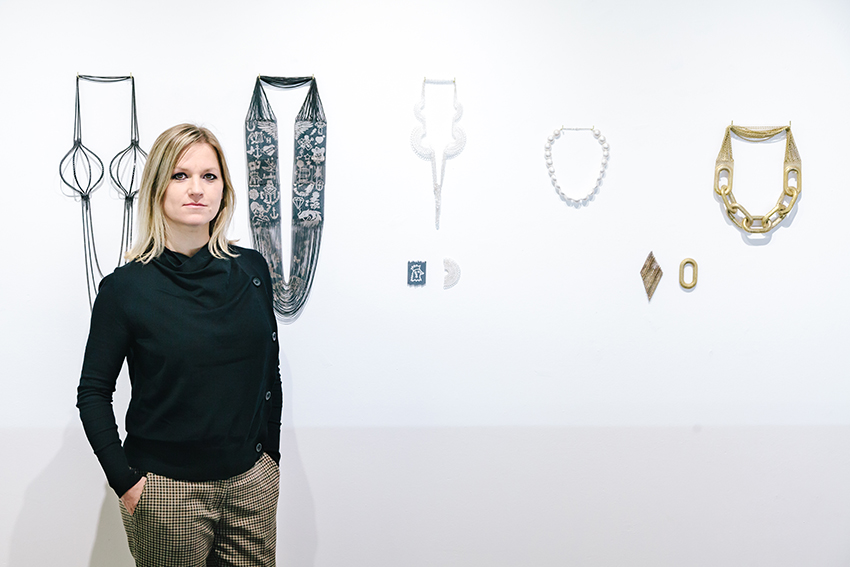 Veronika Fabian alongside her collection: Chains for an Average Woman.
Although successfully working as a Risk Analyst in the banking world, her artistic roots were calling her. Feeling trapped by a highly regulated environment, Fabian craved the freedom of creativity. "I wanted to do something with my hands, something physical and meaningful – that, I found in jewellery."
Studying a technical jewellery and silversmithing course cemented Fabian's decision to depart the world of finance. The jewellery she created on this course served as a a figurative final farewell. A bracelet of paper-bankers symbolises the tiresome uniformity of the industry, oppressed personality is relegated to the shadows.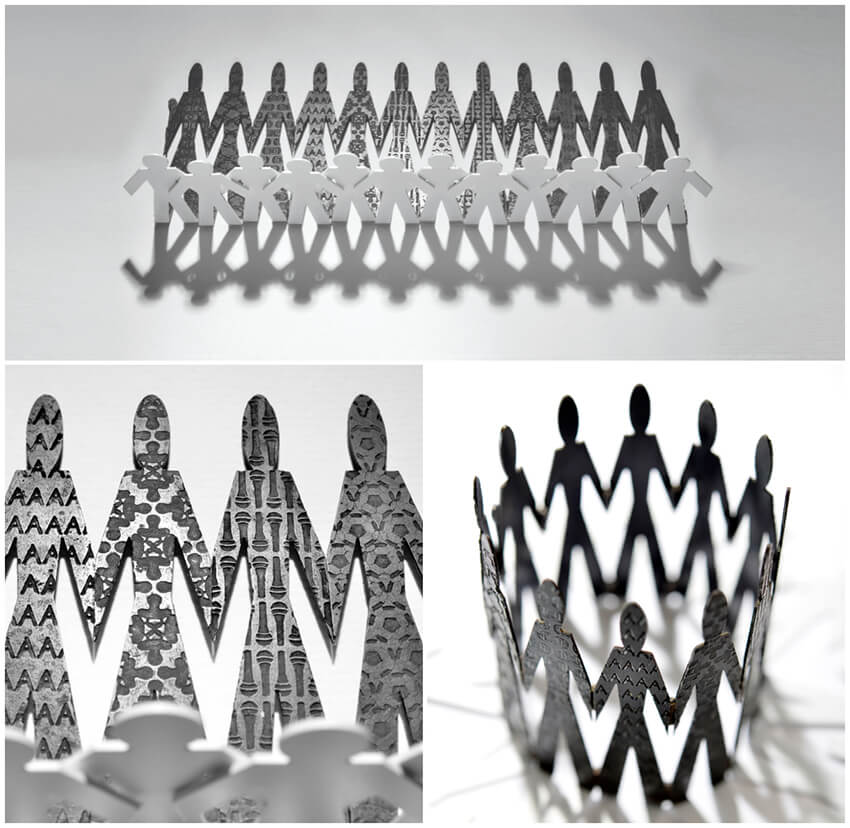 Fabian went on to study jewellery design at Central Saint Martins, where she developed her own voice and collaborated with companies and institutions, such as Cartier, Swarovski and Swatch. She says:
"I owe a lot to the way CSM and the tutors envision a jewellery education at the intersection of art, craft and design."
One of the first pieces she made whilst studying at CSM was a neckpiece, with two great wire structures outlining faces either side of the wearer, kissing them in the cheek. The piece, and its title, symbolises Fabian's mantra "Jewellery is my Best Friend". Her work centres around approaching jewellery as a transition between jewellery and sculpture- challenging conventions around jewellery, as a means of generating conversation and preserving knowledge of craftsmanship.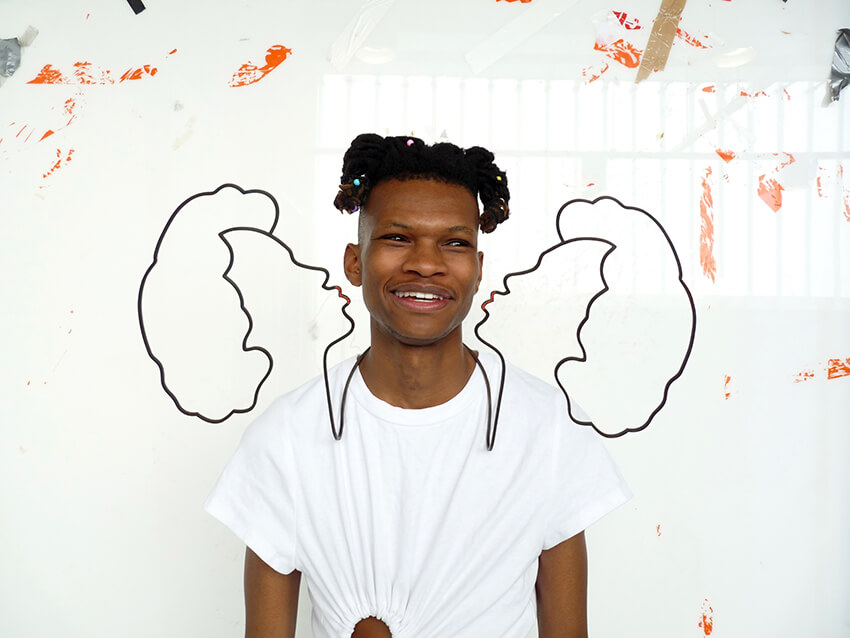 Fabian's collections are designed to start a conversation, she says of her ambition:
"I would like for my jewellery to speak on its own, without me there to prop it up."
And what better way to spark conversation than controversy. Fabian's pieces all depict a firm stance on their respective topics. One of her pieces, a stock depicting a parure, one of the iconic jewellery forms through jewellery history, round the prisoners neck is designed for "those conservative minds who trapped in the world of traditional, precious material based jewellery", according to Fabian.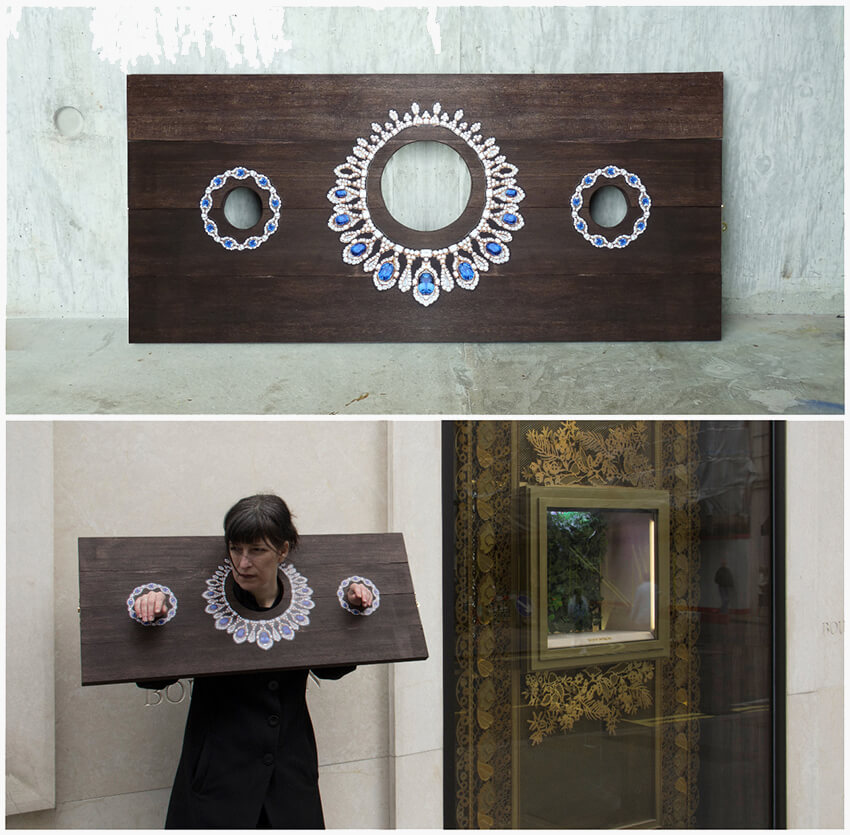 As her career progresses, Fabian's work seems to have grown in sophistication. From pieces that encapsulate a fleeting thought, to fully conceptualised collections that capture the nuances of a considered project, evolving over time. And it has, her recent work "Chains for average woman" is a literal expression of the diverse, but fixed, identities the mass-media, and by extension society encourages in women. It was born from two previous experiments with chains. Firstly, leather chains, and then a collection of metail chains, titled '"Rebellious Chains".
Like many who have examined gender through art, Fabian explores the symbiosis between the personal and the political. Identities that are, at their core, unique to a person alone can be politicised, by ourselves and others. Fabian's jewellery lives comfortably in postmodern confusion, a simulacrum of an persona: adding a self-referential element to the wearer's identity.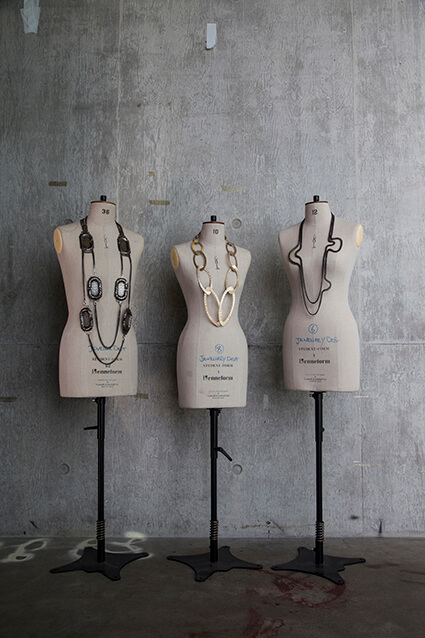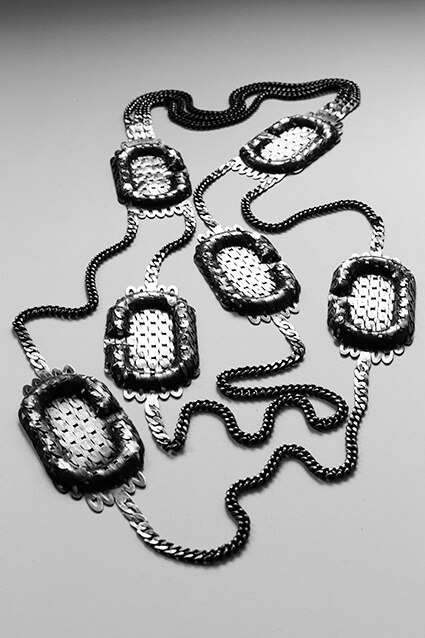 Speaking on the subject of identities, Fabian says:
"We construct our identities out of a set of common social roles, combining these into our own identities. Compared to the pre-modern societies when the identity of the individual was fixed based on stable social roles, this is a more complex process now, especially in case of the female identity. So it is a difficult task now and also confusing, because we never can be sure that we choose the right role among the several choices we have and we see."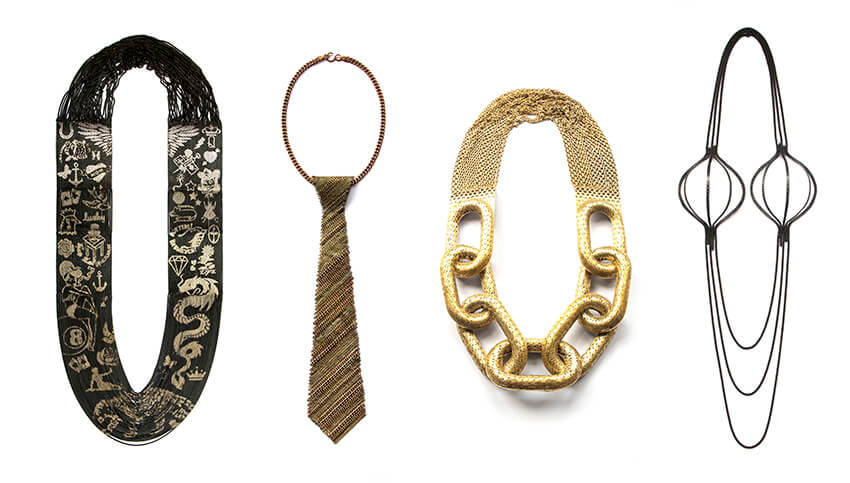 The motif of the chain is no accident- it enforces the idea that women are prisoners, bound to these identities, and leaves the observer asking whether women really are more liberated in modern society. Fabian also notes that chains are often subsevient or secondary to a gem, and challenged herself to create interest in the chain itself.
(Photo Credit: Leather Chains pictured left: Attila Glazer)
The collection Chains for an Average Woman draws connections between women's self-identity, popular culture and mass media, exploring how identity develops against a background of economic and cultural conditions. In her latest work she investigates the complex relationship of consumerism and craftsmanship, colliding the mass produced and the unique.
For more information about Veronika Fabian, please visit: http://www.veronikafabian.com/
Follow Veronika on Instagram: @veroofabian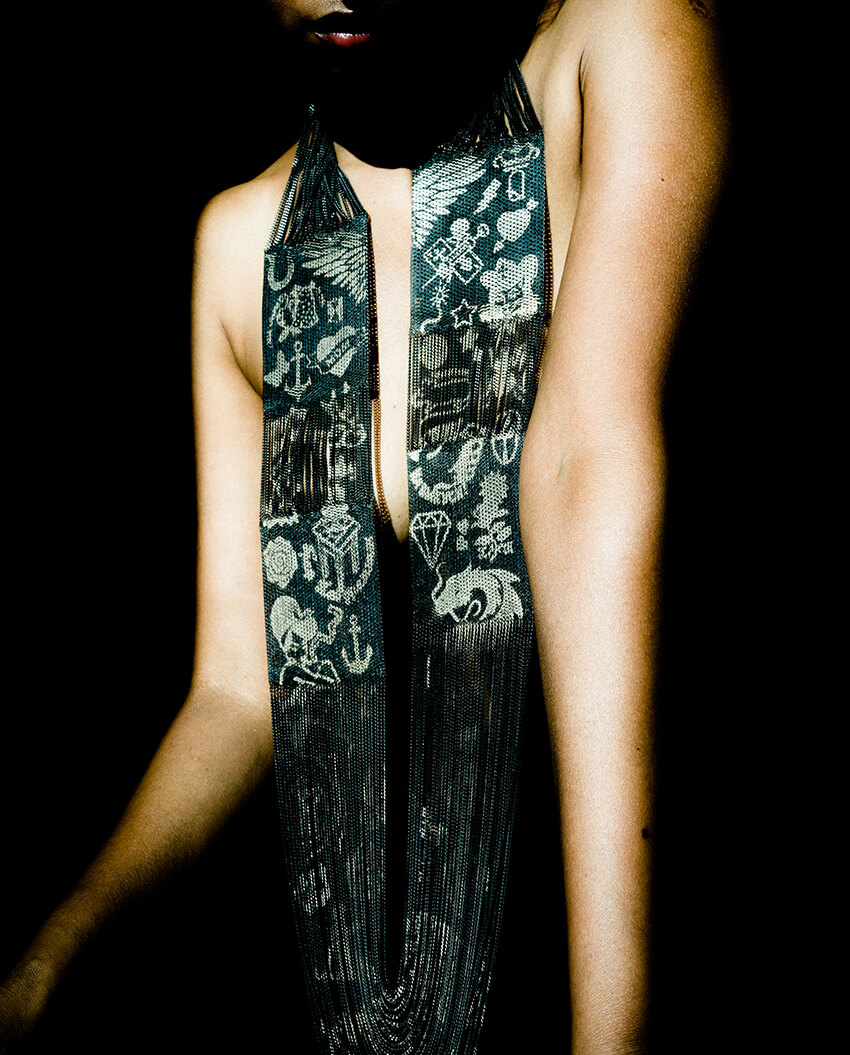 (Photo Credit: John Mcgrath)
{{'2019-09-12T10:45:55.1757058+00:00' | utcToLocalDate }}