Scottish J&S Colleges sign up to ethical pledge
Scotland's art colleges sign up to Ethical Making Pledge
1 min {{readingTime}} mins
The Incorporation of Goldsmiths celebrated a major milestone in its drive to make Scotland the world leader in ethical silverware and jewellery by gathering Scotland's jewellery colleges at its symposium and adopting an 'Ethical Making Pledge'.
Representatives of Scotland's leading art colleges offering HND and degree level courses in jewellery and silversmithing gathered last week at an international symposium and put their names to the Incorporation of Goldsmiths' Ethical Making Pledge designed to help the country become a world leader in ethical gold and silver work.
The move reflects a growing determination among makers, designers, educators and consumers to demand that precious metals are responsibly mined and that sustainable and environmentally friendly techniques are used in workshops.
It is supported by leading proponents of ethical jewellery such as the London based designer Ute Decker who spoke at the symposium, and by students from across Scotland including Daniela Groza from Edinburgh College of Art.
An estimated one million children work in gold and silver mines in the developing world, many paid as little as a dollar a day. Workers at many mines endure unsafe conditions and exposure to toxic chemicals.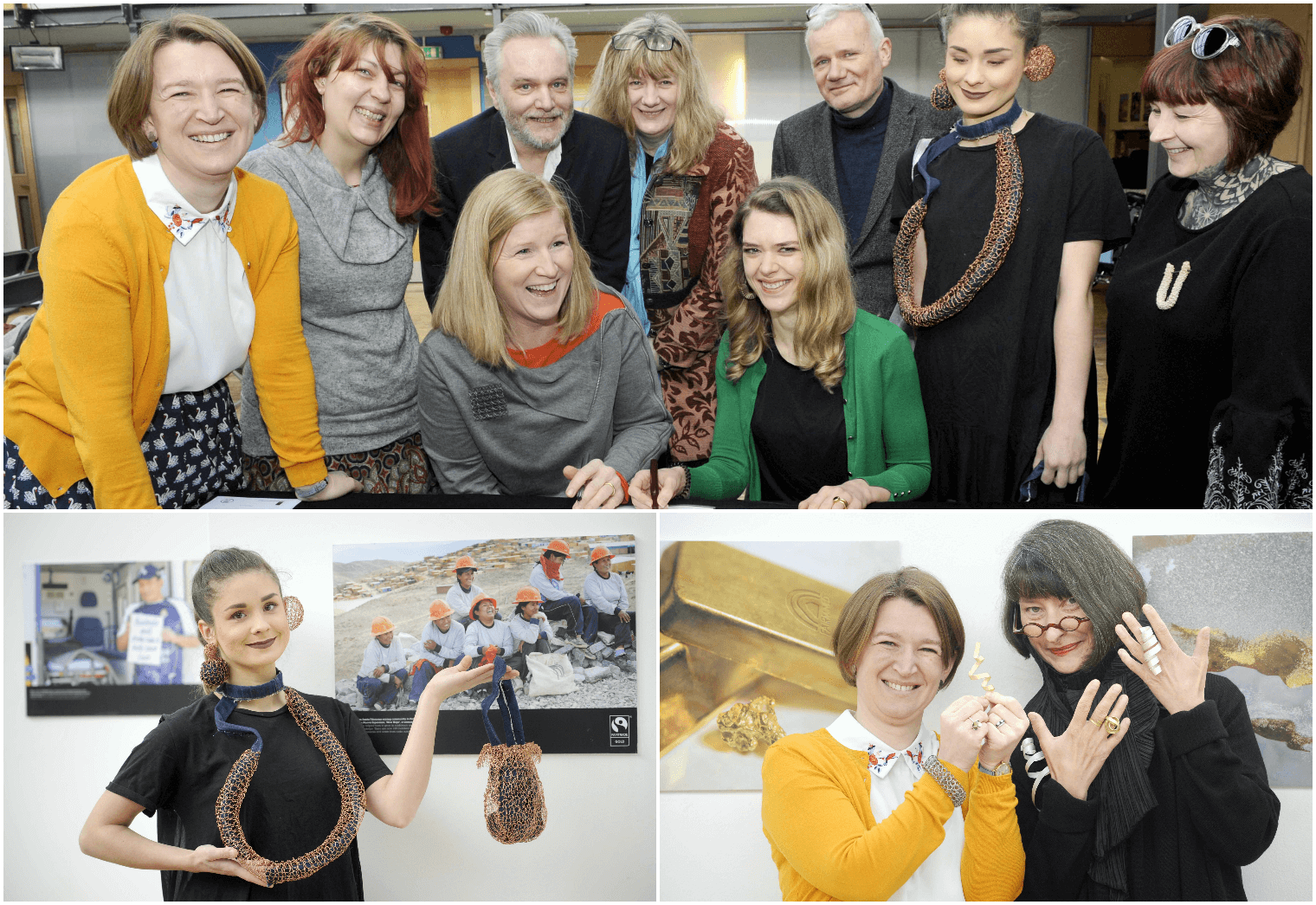 The pledge means that the relevant departments at City of Glasgow College, Duncan of Jordanstone College of Art and Design, Edinburgh College of Art, Fife College, Gray's School of Art, Glasgow Kelvin College and Glasgow School of Art will:
Move towards the sole use of ethically sourced precious metals
Include ethical theory and practice on their curriculums and in workshop practices
Nominate student ambassadors to take part in ethical making information sessions organised by the Incorporation.
Mary Michel, Director of the Incorporation, said:
"This is a proud moment for all of us. The pledge will help make Scotland known throughout the world as the trustworthy producer of ethically sourced, imaginatively designed and exquisitely made jewellery and silver.

"Scotland's colleges have a tremendous reputation for producing superb designers and makers. The fact that ethical making and provenance will now be a focus on these courses will further strengthen their reputation.

"It also makes sound commercial sense as, in common with every sector from food to fashion, consumers increasingly want to be sure that goods are ethically sourced. This can be all the more important when it is a piece of gold or silver purchased to symbolise a special moment in life, such as an engagement, a wedding or a birthday."
Ute Decker added:
"Jewellery is such a beautiful thing but there can be so much environmental destruction behind it. I want my jewellery to be beautiful on the inside as well as the outside. What the Incorporation and the colleges are doing is great and there is so much enthusiasm from students, they are really ready for this. Raising awareness, sharing information and helping change practice in this way is tremendous."
Daniela Groza, one of the new student ambassadors, believes that the whole of the fashion industry should do all it can to promote ethical practice and recently organised her own sustainable fashion show. She said:
"It is important that people know the true cost of everything they wear. Ethical sourcing of precious metals matters because it is important to know how they were obtained and that people were not being exploited."
Ethical Making Resource
The Incorporation is also launching an online Ethical Resource which will include information on best practice and on purchasing ethical gold and silver. It is hoped that with students leaving college fully trained in responsible practices, and everyone having ready access to information and advice, ethical making will become the norm.
Anna Gordon, Head of Department and Programme Leader, BA (hons) Silversmithing and Jewellery Design, The Glasgow School of Art, said:
"Choices are made every moment of our practice and are fundamental to any maker or educator. Ethics and sustainability are particularly pertinent in our subject specialism. The Silversmithing and Jewellery department at The Glasgow School of Art is keen to keep Scotland's tradition of silver work alive and to pioneer sustainable practice in the UK. The pledge is an exciting development for us in allowing the practice to thrive with the support of the Incorporation of Goldsmiths."
Jennifer Gray, Programme Director, Jewellery and Silversmithing, Edinburgh College of Art, The University of Edinburgh, added:
"We believe that steps are needed to take responsibility for the sourcing of materials we use within departmental teaching to protect the environment and the people who work to extract these materials. Not only will we aim to use ethically sourced precious metals in the department, we will also aim to instil an understanding of the importance of using ethical practices with our students. After graduation these students will hopefully continue to use ethically sourced materials as part of their own professional practices which in turn will have a positive affect on the field as a whole. Eventually it will become the norm for both makers and consumers to seek out ethically sourced materials."
Teena Ramsay, Programme Director, Jewellery and Metal Design, Duncan of Jordanstone College of Art and Design, Dundee, said:
"How materials are sourced and the future responsibility we have to our emerging designers matters a great deal to us. Our key focus at Duncan of Jordanstone College of Art and Design is to be ethical. Students are becoming more aware of the sources of the materials they choose to work in, and how being able to trace their journey adds value to the products they produce. For the University of Dundee working with the Incorporation, for the future of ethical making in Scotland, is a great journey to begin."
Karen Dicken, Gray's School of Art, Robert Gordon University, Aberdeen, said:
"Jewellery design and in particular metal extraction has a devastating effect on communities and landscape across the globe. I believe the Ethical Making Pledge is an excellent move by the Incorporation of Goldsmiths and educational institutions across Scotland, not only for supporting the use of ethical materials but to introduce this to the next generation of jewellers at an early stage in their career."
David Webster, Glasgow Kelvin College Curriculum Manager for Business & Creative Industries, said:
"Glasgow Kelvin College is delighted to fully support this initiative by the Incorporation of Goldsmiths and believe that the pledge will provide a useful frame of reference for staff working with student groups across our jewellery curriculum. The work of our department revolves around the efficient use of digital manufacture with an emphasis on the production of gem-set jewellery and the broader study of gemmology. As such, we are particularly interested to work with the students to contextualise these latest initiatives for ethical sourcing of precious metals but also to take advantage of the increasing awareness of gemstone suppliers of their responsibility to supply increasing numbers of 'traceable' gemstones with some provenance demonstrating an ethical route to market. We look forward to being part of the student ambassador Initiative and plan to contribute fully to the overall project aims of increasing the awareness of ethics and sustainability in the jewellery industry and the wider world."
Colin Thomson, Senior Lecturer, City of Glasgow College, said:
"I think as designers, makers and educators, it is easy to become complacent about the materials we work with. We should question far more the origins of materials and promote ethical suppliers. By integrating ethical practice into our curriculums and highlighting the importance of it, hopefully the next generation of jeweller's will be far more ethically savvy than the last."
Parliamentary Support
On 15 March, the pledge was commended in a Scottish Parliamentary Motion of Support by Joan McAlpine MSP, who congratulated the Incorporation on "achieving a national consensus" to bring this about. The pledge is also supported by the Pearson Silver Foundation, who are helping to fund the colleges' transition to using ethically sourced precious metals.
Ethical Making Symposium
The Ethical Making Symposium represented another aspect of the Incorporation's work to encourage change. The speakers included award winning British Fairtrade ethical jeweller and environmental activist, Greg Valerio MBE; jeweller Ute Decker; researcher Dr Peter Oakley; founder of the Precious Metals Workshop, Ian Nicholson; and Jane Barnett and Theodora Panayides of consultancy and social venture, Levin Sources.
They discussed the importance and challenges of implementing an ethical approach in the design and making industry.
{{'2018-03-31T13:50:44.6156863+00:00' | utcToLocalDate }}