Precious Mysteries to set tone for Goldsmith's Fair 2017
Precious Mysteries film to set 'enigmatic' tone for Goldsmith's Fair
1 min {{readingTime}} mins
Precious Mysteries, a unique new film installation created by celebrated fashion filmmaker Ujin Lin will set an 'enigmatic, highly-polished, and breathtakingly beautiful' tone for the 2017 Goldsmith Fair starting in September.
Lin, the guest curator at this years Fair at Goldsmith's Hall was commissioned to create the film which will feature jewellery and silver he selected from this year's Fair exhibitors having previously created campaigns for global luxury brands such as Prada, Philip Lim and Longchamp, among others. His films are highly acclaimed across the fashion world.
Seductive silver
Lin's finely crafted cinematic narrative provides the perfect modern complement to the stately grandeur of Goldsmiths' Hall. Starring up-and-coming models Ira Sumbayeva and Marcus Goodwille, the work's dreamlike sequences also feature eye catching jewellery and seductive silver personally selected by Lin from Fair exhibitors.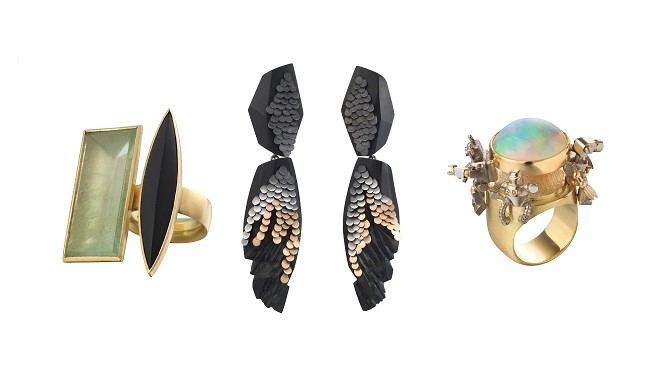 Selection of Precious Mysteries pieces
These pieces also appear in a special exhibition and will be on display at Goldsmiths' Hall throughout the two weeks of the Fair. As such, the film installation is in direct dialogue with Lin's showcase of precious metal treasures.
Sparkling silver for eclectic interiors
"I was drawn to the materials, creativity and skill that are the hallmark of a goldsmith, the stateliness of Goldsmiths' Hall, and the luxurious pieces themselves," Lin said about the inspiration behind the film.
"My showcase of Fair highlights also reflects my fondness for high fashion jewellery and sparkling silver for eclectic interiors," he added.
David Mills, Director of Goldsmiths' Fair, stated:
"Lin's film masterfully captures the essence of the Fair, alluding to the mysterious alchemy of traditional skills and innovative design. It is enigmatic, highly-polished, and breathtakingly beautiful."
{{'2017-08-11T11:25:37.3134704+00:00' | utcToLocalDate }}