Merci Maman Presented with Queen's Award for Enterprise
Merci Maman Awarded Prestigious Queen's Award for Enterprise
1 min {{readingTime}} mins
Second royal seal of approval for London-based French mumpreneur. The personalised jewellery brand – worn by the Duchess of Cambridge – receives the Queen's Award for Enterprise in the International Trade category.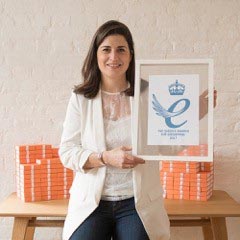 Merci Maman, the personalised jewellery company founded by a London mum from her kitchen table, has been awarded the prestigious Queen's Award for Enterprise in the International Trade category and its founder will receive the award from the Queen at a Buckingham Palace Reception.
Merci Maman was founded by mother of four Béatrice de Montille in Fulham, London, in 2007. She now works with a team of 22 from London and Paris, sending their beautiful
pieces all over the world. "Merci Maman" translates to "Thank you Mum" – a nod to the creators' French origins and the original celebration of the mother-child bond.
The Duchess of Cambridge wears a Merci Maman necklace engraved with her son Prince George's name and the beautifully personalised jewellery has also beens potted on Autumn Phillips, Carla Bruni Sarkozy, Isabella Branson and Katie Piper.
The Queen's Awards for Enterprise are given to British-based businesses and organisations that excel at international trade, innovation and sustainable development. They are the highest official UK awards for British businesses and have been presented by the Queen since 1965. Previous winners include Brompton Bicycles, Holland and Barret health food stores and Séraphine designer maternity wear.
Merci Maman is honoured in the awards' International Trade category for its outstanding growth, having increased its overseas earnings from zero to almost 35% in just three years, helping the company to expand and generate £3million in sales. In 2016 they opened an atelier in Paris and there are plans to expand further into Europe.
Company founder Beatrice de Montille said, "We are so honoured to receive this award and to be recognised by The Queen for our International Trade strategy. Born in France, I launched Merci Maman 10 years ago in London and have since been amazed by the encouragement of the UK, allowing our business to grow both across the country and internationally. I never imagined that the Duchess of Cambridge would wear one of our necklaces – and to receive this award really is the royal seal of approval! I feel so proud and humbled to have had this support and I look forward to meeting Her Majesty at the Buckingham Palace Reception."
Merci Maman has previously also won a Nectar Small Business Award (2015) and Franco British Award of the French Chamber of Commerce in Great Britain (2014).
{{'2017-04-22T11:28:24.3670394+00:00' | utcToLocalDate }}