Triangle Power is the true symbolisation of love, truth, strength and protection
Maya Gemstones Launches Mini Collection
1 min {{readingTime}} mins
Triangle Power is the true symbolisation of love, truth, strength and protection
Introducing Triangle Power, a brand-new mini collection from Maya Gemstones, which comprises of bold and beautiful earrings and a striking pendant.
Both pieces are made of 18ct white gold, with mini round-cut diamonds and a glistening 'Maya cut' Amethyst - the stone of protection, purification, and healing – which is also said to instil a sense of calm in the wearer.
The brand will also be launching smaller versions of the pieces in Aquamarine, a stone that symbolises "letting go" and "rebirth" – its Latin name means "water of the sea," in reference to its sparkling ocean-like colour.
The 'Maya cut,' which is at the centre of each piece of the Triangle Power collection, was created with 28-facets and an architectural, minimalistic design inspired by London-based founder Olga Pekarevskaia's acute interest in culture, art, design and technology – as well as her interest in triangular cut diamonds, called Trillion.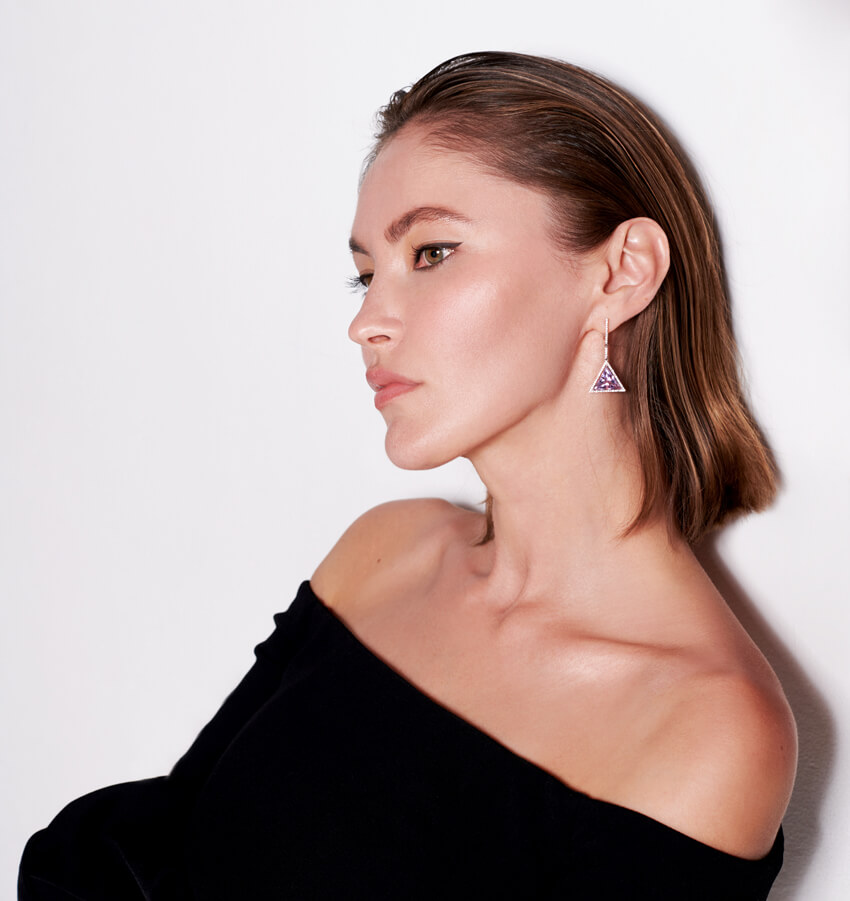 While triangular-shaped rough diamonds do occur in nature, they only equate to 5% of the global market and only 2% are of good quality - the majority lack brilliance and clarity, which is perhaps why they have been so overlooked.
Committed to bringing innovation to her projects, Pekarevskaia worked with skilled ateliers to create a unique triangular cut of stone, with far more luminosity and depth than Trillion – even surpassing that of some of the more traditional cuts.
The triangle, at the heart of this new collection, is said to be the true symbol of love, while in spirituality, it's said to be representative of power, intellect, wisdom and truth. Meanings which go hand in hand with those of Amethyst and Aquamarine.
Olga Pekarevskaia, founder of Maya Gemstones, said:
"Our brand vision is anchored to the power of the triangle and what it symbolises. While the style of this collection is very different to our others, we feel it's the ultimate tribute to what our brand really means."
Pekarevskaia continued:
"We usually work with diamonds, rubies, sapphires, tanzanite's and tourmalines, but really wanted to experiment with different stones for this collection to make it truly special. I love that it's so versatile – it looks cool with blue jeans and a white t-shirt but is also the perfect finishing touch to a little black dress."
{{'2021-02-06T22:12:33.8076957+00:00' | utcToLocalDate }}