Justified Sinner showcases unique men's jewellery
Justified Sinner leads modern renaissance in men's jewellery
1 min {{readingTime}} mins
The renaissance in modern men's jewellery, driven by avant-garde designers prepared to push the boundaries of conservatism, is attracting international attention with a stunning exhibition called The World is Your Dressing Up Box at The National Centre for Craft and Design in Sleaford.
Among the exhibits is a selection of work from the influential designer Dauvit Alexander, the Justified Sinner who is driving the revolution in mens jewellery using customs from the 16th Century when the size of 'bling' was directly related to the wearer's status.
Alexander uses scrap metal, mainly corroded steel and iron, alongside precious metals and gemstones, in his designs that celebrate an alternative ethos; where skill and material triumphs over taste or popular culture.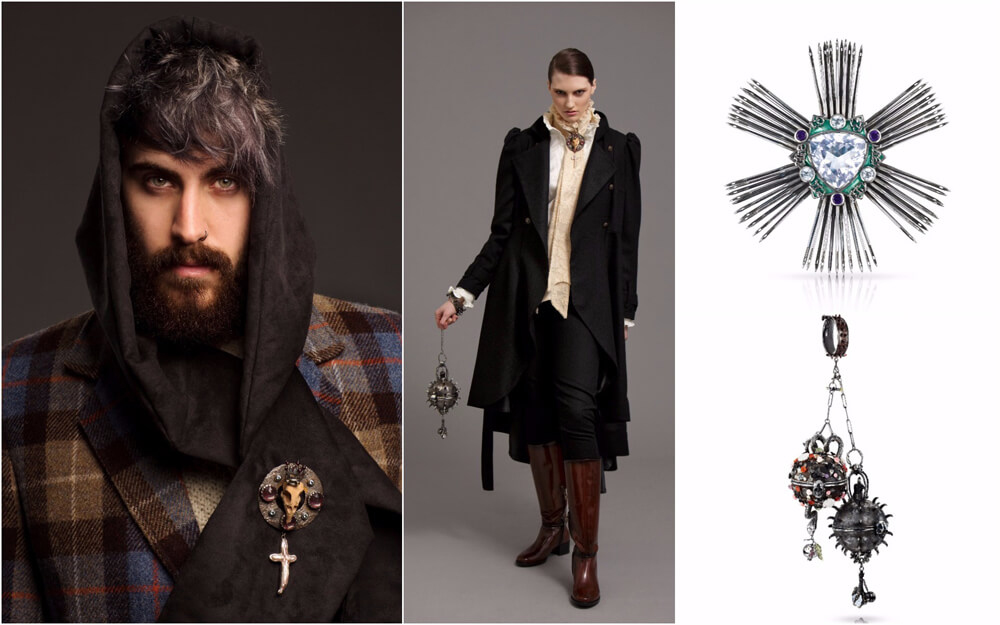 "Renaissance jewellery was a glorious, allegorical, blackly humorous, alchemical mess," he says.

"It was a triumph of skill and material over taste. It mixed precious with semiprecious with worthless, a riot of colour and shape. It was huge and overblown.

"It verged on the unwearable, comfort sacrificed, preferring to make statements about the wearer's beliefs, power and money. So it is with my own work: it takes a bold person to wear a piece by The Justified Sinner."
But anyone that does might just discover that authentic voice we all seem to be looking for. And at an affordable price point, the quest to be unique in an overcrowded world might just be easier than we thought.
"I think it's Pharrell who wears a huge Jesus head covered in black and brown diamonds. To almost anybody it would be considered vulgar and tasteless, but I believe it is truly fantastic. If you go back to 1650, a piece like that would have been worn by a man. Somewhere down the line we've lost the ability for most men to express themselves through exciting jewellery that says something," said Alexander.
Dauvit Alexander's work can currently be seen in The World is Your Dressing Up Box, at The National Centre for Craft and Design, Sleaford, until 8 Oct 2017.
{{'2017-08-18T14:06:16.5359317+00:00' | utcToLocalDate }}