Central Saint Martins' Staff and Students make a Statement in Munich Exhibition
Inside 'Fabricate': Central Saint Martins students and staff exhibit in Munich
1 min {{readingTime}} mins
For the fourth consecutive year, students and staff of Central Saint Martins return to Vitsoe in Munich to display their work as equals.
The exhibition, Fabricate, showcases the work of 42 staff and students of the BA Jewellery Design course, and celbrates the course's diverse and lively approach to contemporary jewellery and objects. Mindful of the common threads between jewellery and furniture, this exhibition, presented on Vitsoe's 606 Universal Shelving System, imaginatively and expressively explores the theme of fabrication.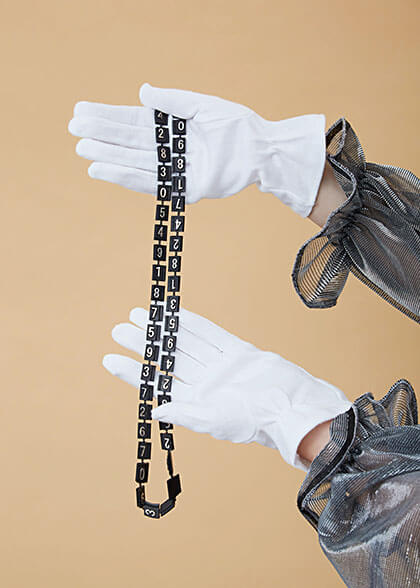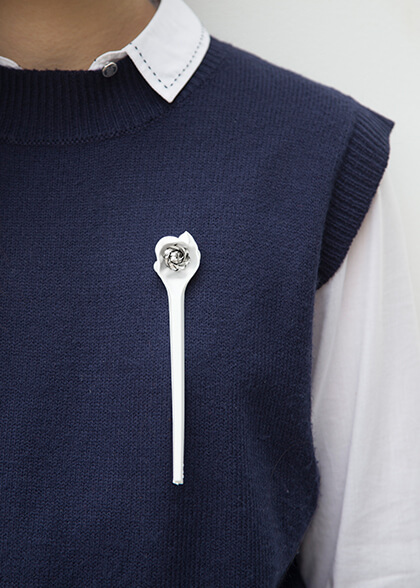 Left: Biying Chen 'Expensive Necklace' - Sterling silver. Right: Wen-Ju Tseng 'Reduce, Reuse Recycle' - Sterling silver wire, wrongly printed tin sheets, recycled spoons
The BA Jewellery Design course promotes an understanding of a wide variety of materials, approaches and contexts within the field of contemporary jewellery. Innovation, originality and individual identity are encouraged and developed, and we are also keen for students to recognise and investigate the cultural, social and ethical issues relevant to jewellery and its manufacture.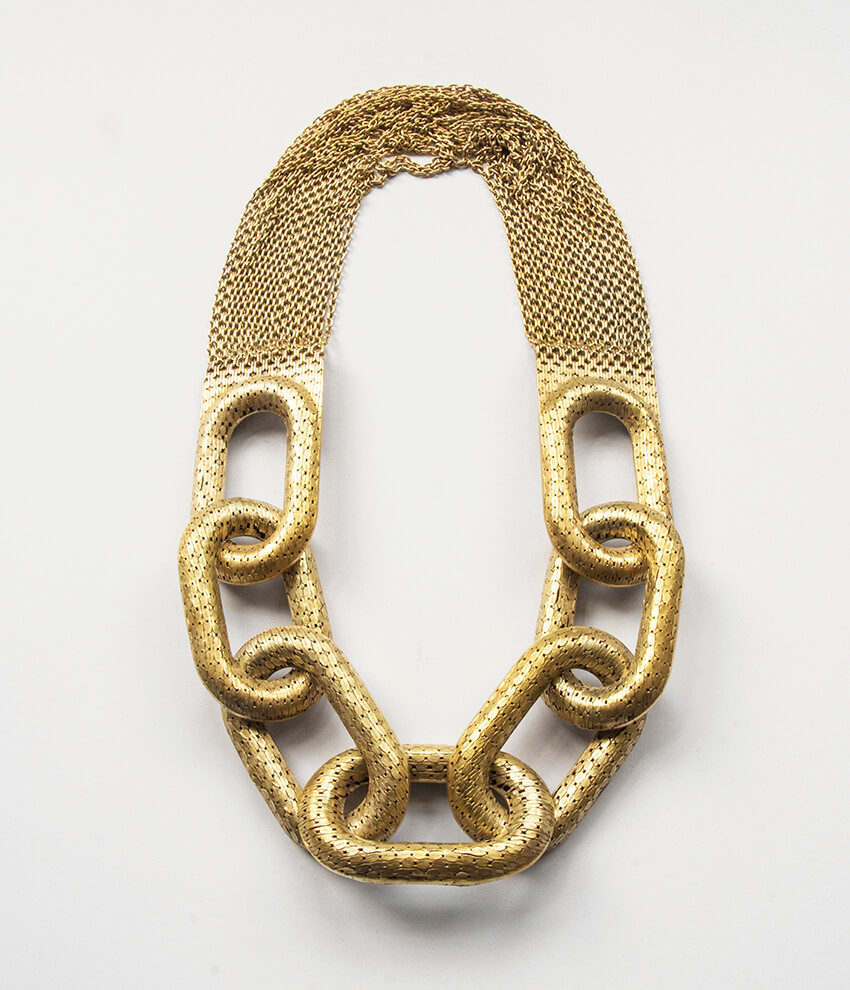 Veronika Fabian 'Biglink Necklace' - gold plated brass
Whilst some pieces appear more traditional, others make a bolder statement, with iconography derived from pop-culture and politics.
Jennie Moncur, Creative Director at Vitsoe, said:
"We are delighted to present this fresh body of work, together with the live event, in our Munich shop for a fourth consecutive year. It has been particularly exciting to experience the creativity of the second year students, who's live event has focused on working with materials from our production building in Royal Leamington Spa. As always the work on exhibition this year demand us to think, and challenge that thinking and does not fail to stimulate and surprise."
Left: Joarla Caridad 'Love not Porn Brooch' - Aluminium, silk hearts, magnets, steel. Middle top: Ariel YC Tsai 'Period tone' - Indian soapstone, alabaster, brass. Middle bottom: Maria Militsi 'Bulldog Clip' - Bulldog clips, 18ct gold. Right: Shengyi Chen 'President Twitter' - Copper, brass, wig, blue paint
In addition to the work in the exhibition, Year 2 students hosted an evening event in which they transformed themselves into mobile galleries by wearing their work; to ignite conversation between maker, wearer and viewer. The work produced for this special project has been made in direct response to the sustainable fabrication methods used in the manufacture of Vitsoe furniture, following the students visit to the Vitsoe production building and headquarters in Royal Leamington Spa.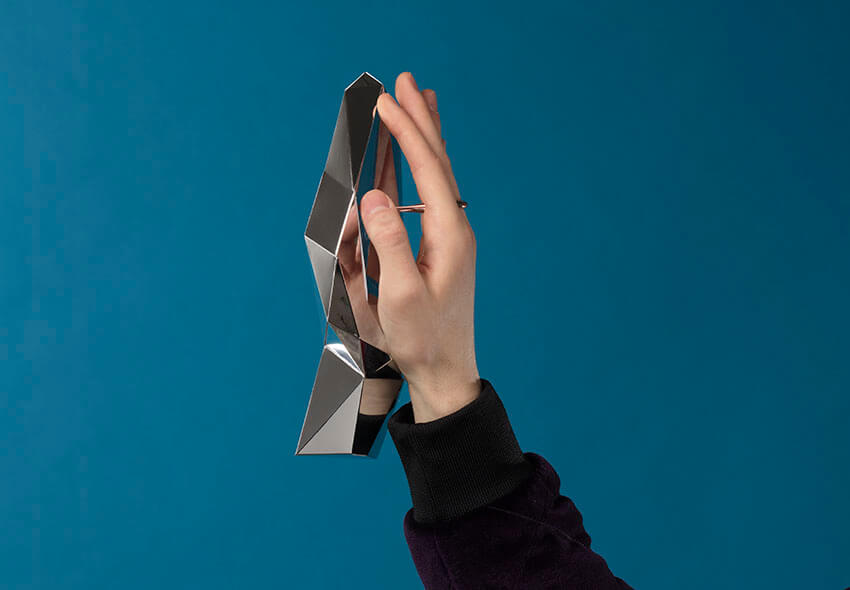 Sal Camboa 'Narcissus' Conflict' - Copper, mirrored silver cardboard
Giles Last, Course Leader of BA Jewellery Design at Central Saint Martins comments:

"This wonderful collaboration with Vitsoe and the marvellous setting, yet again gives the course an excellent opportunity to celebrate the breadth and range of the work of our staff and students, from a selection of graduate work to the first project the students encounter on the course and from staff research and new pieces to the second years live event"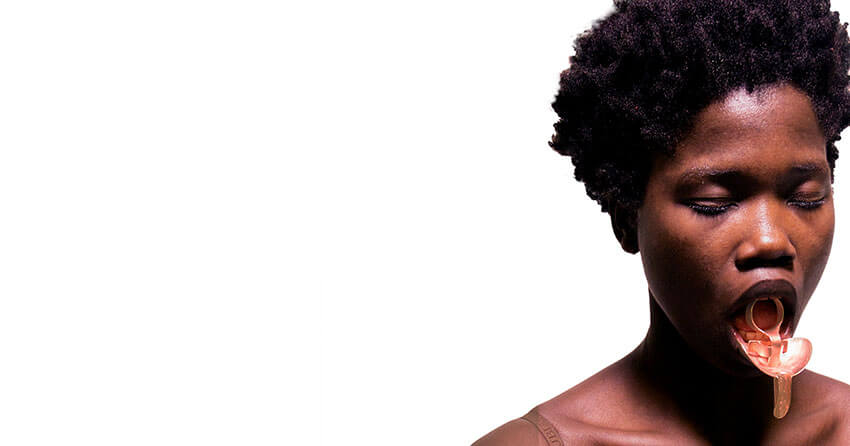 Yaling Wang 'Unreasonable and Meaningless' – Copper
{{'2019-03-28T14:25:45.4323934+00:00' | utcToLocalDate }}