Harriet Kelsall wins Cambridge's 'Independent Retailer of the Year 2017'
Harriet Kelsall wins Cambridge's 'Independent Retailer of the Year' Gong
1 min {{readingTime}} mins
Harriet Kelsall Bespoke Jewellery has won the 'Independent Retailer of the Year' gong at the Cambridge News Business Excellence Awards 2017. Leading businesses from across the city recently gathered for a gala dinner in the Great Hall, Kings College where Justin Webb of BBC Radio Four announced the winners.
Harriet Kelsall Bespoke Jewellery opened the doors of its Green Street Studio and Shop in May 2005, and since then it has grown from strength to strength, winning a multitude of national awards.
The business was praised by a panel of judges for pioneering bespoke jewellery on the UK high street. Qualified jewellery designers mingle with the public in this unique retail environment which offers a "clean sheet" bespoke design service in a relaxed high street setting.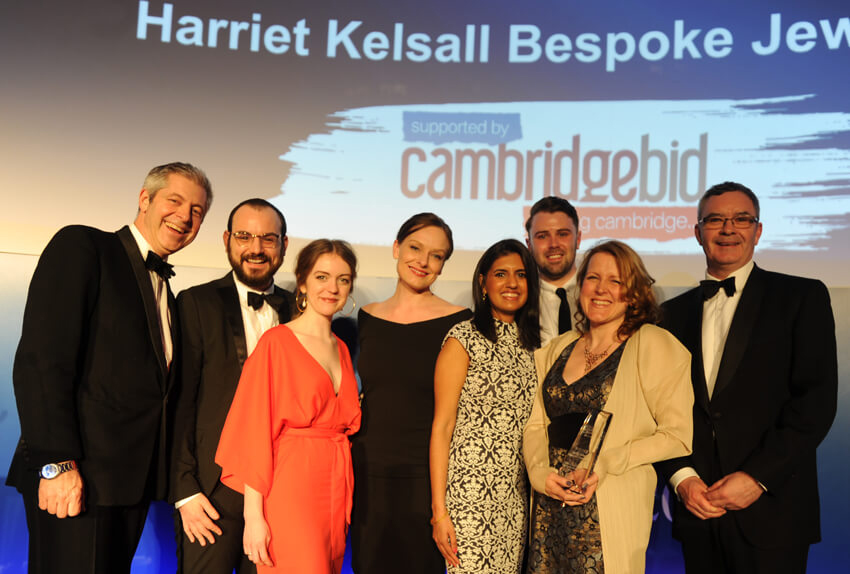 The judges commended the company's contribution to Cambridge over the past year, driven by founder Harriet Kelsall who has recently brought together a team of female business leaders interested in charity, sustainability and community to begin work promoting better ethical business practices. Locally the company also supports "Fairtrade Cambridge", helps promote Cambridge BID, and speaks in schools about ethics and careers.
Harriet Kelsall commented,"We were absolutely thrilled to win the award last night and very surprised. In a trailblazing city like Cambridge, with wonderful entrepreneurs and innovators, there are many diverse, successful businesses on the cutting edge of all kinds of industries. Cambridge is full of brilliant independent retailers which are always in need of more support than the chains, so it's great to have an award specifically for independent retail. I am overwhelmed that we won this amazing accolade - thank you judges and to the Cambridge BID for sponsoring this award."
The Cambridge studio is staffed by a team of degree qualified designers who are on hand to chat to customers about individual design commissions. Bespoke design gives the team the privilege of capturing the unique story of every customer, with many one-off designs reflecting the diversity of the Cambridgeshire people who commission them.
{{'2017-04-28T10:45:00.0000000Z' | utcToLocalDate }}