Jewellery Oscars see 135 winners announced
Goldsmiths' Craft & Design Council hold annual awards
1 min {{readingTime}} mins
The 'Jewellery Oscars', highlight of the Jewellery Industry's design, craft and manufacturing community's year, saw industry came together once again to celebrate the winners of the annual Goldsmiths Craft & Design Awards which took place again at Goldsmiths' Hall in London last Monday.
The culmination of a year's work for industry, where pieces worked upon and finished in the last twelve months are entered and shown at the prestigious awards event was hosted by Theo Fennell and welcomed over 300 guests, including world-renowned jewellery houses, notable sponsors, industry associations, leading designers and the UK jewellery press.
The unique annual competition rewards excellence in technical skills and creative design in precious metals and related materials. The Goldsmiths' Craft & Design Council, which operates the competition, actively encourages craftspersons and designers in the industry, apprentices and students to enter their work in these highly-respected awards, and is a true representation of pier to pier voting for recognition of excellence in the craft.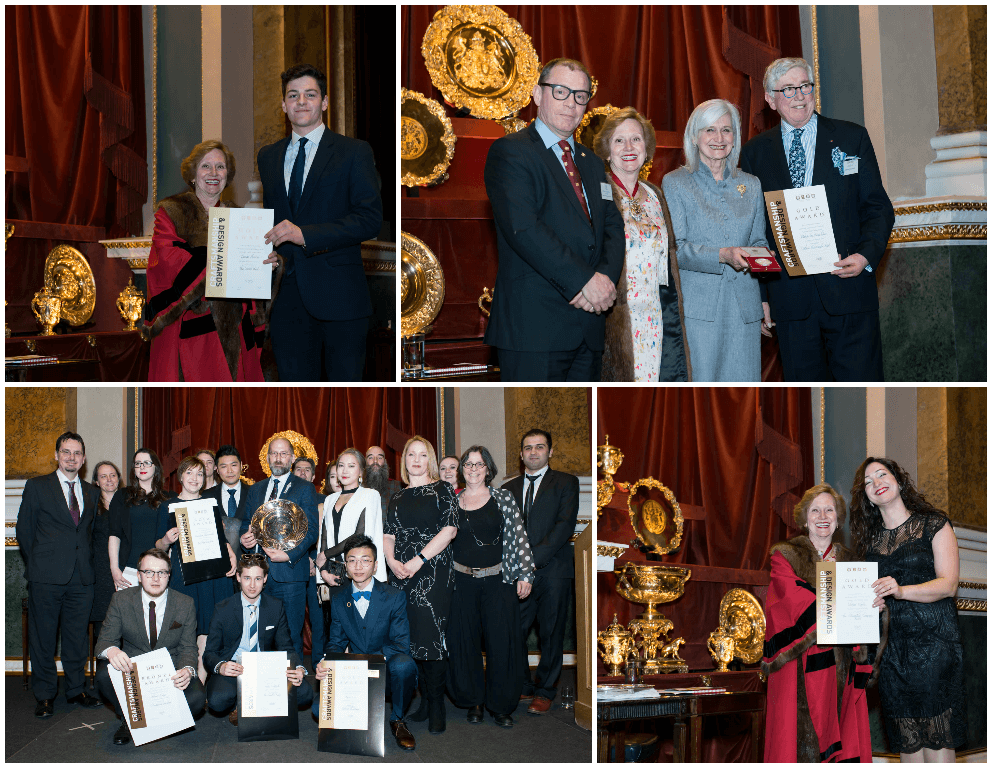 Lifetime Achievement Award
Each year, the Goldsmiths' Craft & Design Council honours a member of the UK industry with its Lifetime Achievement Award. In 2018, this was presented to husband-and-wife team, Patrick and Vivian Fuller who have together built one of the largest and most successful UK jewellery businesses, with a strong reputation for design and innovation. Patrick and Vivian were presented with the LAA silver medal by The Goldsmiths' Company Prime Warden, Judith Cobham-Lowe, and Mr Tom Fattorini, sponsor of this award.
Key 2018 Awards Highlights
A total of 135 winners were honoured in 24 categories with 32 Gold Awards, 40 Silver Awards and 51 Bronze Awards.
There were over 500 single entries, which increased to 930 from multiple entries.
The College Trophy, awarded annually to the college or university that has achieved the highest total of points accumulated from any gold, silver and bronze prizes in the competition. This year Glasgow College of Art and the Birmingham School of Jewellery were head-to-head on the points score but it finally went to Birmingham City University, the second consecutive year that they have won this trophy.
There are over 80 industry supporters of the Awards in 2018.
100 industry judges, experts in their respective fields, assessed the entries.
Over 20 Patron and Special Awards given in 2018.
Patron Awards
Miriam Hanid won the Goldsmiths' Company Award with her chased radiance Centrepiece
Simon Coldicott won the Baird & Co. Award for his Locomotive Model
The Podolsky Award went to James Kydd for his Gentleman's Dress Suite Box
The Ingle & Rhode Award for Fairtrade Jewellery Design was awarded to Susan Blackler for her 'Cracked' Texture Ring
The International Jewellery London Award was won by Sonia Cheadle for her 'Four Seasons' Brooches
Sam Hunter took the Brown & Newirth Award for his Dragonfly Brooch
The Vipa Designs Award went to Timon Eidi Tio for his 3D Printed Bracelets and complimentary boxes
The Theo Fennell Apprentice and Master Award was won by Matthew Hart for his Samurai Desk Seal. Matthew's master is Emmet Smith of Rebus.
GC&DC Chairman, Andrew Putand, said:
"Congratulations to all of this year's Award winners, who have again impressed the Council and our judges, with fine examples of craft and design skills across many specialist sections. Our expert industry judges frequently commented on the exceptionally high standard of entries this year, and we are pleased with the number of entries that met Council's benchmark for Gold Awards in 2018. The Goldsmiths' Craft & Design Council Awards mark a positive start to the year for our junior and senior entrants, and the Council was pleased to celebrate and enjoy their success on Monday night through these great Awards."
{{'2018-02-26T23:40:10.7770000Z' | utcToLocalDate }}