GFG Jewellery Crafted with Love and Passion by Nilufer Kizilkaya
Gemstones Set The Tone: GFG Jewellery by Nilufe
1 min {{readingTime}} mins
GFG Jewellery by Nilufer is a London-based British contemporary fine jewellery brand established by founder, Nilufer Kizilkaya.
With a vision to encapsulate timeless beauty, Nilufer set about creating collections that are easily wearable from day to night with a vision to form a part of a woman's daily outfit ritual.
The aesthetics of the collections are created with love and passion, inspired by the beauty of our surroundings. Each piece is created using precious metals, handset and polished while gemstones, diamonds and pearls are sourced around the world and cut to bespoke specifications for the brand. GFG Jewellery by Nilufer, founded in 2014, is instilled with the belief that each piece of jewellery is 'A gift from the Gods'; when you wear your piece, with should be with a smile.
To celebrate the year of the Red Rooster, Nilufer draws inspiration from the fiery colour red, turning to rubies to create evocative designs. The collection is designed around the concept of Seraphine - the order of Angels, believed to have six wings on each side.
The Seraphina collection is crafted in 18 karat yellow gold and is adorned with diamonds and responsibly-sourced rubies in partnership with Gemfields. The Collection has a contrasting Noir side to capture the beauty of the amethyst stone. Crafted in rhodium plated 18 karat gold, each piece is handset with diamonds, sapphires and responsibly-sourced amethysts in partnership with Gemfields.
The Mara Collection is inspired by the geometric design of the pyramids. After seeing the opera Aida set to the backdrop of the pyramids at night, founder Nilufer has long felt the compulsion to create an inspired collection. Drawing on the belief that the dark area of the night sky surrounding the pyramids is the physical gateway into the heavens, Nilufer uses gemstones in her signature style to encapsulate the timeless beauty and mythology. The designs are crafted in 18 karat gold and set with diamonds.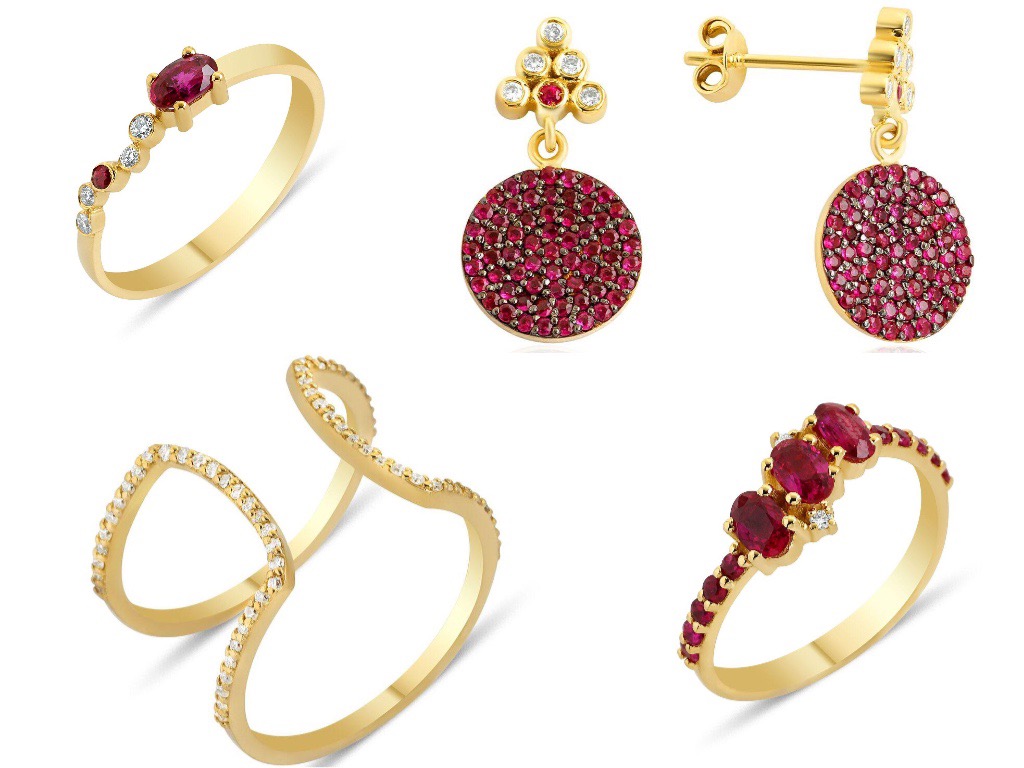 Nilufer In The Spotlight
With a fascination for jewellery intrinsically embedded in her DNA, thanks to a childhood surrounded by heritage, history and inspiration in Istanbul, it was actually much later in life that GFG Jewellery founder and creative director Nilufer Kizilkaya officially took up the jewellery tools of the trade. The designer's mother and grandmother influenced her, with a view that embellishment is a key attribute to your everyday wear.
Both academic and creative, Nilufer obtained her Master's degree in Economics in Amsterdam, after which she embarked on a career in investment banking in London. Nilufer later decided to swap the trading floor for the jewellery workbench, studying silversmithing, technical drawing and interior design. Nilufer also studied at the GIA and is a recognised Alumni.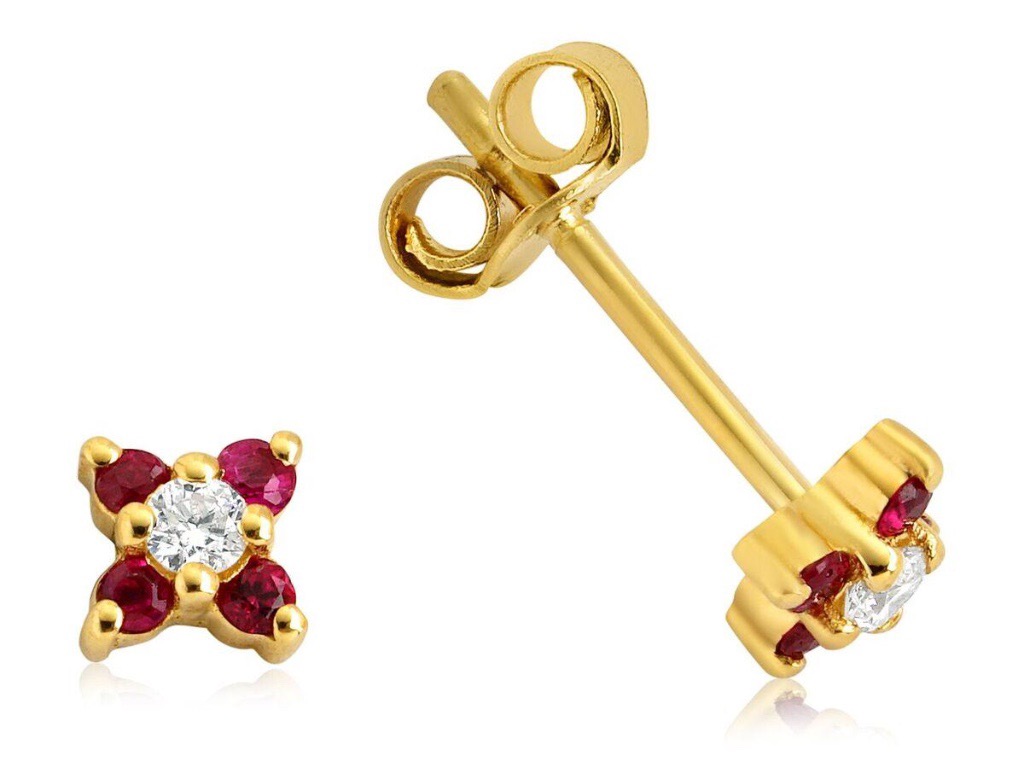 Nilufer took time out from the world of finance to return to her birthplace and world of inspiration, honing her jewellery skills with the great master artisans in the outskirts of the Grand Bazaar in Istanbul. In 2014, Nilufer established GFG Jewellery, standing for Gift from the Gods, embarking on a new chapter as a jewellery designer in London.
Inspired by culture, her travels and architecture, Nilufer sources gemstones as a starting point for her creative process. For her latest collections Nilufer has collaborated with Gemfields, to showcase responsibly sourced gemstones in beautiful settings.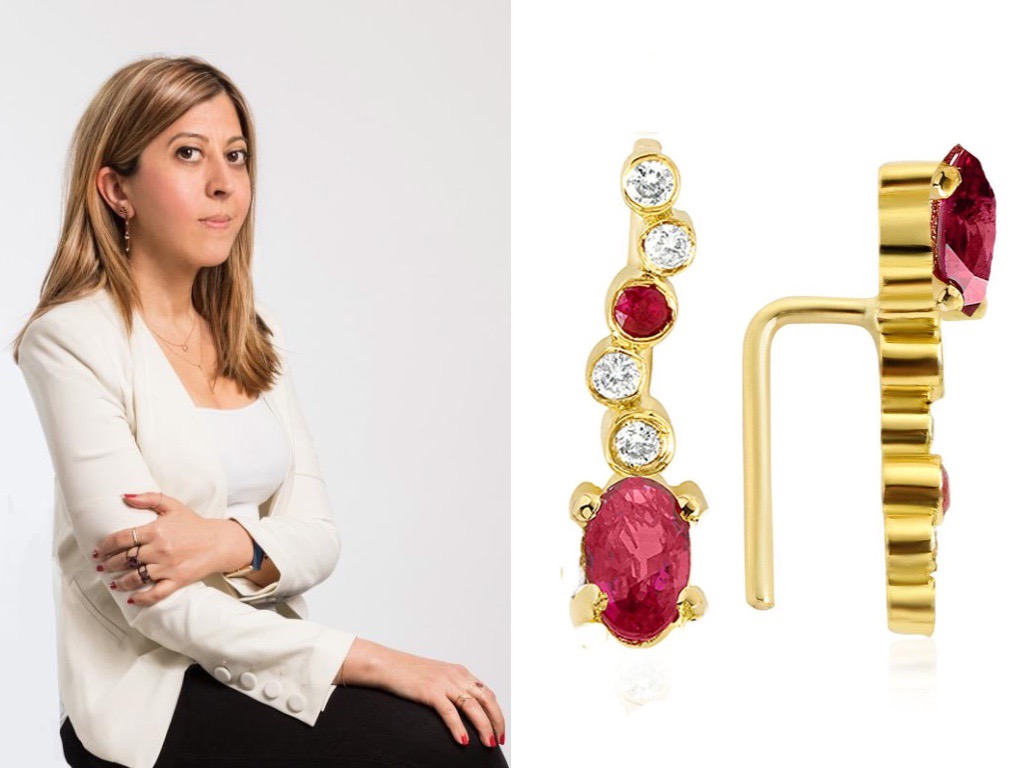 Nilufer, GFG Jewellery Q&A:
- Your switch from Investment Banking into Fine Jewellery was perhaps an atypical career move? When did you realize you wanted to work in Jewellery?
I always have had a love for jewellery, born into a family where my mother and grandmother appreciated jewellery, and an upbringing within a culture of appreciating jewellery; it was something that belonged to your daily wear. I decided that I wanted to work in jewellery in 2001 and that is when I started studying silversmithing and broadening my knowledge on the business that I wanted to set up.
- Do you find that switch has meant you can find a balance between the role of business manager and creative? Can you be one without the other in this industry?
I do not think you can be one without the other if you wish to be successful. At the end of the day, you are creating something but along the pleasure you will gain from someone wearing your designs if you wish to bring this to a bigger scale you have to see this as a business and treat it accordingly. You need to be clear on your strategy even if it might take you a while, you need to know the market, your financials. After all, for the long haul you will need to see this as a business.
- How would you define the ideal GFG Jewellery customer?

I do not have an ideal clientele, but I design for the modern woman without any age limits. Someone who is confident, knows what she likes and loves a bit of sparkle in her life. We are also finding that the younger market are being drawn to coloured gemstones for engagement rings, which my designs work perfectly for.
- Can you describe your creative process? How do you go about envisaging what your pieces will eventually be like?

My creative process always starts with the gemstones. After I see, purchase and play with the gemstones in a very quiet relaxed moment; usually in the mornings an idea will pop in my head how my next design should look and I will then start drawing. My designs always start with rings, as I love stacking them – they are the cornerstone of my collections.
- Could you tell us about your decision to work with Gemfields? What attracted you to work with them?

I wanted to work with Gemfields as I am a strong advocate of responsibly sourcing gemstones. As a jeweller I find it very important to know where the gemstones come from, that I can trust the information my suppliers provide about the quality and the process the gemstones go through; Gemfields is able to do this. On top of this I also contribute to the community where the gemstones are mined, as Gemfields invests back into the community through social projects in the areas surrounding their mines.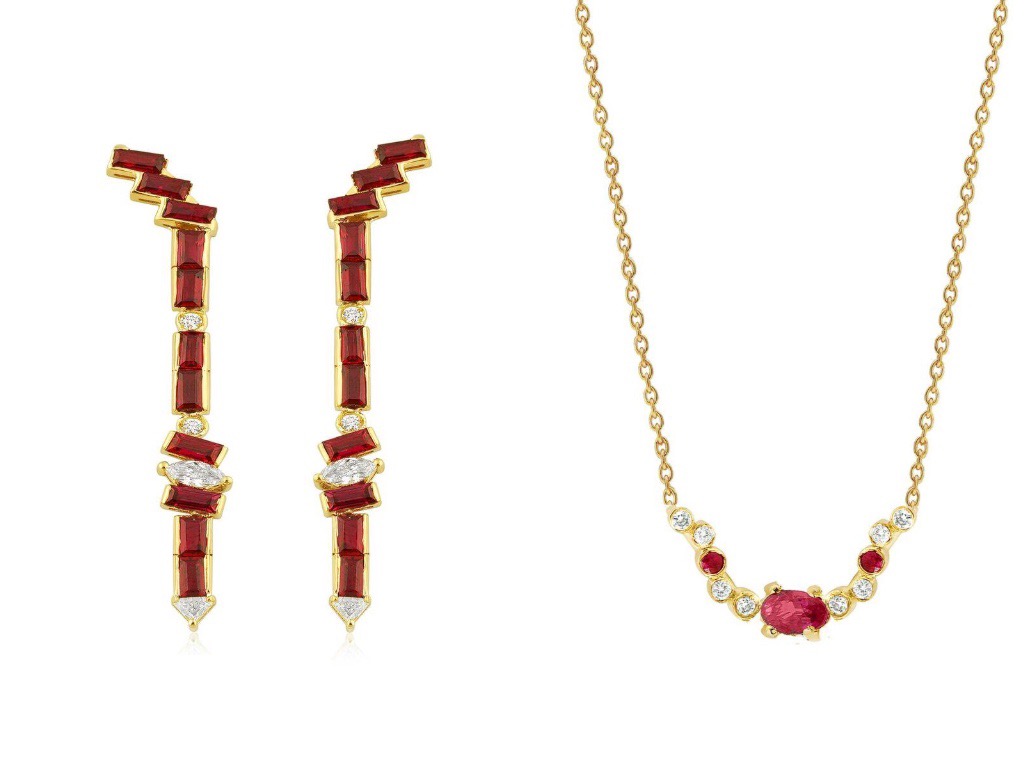 - What advice can you give other designers to making their businesses more ethically positive?
Do your research; take an interest in where everything you use is sourced. Today, the consumer is far more conscious and understanding of the implications of their purchases, especially when it comes to high value pieces, so it's important to do the utmost you can.
- What are your goals for the next few years?
I would like to first grow in the UK and European markets and then to expand towards the US. In terms of the collections, I look forward to seeing where my 
inspiration takes me; it would be great to see more strong-minded and beautiful women wearing my designs.
- If you could design a piece for one person, who would it be?

If I could choose anyone then it would be Audrey Hepburn. I believe that she is the quintessential role model for the modern confident woman. Her social responsible role that she carried out as a Unicef ambassador, the fact that she was British but also had Dutch heritage resonates with me on a personal level. And that's before I even touch on her her career and her natural beauty. 
However, if I had to choose someone with us now, it would be a call between Madonna and Rihanna - two very strong confident women.
- Do you have a favourite piece that you've designed or that you like to wear?
To be honest this is a very tough question to answer, as I only design pieces that I would wear. If you were to see me today, I am wearing 2 Claire bracelets, the Claire diamond huggie hoops, Mara stud, Ellie necklace, Claire Bar sapphire necklace, four stacking Claire eternity rings, ellie ring, the Seraphina wing ring. More is definitely more in my eyes!
Quick Fire
- Smart or Casual? Casual Smart
- Day or Night? Day
- Ruby or Emerald? Ruby
- London or Paris? London 

{{'2017-06-16T10:23:25.0735368+00:00' | utcToLocalDate }}