Silversmithing Meets 3D Futuristic Design
Futuristic Utopia: Charlotte Anderson Sculpts her '2300' Final Collection
1 min {{readingTime}} mins
Charlotte Asherson, a jewellery student from Central Saint Martins, came to see D2W's jewellery expert Dovydas Pocius with some sketches and draft CAD files that described an extensive collection of jewellery designs. During the initial consultation, Charlotte explained that she had started to produce some of the collection using traditional jewellery and silversmithing techniques but the process had proven to be too expensive and she wasn't satisfied with the final result.
Charlotte had a good understanding of 3D printing and thought this might be an alternative and more successful avenue to use to realise her designs. She wanted her collection to look masculine and substantial. It also required tension and channel settings, in order to accept the Swarowski crystals, who were sponsoring her entire degree show collection.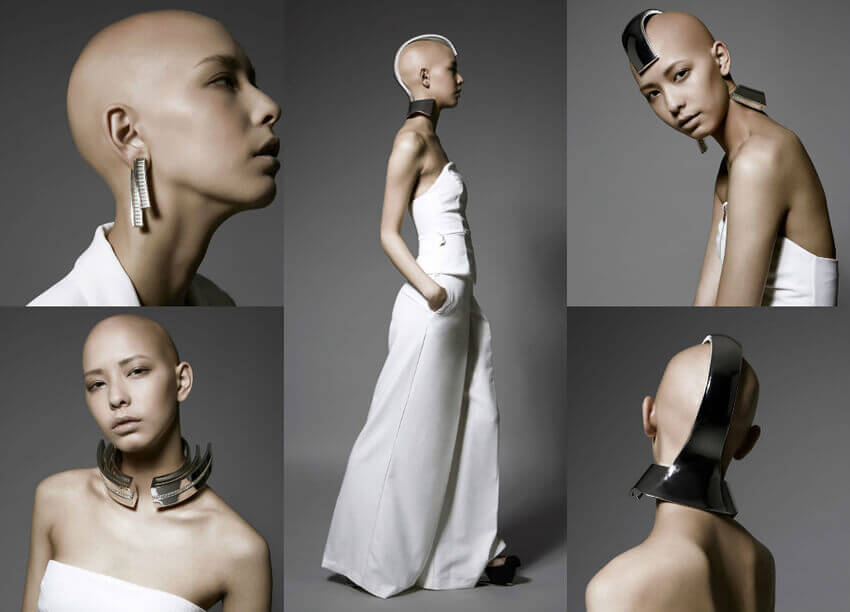 Initially Charlotte had wondered if she might 3D Print her designs, have them investment cast in silver, then have them polished and finally set the stones within.
As soon as Dovydas had completed the CAD modelling of the finished forms, he could establish the volume of the pieces which revealed that if produced in this way, some of the designs would weigh 4.5 kg in sterling silver. Not only would that be extremely expensive, it would also render the pieces unwearable due to their extreme weight.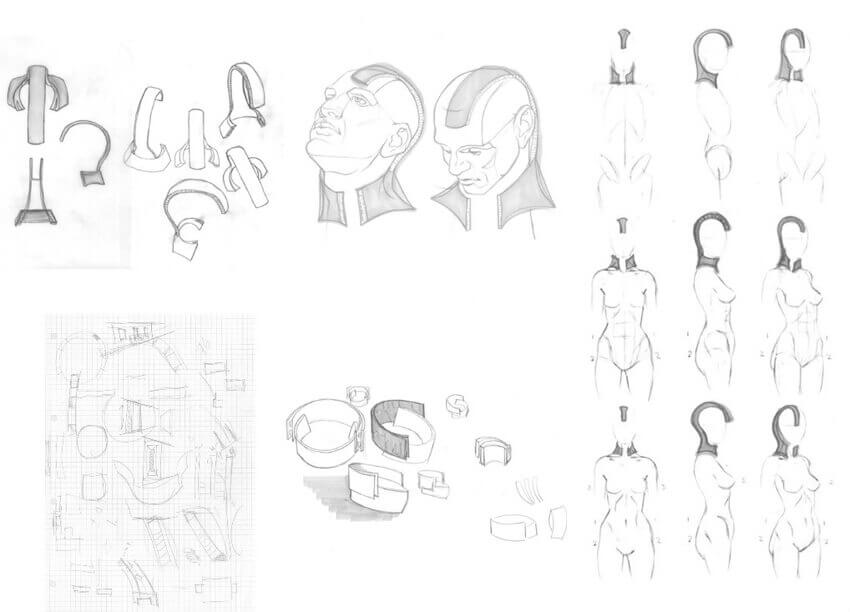 This obviously meant that there had to be a review of the designs. Weight and substance in a piece of jewellery is often desirable, but this would be excessive! Due to the weight issue, Charlotte decided that creating the collection entirely from precious metal was not that important. The main thing was to showcase the Swarowski crystals and so decided that some of the finished pieces should remain 3D printed in Nylon SLS and then be finished to produce a metal effect. This would make them both cheaper to produce and even more significantly, much lighter and thus wearable.
The CAD models of the finished forms had also allowed Dovydas to establish a price estimate for the 3D printing of the finished forms. The geometry of some of Charlotte's pieces made them quite large 3D printed parts and therefore relatively expensive in terms of the way they fitted inside the build chamber of the Nylon SLS, 3D printer.

As a result, Charlotte worked with Dovydas to break the pieces down in to more manageable components for 3D printing. These were then designed to incorporate features that allowed them to elegantly fit back together again to create the finished forms. Some parts would slide together. Some were detailed to be glued and others had recesses to accommodate magnets to make the putting on of the larger pieces more straightforward.

In order to retain some precious metal components in the collection, the panels that would eventually have crystals set in them, were designed to be 3D printed and then investment cast in silver. Therefore the precious crystals would be set in to a correspondingly precious background to further enrich the finished pieces. It also meant that the finished pieces would retain a substantial and weighty feel. This approach was taken to the entire collection, with each piece being designed and broken down in to constituent parts. These components were then carefully packed in to one of D2W's set priced volumes of Nylon SLS and were printed.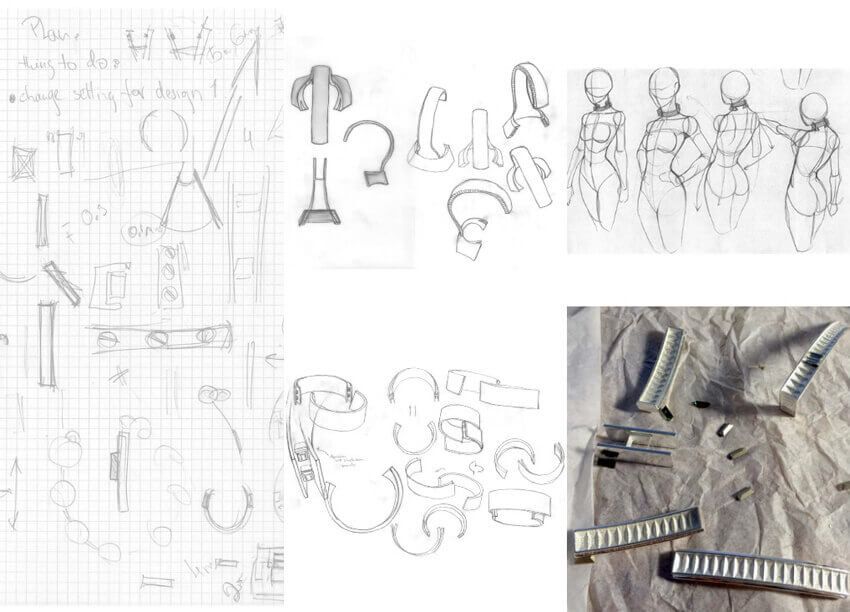 In the meantime, Charlotte had sourced a spray chroming company, who could apply their metallic finish to polished Nylon SLS components. She also located a casting company skilled in the art of investment casting direct from Nylon SLS parts in order to produce the silver elements.
The different components were then sent off to their respective processes. Once returned, the silver parts were taken and the Swarowski crystals set within them. The spray chromed components, simply had their magnets inserted and then everything was fitted together to form this exquisite collection.
A majority of jewellery produced using CAD and 3D printing is simply a direct translation of a single digitally produced shape in to metal.
This beautiful collection demonstrates, that with design sensitivity, expert CAD skills, knowledge of different 3D print materials and an understanding of casting and other finishing, a collection can be assembled using a number of different techniques to overcome constraints and achieve the spectacular results!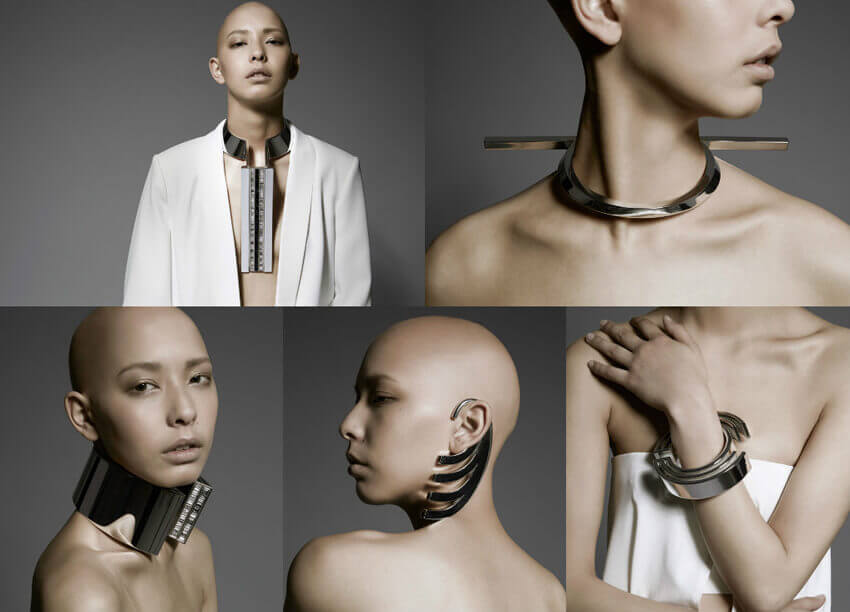 {{'2016-09-02T09:51:39.9607487+00:00' | utcToLocalDate }}