Gold-Plate: The Great Debate
Emma Aitchison Ditches Gold-Plated Items in the Name of Sustainability
1 min {{readingTime}} mins
We caught up with Emma Aitchison, founder of the eponymous jewellery brand. Recently, Emma has taken the decision to eliminate gold-plated jewellery from all future collections in the name of sustainability.
Gold-plated jewellery is popular due to its mimicry of timeless gold coupled with its comparatively much lower cost and accessibility. Much focus has been given to sustainability over the past few years, with the consequences of our disposable lifestyles – especially the effect of 'fast-fashion' - widely reported on.
The labour-intensive process of stripping gold-plate in conjunction with the relatively low cost of new pieces, often makes replacement favourable to recycling damaged or dated pieces, as well as making large jewellery collections achievable for the average person. This dangerous cycle is causally linked to the overproduction and overconsumption of products.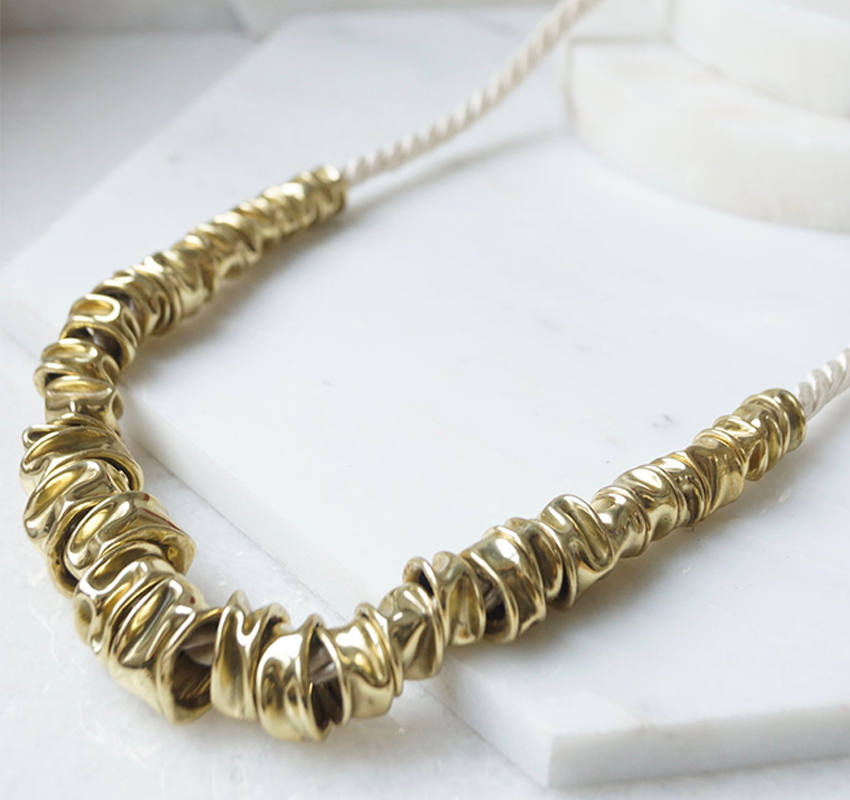 Emma says "We want our products to last you a lifetime, products that degrade after a few years just don't speak to our brand ethos. We don't want to support the consumption of products that won't last."
The environmental threat that the gold-plating process poses is also a concern. To plate other metals in gold, several chemicals are used, including acid cleaners, alkaline cleaners, abrasives, solvents and cyanaurate (cyanide.) Emma explains, "disposal of these chemicals threatens ecosystems, which we simply do not want to risk contributing to."
Sustainability is often an extremely complex topic, shifting with time. Good intentions do not exist in a vacuum and can have unforeseen and unfortunate impacts on wider markets. Macrocosmically, the increased focus on sustainability, in general, has led to the success of more ethically-minded businesses. The term 'greenwashing' has been used to describe the phenomenon of large corporations co-opting the language and selling points of their sustainable counterparts to appear more ethical and thus win the business of well-intentioned consumers. This in turn just wins more business for mass-produced fast fashion providers – the same model applies to other industries.
In jewellery, 'ethical' gold plating is now available from certain distributors. Emma explains that although the gold is Fairmined – which plays an instrumental role in protecting the rights of those working in the mining industry – it does not account for the environmental impact of extracting gold for plating or for the plating process itself.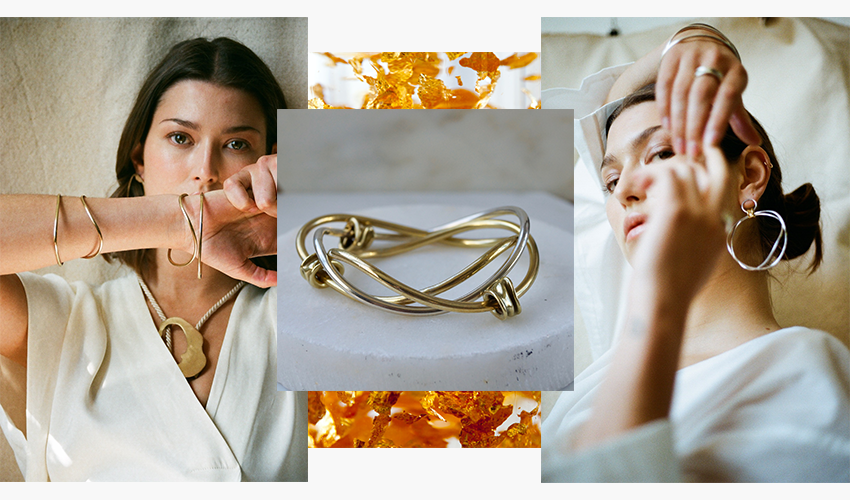 Q&A
BP: How important is sustainability to the Emma Aitchison brand; what does it mean to
you?
EA: Sustainability is at the soul of the brand, any decision we make is always referred back to our sustainable values and regenerative practices, we make sure we choose the best path we can to future proof our product for person and planet.
Sustainability and regenerative practices to me, is the only way we can continue living in a way we have become accustomed to. I sometimes feel guilty for creating more product but this should not be the case, as long as we all work within boundaries allowing sustainable and ethical practices to dictate our decisions rather than profit we should all be able to continue doing what we love.
BP: Did you have any reservations about removing the gold-plated items from your collections?
EA: Yes, I did, I was worried about my sales and what my customers may think, although I knew it was the right thing to do it was quite a gamble. Some of my best sellers are the gold-plated items so it was a big risk to remove these, however, I found once I had educated the customer about the reasons why most of them showed full support which was fantastic.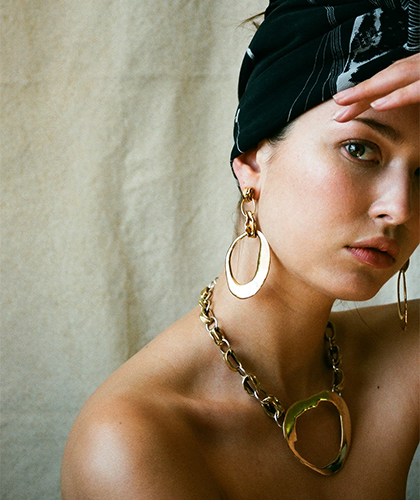 BP: What materials can we expect to see in future collections? How will the decision affect the aesthetic of your jewellery?
EA: I will be replacing the gold-plated items with brass, recycled silver and 9ct recycled gold. This has dictated the aesthetic for new designs- for brass items I need to consider how easy it is to clean; very intricate pieces could prove to be tricky. For gold, I need to consider the weight and price point to remain competitive, instead of making items in solid gold, I may choose to add a touch of gold to a silver item, still allowing that two tone colour way.
BP: What has the feedback been like following this decision?
EA: Overall, I have had a brilliant response, I am lucky to have like-minded customers who understand the decision and show full support, my Stockists have also been supportive. There are of course a few people sad to say goodbye to gold plating but once we open the discussion up about why we have made this decision they seem to come on board. I find this happens a lot, the lack of conversation around certain topics/ practices, they are almost avoided or hidden, bringing these to the surface really helps more people to understand what they are purchasing and how they would like to consume.
BP: Have there been any logistical issues?
EA: There has been quite a bit of organising and admin involved, I am sure this will continue as the discussion around gold plating and brass develops. Apart from that everything has so far been fairly hassle free.
Emma Aitchison's new collections are available now, 5% of every online order to Survival International Charity.
Emma has also been working on a beautiful social media project called Reconnect, which focuses on our relationship with the great outdoors, encouraging us all to spend more time in nature and take our jewellery on a journey. The series features several thoughtful Q&A's with outdoor enthusiasts.
Follow Emma Aitchinson: @emmaaitchisonjewellery
Find out more: https://www.emmaaitchison.com/
{{'2021-05-18T19:38:53.1315067+00:00' | utcToLocalDate }}