Eileen Gatt opens centre for ethical making and design
Eileen Gatt Transforms Former Black Isle Post Office Into Ethical Jewellery Centre
1 min {{readingTime}} mins
The small village of Munlochy, on the Black Isle, is set to be at the forefront of Scotland's drive to become a world leader in ethical jewellery making and silversmithing.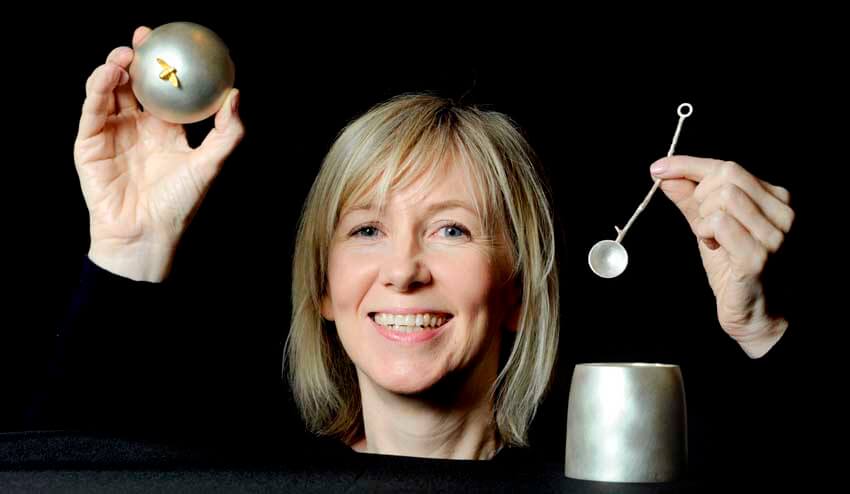 Eileen Gatt has recently given up her Edinburgh studio in order to transform the former post office, a few miles from Inverness, into a centre for ethical making and design.
It'll be a lengthy task, but thanks to a £4,000 bursary from the Incorporation of Goldsmiths of Edinburgh, plus £11,000 from Creative Scotland and £30,000 from Highlands and Islands Enterprise (HIE), it's a project she thinks has a bright future.
Born and raised in the village, Gatt went on to teach at Duncan of Jordanstone College of Art in Dundee and has a successful career creating distinctive silverware and jewellery that is often inspired by wildlife.
Right now she is working with the RSPB to create pieces that respond to its conservation campaigns – for example to protect puffins – with a percentage from each sale going directly to the charity's Scottish endeavours.
After attending a symposium staged by the Incorporation of Goldsmiths of Edinburgh Gatt decided that she wanted to do more and started to look at how to become an active part of its drive to put Scotland at the forefront of ethical making.
When she heard the Post Office was about to close she made it her own base and started planning to transform it into a small-scale ethical making centre. Visitors will be able to watch makers at work, chat to them about their work and buy or commission pieces of jewellery, gold or silverware.
Gatt said: "The symposium was a real eye-opener. I suppose it's down to my own conscience and awareness that every business needs to take responsibility for what it does – by thinking about recycling and where its materials, like gold and stones, are sourced from.

"Jewellery making and silversmithing can also be quite a mucky, dirty business, using lots of toxic chemicals, so I wanted to adopt greener practices.

"I know there are other makers and designers in the area who are interested in ethical working and would love good workshop space, and a place to learn from each other. It can be very hard to find affordable, quality workspace in rural areas like this but the post office will be ideal.

"At the same time I've always loved teaching, so this will be an opportunity for me to have space in the village where I was born, to share skills with people by running classes."
Visitors to the Perspectives exhibition will be able to see two handcrafted silver "balance bowls", designed by Gatt to appear as if they are teetering at a near impossible angle.
Gatt says: "One has a ladybird and the other has a bee on its lip – the precarious appearance of the bowls reflects the way that survival of so many species of wildlife are also at a tipping point."
It is hoped that the new centre will be open for Easter 2019 and will benefit the economy by attracting visitors and customers.
Gatt also plans to devote some of the space to an exhibition showing people more about the process of jewellery making and silversmithing, including where the raw materials come from and the processes used by makers.
Developing an ethical business
There are still many challenges for makers in developing a sustainable and ethical business. These include sourcing materials with guaranteed origins and getting information about how to develop more environmentally friendly workshop practices.
The steps Gatt is taking include:
Setting up an ethical making centre with workspace for hire
Registering as a Fairmined licensee whose gold is responsibly sourced
Buying other materials such as precious stones from ethical sources
Avoiding or reducing use of toxic chemicals
Designing pieces with conservation themes
Contributing a percentage of profits from some pieces to the RSPB
Spreading awareness of ethical making through an exhibition and by teaching.
The Incorporation has launched an online resource where makers and designers can find information about ethical working.
{{'2018-10-12T13:46:13.6090862+00:00' | utcToLocalDate }}