Incorporation of Goldsmiths to launch online Ethical Jewellery Resource
Edinburgh's Incorporation of Goldsmiths Host Ethical Symposium
1 min {{readingTime}} mins
Designer Tips for Ethical Practices to Start off a Sustainable Business
Our friends from Edinburgh's Incorporation of Goldsmiths have been up to great adventures in the field of ethical jewellery and sustainability. The Scottish Goldsmiths' Trust, the charitable arm of the Incorporation, shared with us details of their latest initiative of setting up an online ethical jewellery resource for informing jewellery designers who want to work towards an ethical practice.
It's in Our Hands – Symposium on the Future of Ethical Jewellery Making in Scotland
In partnership with the Duncan of Jordanstone College of Art and Design, the Incorporation held their first ethical jewellery symposium called It's in our Hands – The Future of Ethical Making in Scotland, supported by a 1-day workshop on sustainable jewellery practices.
The Symposium looked at issues of ethics in the jewellery industry, how and why to adopt an ethical jewellery practice. The event had an incredible line-up of internationally renowned activists, jewellery makers and professionals in the luxury industry who offered a wide range of perspectives on the most important steps of setting up a sustainable fine jewellery business.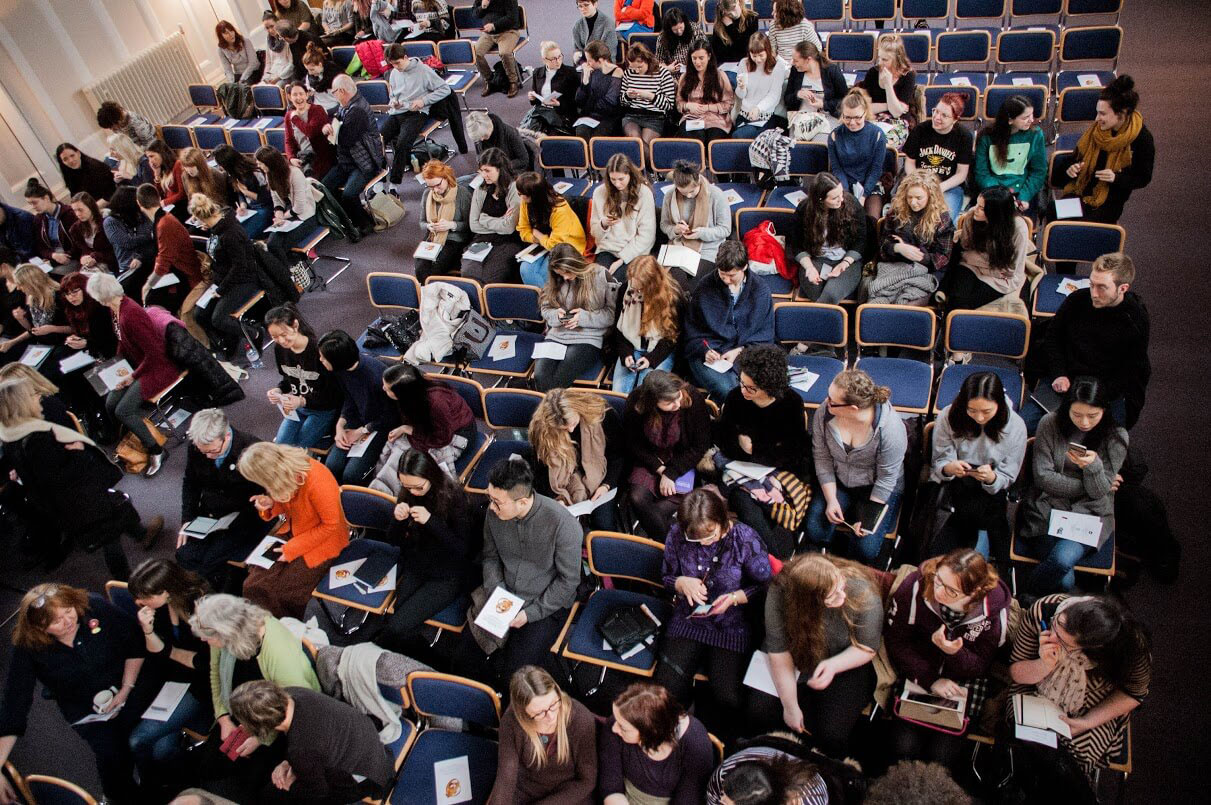 These included Greg Valerio - pioneering ethical jewellery designer and activist, Ute Decker - ethical jeweller and researcher, Karen Westland, jeweller and silversmith – participant at Elements – Edinburgh's Festival of Jewellery, Gold & Silver who voiced the views of the makers' community. Regarding the broader history of precious materials sourcing and its environmental and socioeconomic impact, Dr Peter Oakley from the Royal College of Art introduced international case studies on the history of precious metal mining, while ethical consultant, Vivien Johnston, pointed to the opportunity for innovation that local Scottish gold mine – Scot Gold in Tyndrum presents, and Marian Brown, founder of Ostrero – a circular economy information agency, shared more about the many opportunities in Scotland for companies adopting a Circular Economy model. Mary Michel, Director of the Incorporation, finished off by discussing the components of the jewellery-making chain of custody and the importance of provenance when creating unique pieces. She advised designers to always approach their practice by questioning how their art pieces, their design and materials add to their unique story and distinctive mark.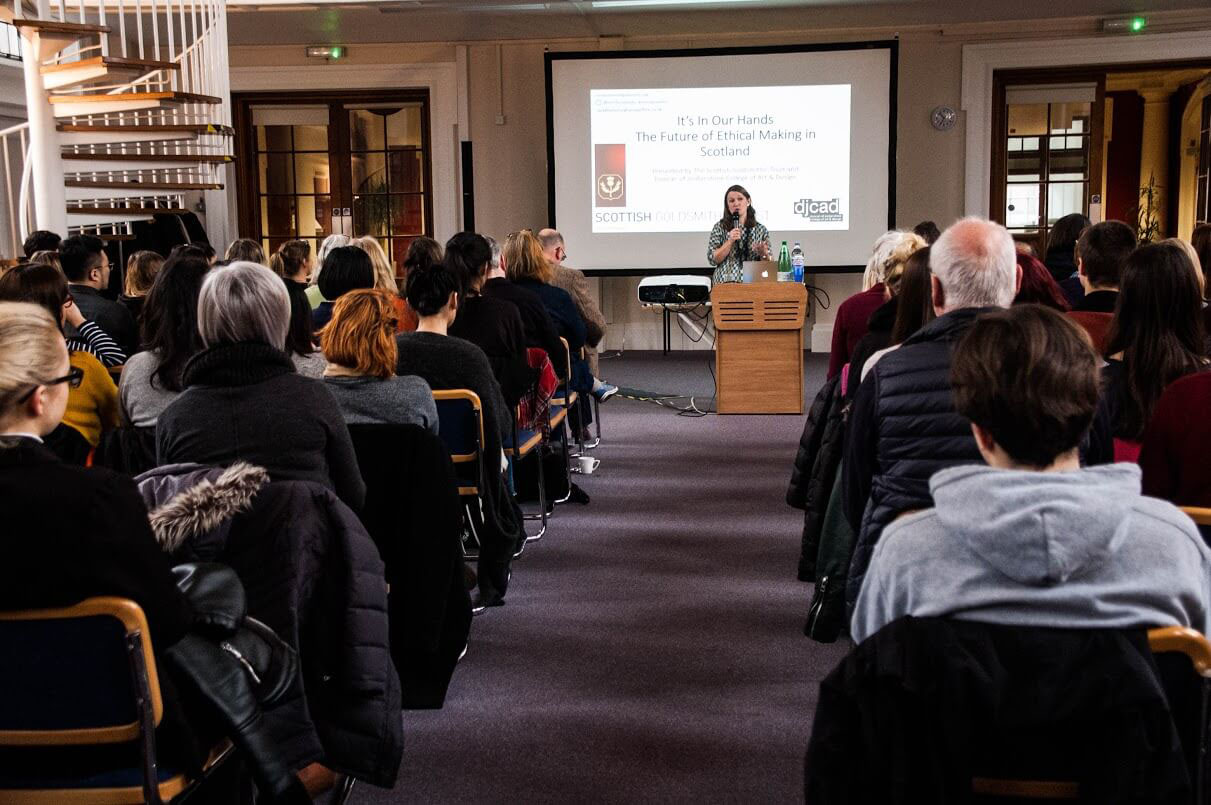 The Idea of the Ethical Jewellery Resource
The buzz created by the topics covered resonated in chat with the designers, "How can I become an ethical jewellery designer? Where do I get the support to start off on that journey?" These were the recurring questions that the speakers also addressed.
This lack of organised information is also how the Incorporation of Goldsmiths came up with the idea to build an online ethical resource and forum. At the start of 2017, our organisation started gathering practical information from jewellers, activists and researchers on work techniques, material sources and suppliers, and networking opportunities. The aim is to bring together the fragmented information surrounding ethical making and present it in an easily understandable and accessible format. This information will soon form the basis of an online living document and meeting place for makers to share information, challenges and tips. The Incorporation hope that the community of ethical makers will help with this growth by continuing to tell the Incorporation about their experiences and challenges.
Tips on Starting Your Ethical Jewellery Practice
To get the conversation started with the Incorporation's ethical online community, below is a selection of the most important takeaways from the Symposium and the following workshop.
Greg Valerio's Advice: Know Your Source!
FairTrade ethical jeweller and passionate activist, fighting for social and environmental justice within the jewellery sector, Greg Valerio started the Symposium off with a bang, gold bullet in hand. Greg pioneered the ethical jewellery sector in 2004 when he launched CRED, the first ever ethical jewellery brand. Greg, like other passionate ethical makers, did not come into his jewellery business as a jeweller. He was an activist first, maker second. Speaking of the ignorant purposeful blindness at supply chains within the industry, he stressed that to ignore the realities of the industry, to remove jewellery from where it begins in the destructive mining industry is to lie to yourself and to your customers. He began his talk by telling all of us that we are all in the mining industry. We cannot separate the beauty and the pain of jewellery, we must constantly remind ourselves where the story of our creations begins. His advice for future ethical designers is to first ask ourselves how we are going to tell our unique stories (and the story of what you create).
"Objects with a genuine story sell, when you can tell your buyers about the provenance and systems of production of your creation, they will sell themselves". A phrase that seemed to ring true for the makers was Greg's claim that "there is no blueprint for being an ethical jeweller and being ethical can't be defined on the external, there is only what is inside you".
During the practical workshop, he also stressed on the importance of giving yourself time to develop your ethical practice.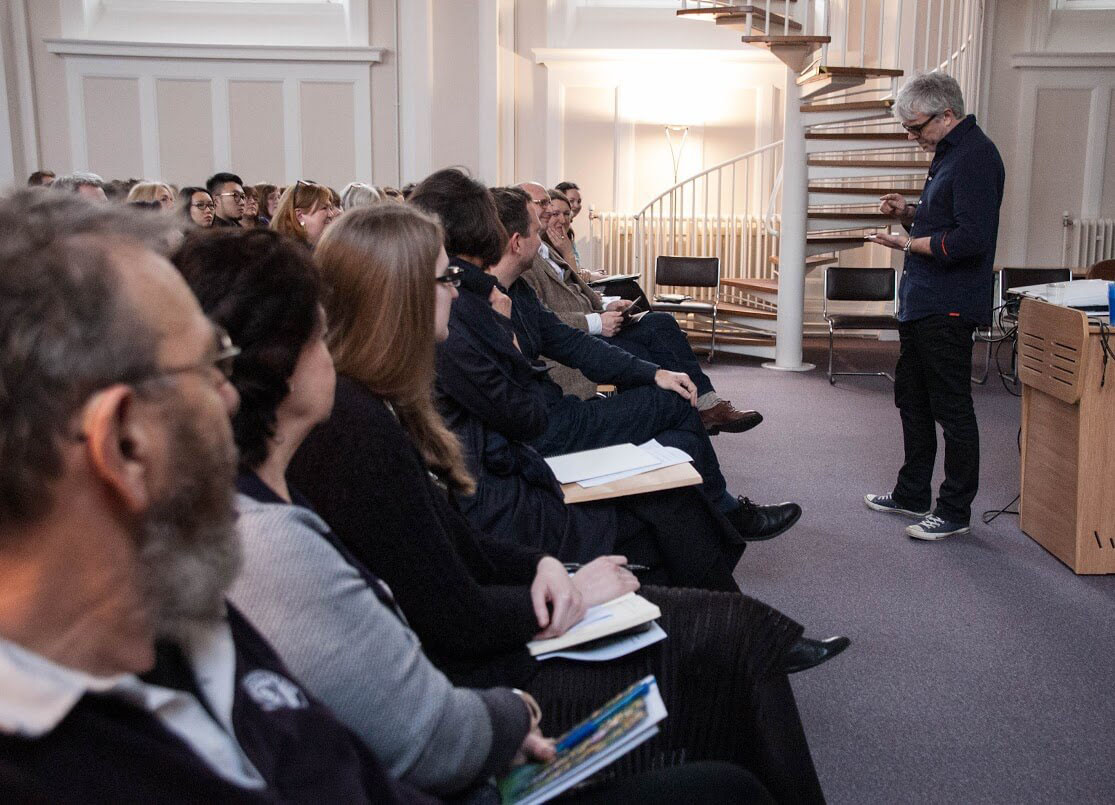 Greg's final words of wisdom: Before you can even talk about ethics in the jewellery sector, two critical elements must be met - transparency and traceability in the supply chain, without which there is no foundation for an ethical practice. You, the small-batch maker can put pressure on your suppliers! Never stop asking what, who, why and how and where - know your source!
Ute Decker: Story telling in the centre of your practice
Coming from a background in political economics and journalism, Ute Decker was brought to a career in ethical jewellery making by her indignation to matters of injustice in the mining industry. For her, jewellery is a creative passion and her ethics come from inside, they are not market led and this is what creates the beauty in the story of her pieces. Ute, like Greg, is a proponent of Fairtrade gold and of fully traceable supply chains.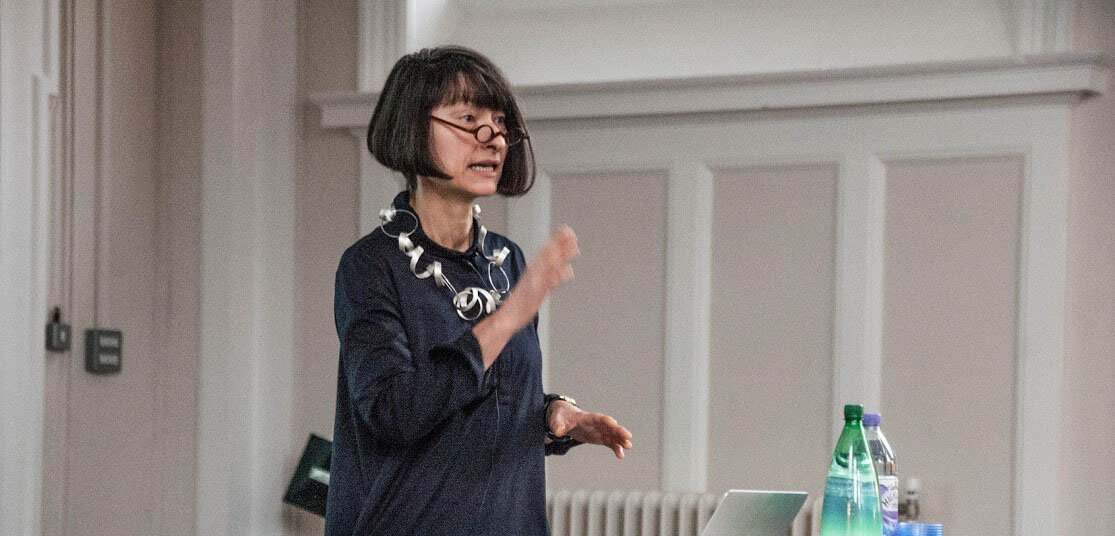 She pointed out that being able to tell the positive story of the origin of her designs is what has earned her tremendous market success, because the practice of storytelling helped her build a relationship of trust and identification with her customers. During the practical workshop, she shared her ethical studio practices and resources covering her 9 years of research into ethical jewellery practices. Many of Ute's studio tips and supplier lists, can be found on her website.
Led by Greg and Ute, the practical workshop on ethical jewellery practices explained often confused terms, such as FairTrade and FairMined, eco-gold and fair-trade and provided ground for debate on further controversies, such as the use of recycled metals.
What our Keynote Speakers said about the Incorporation of Goldsmiths' Ethical Resource Project:
"In the many years across multiple countries I have been addressing ethics in jewellery, Scotland has been the most receptive and fertile country of them all. Scotland has a real chance to become the world's leading ethical designer maker nation. The ethical practices directory being created by Scottish Goldsmiths Trust will be a world first. So glad to have a been a part of what you are all doing" - Greg Valerio MBE
"It is so exciting to have an ethical resource coming to life. After my nine years of research I'm thrilled The Incorporation will be creating a space where all this information can be brought together for a wider audience. Both makers and the sector have been asking for this and really need it." - Ute Decker, Jeweller
About the Incorporation
The Incorporation of Goldsmiths of the City of Edinburgh is a non-profit organisation set up by Royal Charter in 1687. Today it is the oldest consumer protection group in Scotland and it is believed to be the oldest continuously existing business of any kind in the country. The Incorporation operates two charities, "Silver of the Stars" and "The Scottish Goldsmiths' Trust", and administers the Edinburgh Assay Office. The Incorporation, in collaboration with Lyon and Turnbull, has worked to produce 'Elements' - An annual 4-day festival of jewellery, gold and silver in Scotland. The applications to exhibit at the festival are now open until Friday 24 March. The Incorporation has worked in partnership with Edinburgh City Council to create the Silver of the Stars Creative Learning Resource.
Help Develop the Online Ethical Jewllery Resource
Please let the Incorporation know what would be most useful for you in the online ethical resource via email at ethical@incorporationofgoldsmiths.org
{{'2017-02-23T17:02:00.9419439+00:00' | utcToLocalDate }}