Pioneering boutique jewellers leads the way
EC One Leads the Way with Sustainability by Becoming B-Corp Certified
1 min {{readingTime}} mins
London based jewellery boutique E.C. One is leading the way in sustainability within the jewellery industry, by becoming only the second jeweller in the UK to be B-Corporation Certified and joining an established community of companies using business as a force for good.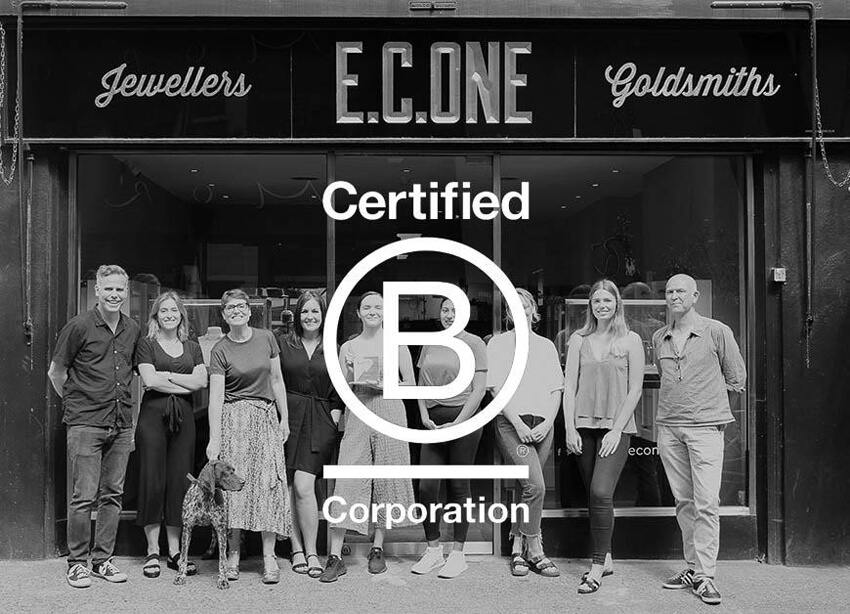 The accreditation process to become a B-Corp involves an in-depth analysis of the business' entire social and environmental performance, to assess its impact on its workers, community, environment and customers. Other well-known brands within the B-Corp community include: Patagonia, Ben & Jerry's, and Eileen Fisher.
Ethics and sustainability have long been high on the agenda at E.C. One, marked when the jewellers created the first ever piece of jewellery made from Fairtrade Gold in 2011 – a feat that is remembered with a video of this moment on the company's website.
Over the past few years co-founders, Jos and Alison Skeates, have been pioneering new ways to make their business as sustainable and responsible as possible. This includes a pledge to only use recycled and Fairtrade gold in their workshop, work with materials that are sourced responsibly; a commitment from all staff in the business to commute via public transport, cycling or walking; support for the local community by offering apprenticeships and donations towards charitable causes; and an assessment of the ethics and sustainability credentials of the designers and brands stocked at the store. Alongside this, E.C.One also represents several brands committed to creating ethical jewellery including: Sorrel Bay, Natalie Perry and Pyrrha.
Jos Skeates, co-founder of EC One said: "After many months of hard work we are thrilled (and little relieved) to become certified and associated with this amazing movement."
E.C. One has also been named Ethical Jewellery Business of the Year 2019 at the UK Jewellery Awards.
{{'2019-09-28T20:35:01.6566566+00:00' | utcToLocalDate }}