Cass Students launch crowdfunder
CASS Jewellery & Silversmithing Launches Crowdfunder for 'New Designers' 2018
1 min {{readingTime}} mins
The last cohort of students on the Jewellery & Silversmithing BA degree course at The Cass School of Art, Architecture and Design have launched a Crowdfunder campaign towards exhibiting at the New Designers graduate show in 2018. It will be the last time the course exhibits as a dedicated jewellery and silversmithing specialist course.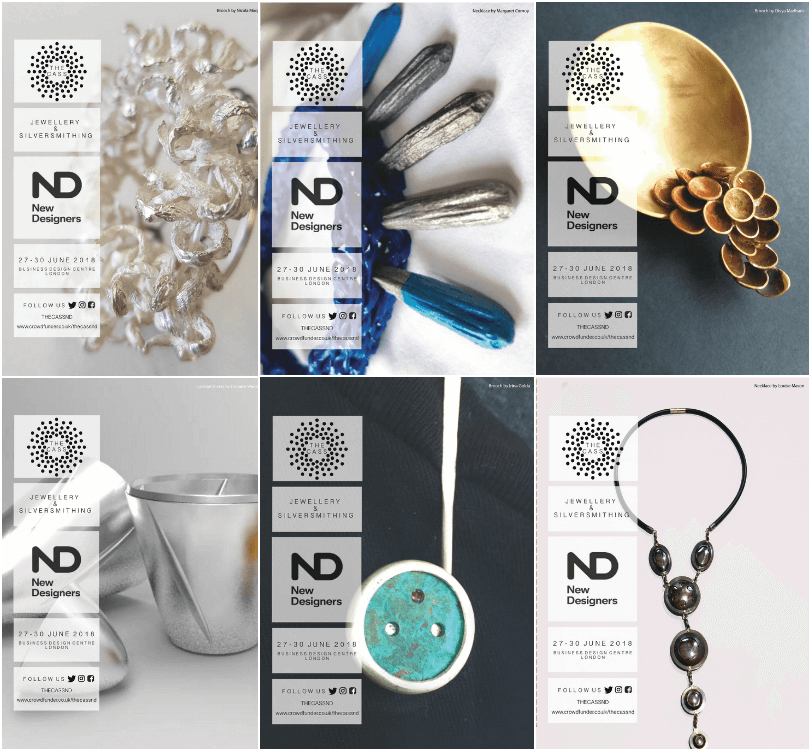 With funding unavailable from their university, the current cohort of students want to ensure their participation in the flagship show for new U.K. design graduates. As a celebration of the end of their degree and the beginning of their journies as designers / makers, the group have started a campaign to be a part of the annual event, which they hope will kick-start their careers.
They will rewarding donors with over 50 handmade pieces of jewellery, including many one-off designs: slate and crushed gemstone silver cufflinks; a silver and gold Keum Boo pendant and a silver diamond and blue topaz ring, to mention but a few.
Social Media Campaign
The students aim to raise £4000 by Christmas to cover all exhibition costs.
The group invites the public, media and industry to follow them on their social media blogs as they journey through their final year at The Cass.
"Our team is a diverse group of individuals whose distinct personalities are strongly expressed through our work, which equally strongly demonstrates our design and making skills, developed in a very creative yet self-directed hub. Participating at New Designers brings important experience which will definitely be useful for each of us in our career paths as jewellers."
- Dominik Wiecek, 3 year Jewellery & Silversmithing, The Cass.
"At New Designers, we will showcase our collections to the key professionals of the design world: potential employers, customers, galleries and design industry."
- Jemma Whitehouse, 3 year Jewellery & Silversmithing, The Cass.
Current Cohort
The last cohort from the Cass' Jewellery & Silversmithing BA degree course comprise
Thom Amar
Margaret Conroy
Irina Golda
Divya Madhani
Nicola Margai
Natalie Mansour
Louise Mason
Nicola Trowers
Jemma Whitehouse
Dominik Wiecek
Social Media:
Facebook
Email
Crowdfunder Page
{{'2017-11-25T09:00:00.0000000Z' | utcToLocalDate }}