18ct gold Peperami holder
Ashley Banjo Dons World's Most Expensive 18ct Gold Peperami Necklace
1 min {{readingTime}} mins
Forget diamonds – the world's most expensive Peperami has been unveiled, worth an eye-watering £1,500.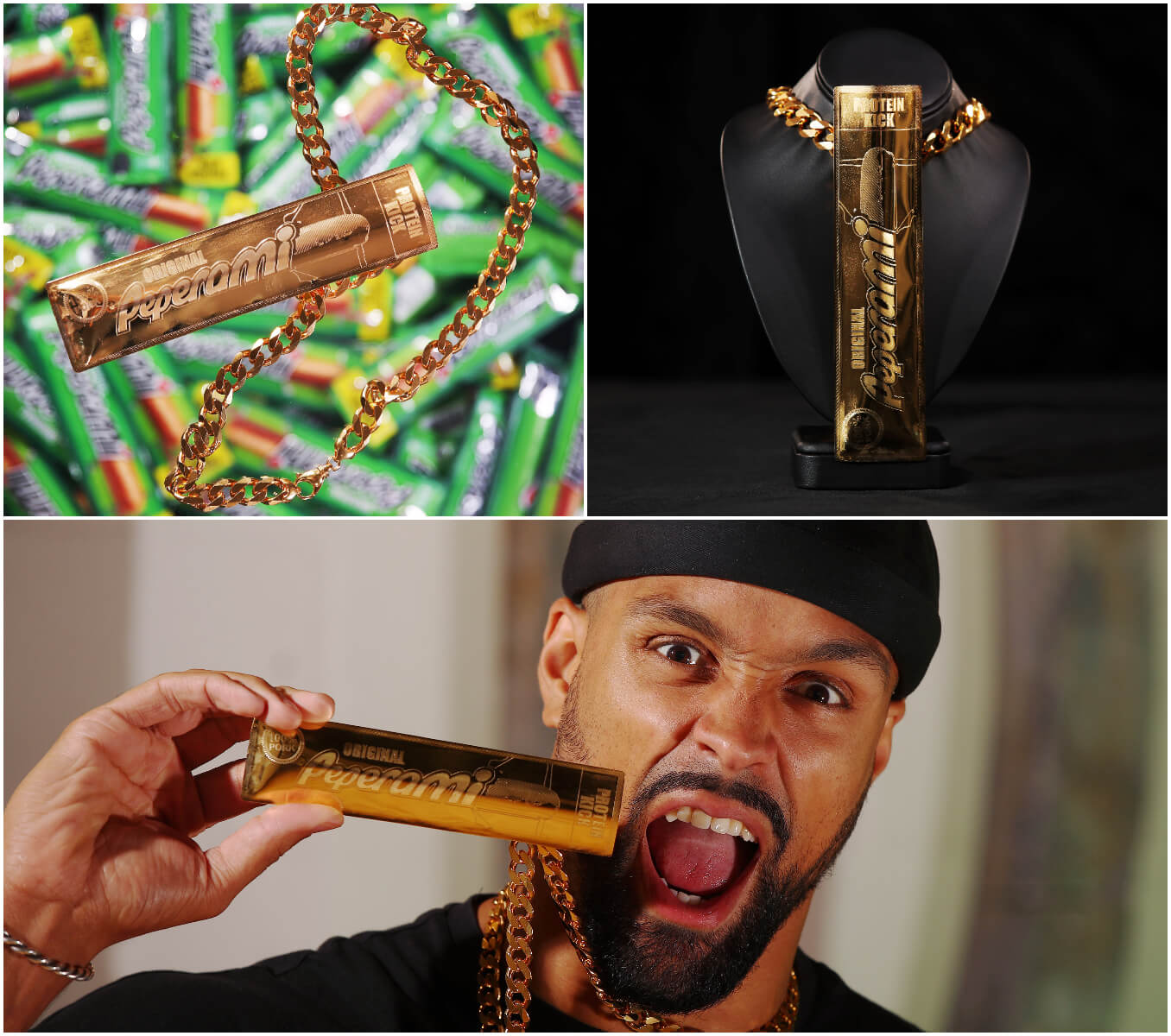 The luxury item takes inspiration from the snack's Original wrapper, replicating the same shape and design the nation know and love - but in 18ct yellow gold.
Appraised by an independent valuator, the one-of-a-kind piece sees the Peperami detachable wrapper dangle from a 34inch heavy chain.
Weighing in at a whopping 295g, the custom necklace has been specifically designed so fans can refill the gold-plated pendant with their beloved Peperami stick, allowing them to hang the snack-storing chain around their neck until hunger strikes.
Hoping to spark a gold rush, the sparkler is perfect for those who aren't afraid to make a fashion statement. The gold bling has been created to honor superfans of the salami stick.
Developed with Engravers Guild of London, the necklace took a staggering 56 hours to make, using traditional methods.
The first stage of the process sees jewellery experts mold the wrapper out of sterling silver, then use a diamond cutter to replicate the iconic logo. The pendant is then coated with 18ct gold using an electroplating process.
The novelty necklace has already gained celebrity fans – including Dancing on Ice judge and Diversity dancer, Ashley Banjo.
Extreme Peperami lovers that have a stack of cash lying around will be able to purchase the made-to-order gift for a short period of time on the Engravers Guild of London website.
For those that understandably don't have thousands to spare, Peperami will be giving the coveted item away to one lucky person.
Those who are keen to get their hands on the prize will need to simply participate in one of brands #MeatTheBeat challenges running across social media until the end of September.
The three challenges will see four celebrities; queen of the jungle, Jacqueline Jossa, Britain's Got Talent superstars, Ashely Banjo and Perri Kiely, and football freestyler, Liv Cooke, show the nation what is means to have 'flava'.
Going head to head with each other and the rest of the nation, the star-studded group hope to start a chain reaction with others participating and joining in on the fun, tagging the brand using the hashtag.
For those that have simpler tastes, Peperami and Engravers Guild of London have also created a limited-edition run of mini versions of the necklace, available to buy on the jewelers website at £75.00.
{{'2020-07-18T11:34:42.5020936+00:00' | utcToLocalDate }}