Alexander Wood stars as one of world's best young apprentices
Alexander Wood's jewellery skills earn top ten in the world place
1 min {{readingTime}} mins
Young British jewellery maker Alexander Wood left Abu Dhabi with a champions medal after earning a coveted top 10 place at the 44th WorldSkills Competition recently.
Alexander, a member of the Goldsmiths' Company Apprenticeship Scheme and currently earning his spurs with Ian Read Diamond Setters in Kent, received a Medallion of Excellence for reaching the international standard in the Jewellery skills category.
His achievement was the result of three years worth of training, honing his silversmithing, polishing, micro-setting and enamelling skills though he started his selection process for WorldSkills back in September 2015 when he became one of eight trainee goldsmiths, aged between 17 and 20. to gain a place in the UK squad after demonstrating his skills in fine jewellery making at The Skills Show in Birmingham.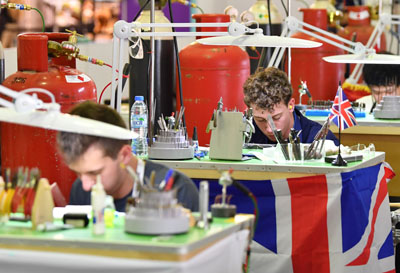 All eight were asked to make a piece of jewellery to given dimensions within a specified time period using traditional diamond mounting techniques and economic use of material.
Emerging as the most talented craftsman, he earned the right to represent the UK at WorldSkills, which featured 1,300 young people from 59 countries working across 51 different skills competitions.
He finished in 7th place from an exclusive field of 17 of the best young prospects chosen from all corners of the globe.
Not only was it a chance for the young talent to show off their skills, but it was also an opportunity for international companies, industries and trades to meet and recruit the ultimate young talent to ensure a successful future.
It's amazing to have been selected to represent the UK at World Skills Abu Dhabi 2017. The Goldsmiths' Company Apprenticeship Scheme has given me the opportunity to continue expanding my skills both as apprentice at Ian Read and through my training with Steve Jinks at the Goldsmiths' Centre. I strongly recommend apprenticeships as they equip young people with sought-after skills and boost career opportunities."
Simon Bartley, President of WorldSkills, said at the WorldSkills closing ceremony:
"You came here as the best in the skills that you have made your own in your Countries. Whether you are leaving here with a medal or not you all leave here as Champions; individuals who have reached higher than you could ever have imagined when you started your journey three years ago. I salute you, everybody in this arena salutes you, the World salutes you."
{{'2017-10-28T18:44:54.6080000Z' | utcToLocalDate }}