A launch weekend fit for a silversmith
A launch weekend fit for a silversmith
1 min {{readingTime}} mins
Last weekend Benchpeg spent a long weekend 'At Home with Silver' hosted by the The Scottish Goldsmiths Trust (SGT) and Marchmont House. The Friday through to Sunday event, located an hour south of Edinburgh near Duns in the Scottish Borders, brought together 82 guests on the Saturday Open Day launch from across the UK and internationally to the Marchmont Estate. Together the collective gathered to celebrate the opening of the Marchmont Silversmithing Workshop - a brand new fully equipped workspace for silversmiths, developed by the SGT in partnership with Marchmont Creative Spaces.
Present at the event were practising silversmiths, curators, writers, jewellers, funders, industry leaders, sector professionals, educationalists, students and enthusiasts, all of whom it was evident, share a love for the material and language of silver and supporting and nurturing excellence in design and making. Attendees participated in the raising of a 'Community Bowl' made of AgAIN Silver, guided by the expertise of silversmiths Brett Payne, Bryony Knox, Rod Kelly and Angela Cork. The silversmith tenants of the new workshops, Ryan McLean, Katie Watson, Scott Smith and Hannah Keddie welcomed visitors to the workshop and shared their work and practice, processes and plans for their time ahead at the Marchmont Silversmithing Workshop.
Lisa Koenigsberg, President of Initiatives in Art and Culture in New York City, spoke engagingly of the importance and role of craft in a transformational age. Ebba Goring, Chief Executive of The Scottish Goldsmiths Trust, gave an overview of how the workshop developed from concept to fruition over the past three years and the 'Fifth Bench' concept for residencies and international collaboration.
There was also a presentation from Professor Sandra Wilson and Dr Emilia Ferraro on their research for the British Museum Endangered Material Knowledge Programme, exploring traditional silversmithing in Quito, Ecuador. The gathering also welcomed Gabriela Andrade and Fernando Buitron, master silversmiths from Ecuador and the Marchmont Silversmithing Workshops first fifth bench residents, funded by Marchmont Makers Foundation with additional support from the University of Dundee and The Silver Society.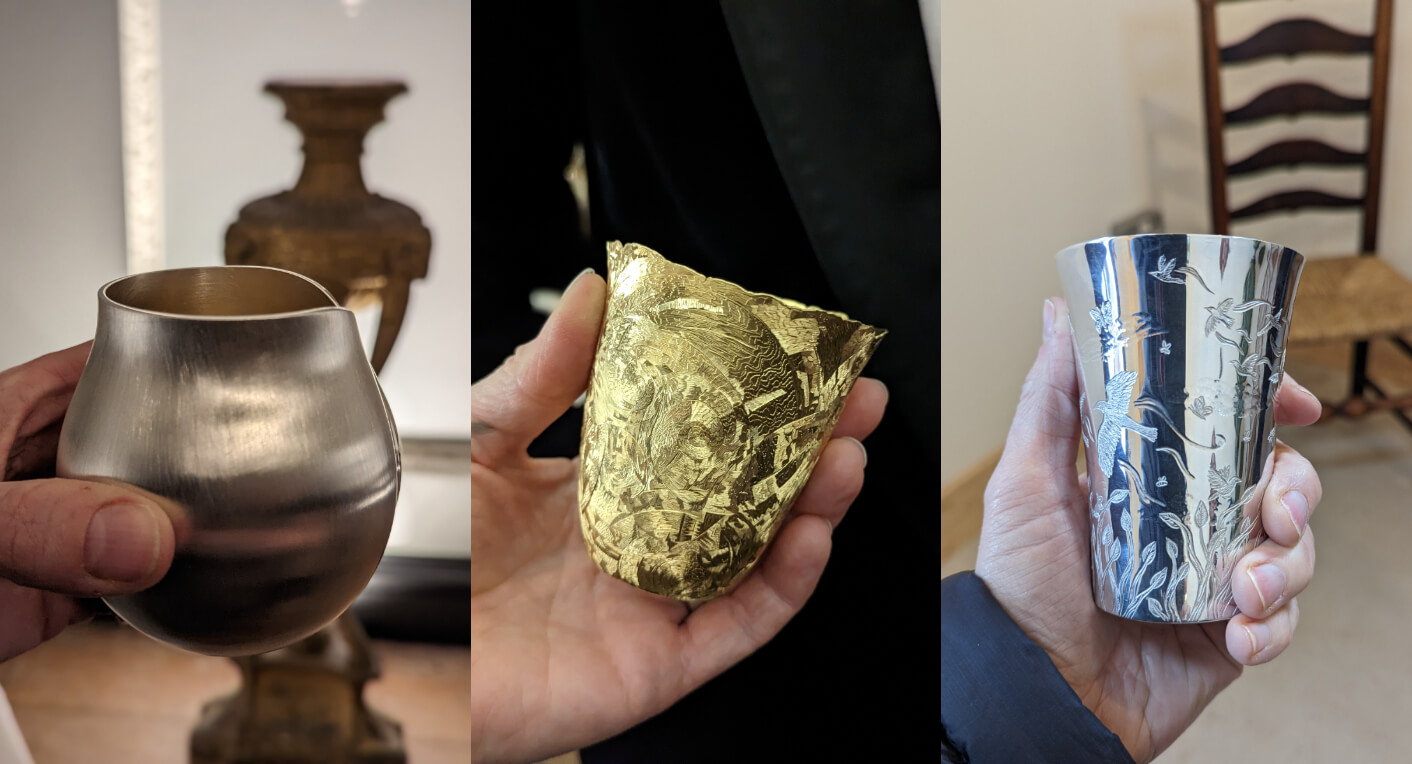 The talks concluded with a discussion on silver in contemporary life hosted by Art Critic and Journalist Corinne Julius. The panel included Anna Gordon, Head of Department Silversmithing and Jewellery Design at Glasgow School of Art, Trustee of The Scottish Goldsmiths Trust and Freeman of the Worshipful Company of Gold and Silver Wyre Drawers; silversmith Sheng Zhang; master silversmith Bryony Knox, also a Trustee of the Scottish Goldsmiths Trust and consultant on the Marchmont Workshops project, and Colin Fraser, Consultant Specialist in Silver, Coins & Medals and Arms & Armour at Auctioneers Lyon & Turnbull which included a Q&A session and debate about current themes within the sector.
Director and Founder of Marchmont Ventures, Hugo Burge, was present for the entire weekend, and welcomed guests and shared his vision of Marchmont, as well as giving a history of the estate, as a home to makers and creators to nurture and inspire 'a future we can all get excited about'.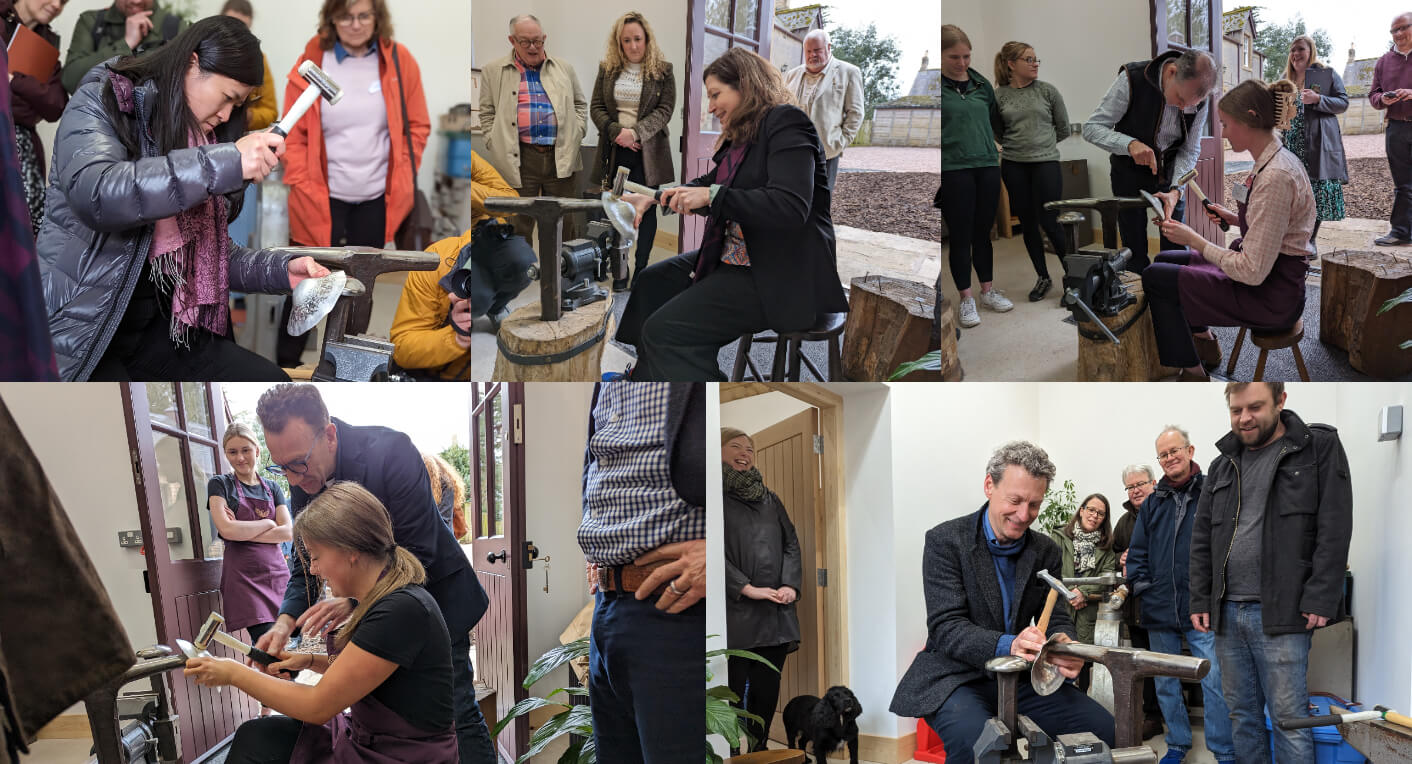 The entire weekend from start to finish was faultless in its execution, hospitality and setting. The programme for the weekend was educational, cultural, packed with silver (of course) and full of discussion, allowing vital discourse for sector and industry discussions with those at the 'coalface', allowing breathing space for in depth conversation. What was an important and valuable element of the weekend as a whole was the ability to speak in depth to the early career silversmiths who have taken up residency in the incubation space at Marchmont. To hear first hand their career aspirations and the issues and adversity in starting a career in their chosen field and the scarcity of such a facility such at Marchmont and the huge opportunity this presents and a launchpad for their businesses.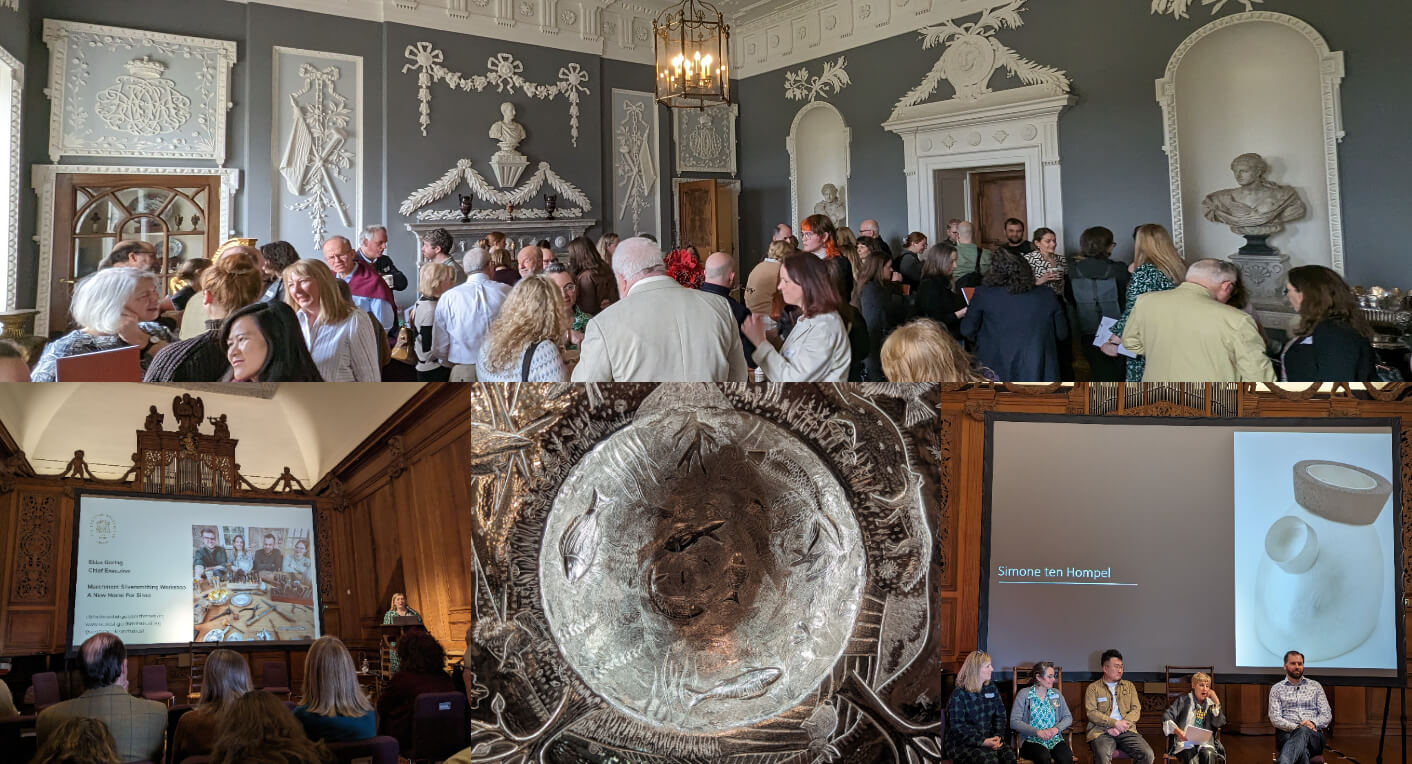 Karin Paynter, Lead Consultant for At Home with Silver said of the event,
"What a wonderful weekend, I feel very privileged to have been part of its creation. Our aims in building this programme were to bring visitors together to celebrate the opening of the silversmithing workshops, to spark conversation and collaboration, discuss growing the market for our silversmiths while beginning to address how we can work more sustainably and ethically in a transformational age. When we all come together, special things happen. Present at the event were practising silversmiths, curators, writers, jewellers, funders, industry leaders and students, all of whom share a love for the material and language of silver and supporting and nurturing excellence in design and making. Woven through the weekend programme was the importance placed by makers of passing on their craft skills and knowledge, embodied by the late Graham Stewart's gift of his entire tool library to the workshop and the raising of a 'common bowl' by visitors, overseen by some of our top silversmiths using recycled silver from NHS X-rays.
Colin Fraser, Silver Consultant at Lyon & Turnbull said of the weekend,
"Congratulations to the Scottish Goldsmiths Trust for their inspired leadership and vision and to Hugo Burge and Marchmont for giving our industry the opportunity to spend a weekend in such an extraordinary place full of creativity and craft. SGT have provided a benchmark on what's possible and I'm excited to see the initiatives that will no doubt spring from the weekend's activities".
The weekend's events were a huge movement forward. Not just for the work of The Scottish Goldsmiths Trust but for silversmiths in Scotland as a whole. The exceptional gift of Graham Stewart is already impacting three early career silversmith who, with Ryan McLean's guidance, I am certain will develop both in skills and business - unquestionably due to this workshop space.
The surrounds of Marchmont and the wider artistic support no doubt will inspire but also act as a draw for a wider community of interested people helping to shape and importantly expand this often overlooked craft which Scotland should be so proud.
I am certain this will be a success and grow from exceptional beginnings to be an 'institution' within the art of silversmithing not just in Scotland, the UK but have wide reaching impact internationally."
Claire Murdoch, CEO of the Bishopsland Educational Trust added,
"Thank you Scottish Goldsmiths Trust and Marchmont Creative Spaces for having the vision and commitment to create such a fabulous environment to support emerging silversmiths. We are at one in our love of contemporary silver and desire to ensure these precious craft skills, and the makers who wish to perfect them, thrive in the future. It's clear your work will further enhance creative output and we will encourage Bishopsland alumni to participate with Marchmont in the years to come."
Ebba Goring, CEO of the Scottish Goldsmiths Trust finished by saying,
"Reflecting on the most incredible weekend, At Home with Silver is something I have been working towards with my team at the SGT for over three years, and it was more than we could have dreamed of.
The true celebration and positive energy was palpable. It has been such an honour to develop this project, an incredible legacy of Graham Stewart, one of the finest silversmiths of his generation, supporting silversmithing in Scotland now and in the future. All this has been made possible by Graham's gift of tools, equipment and books. A wonderful partnership and team effort from The Scottish Goldsmiths Trust and Marchmont Creative Spaces, with additional support from The William Grant Foundation and Bench Sponsors.
This is just the start of something and I can't wait to see how it grows and develops over the years."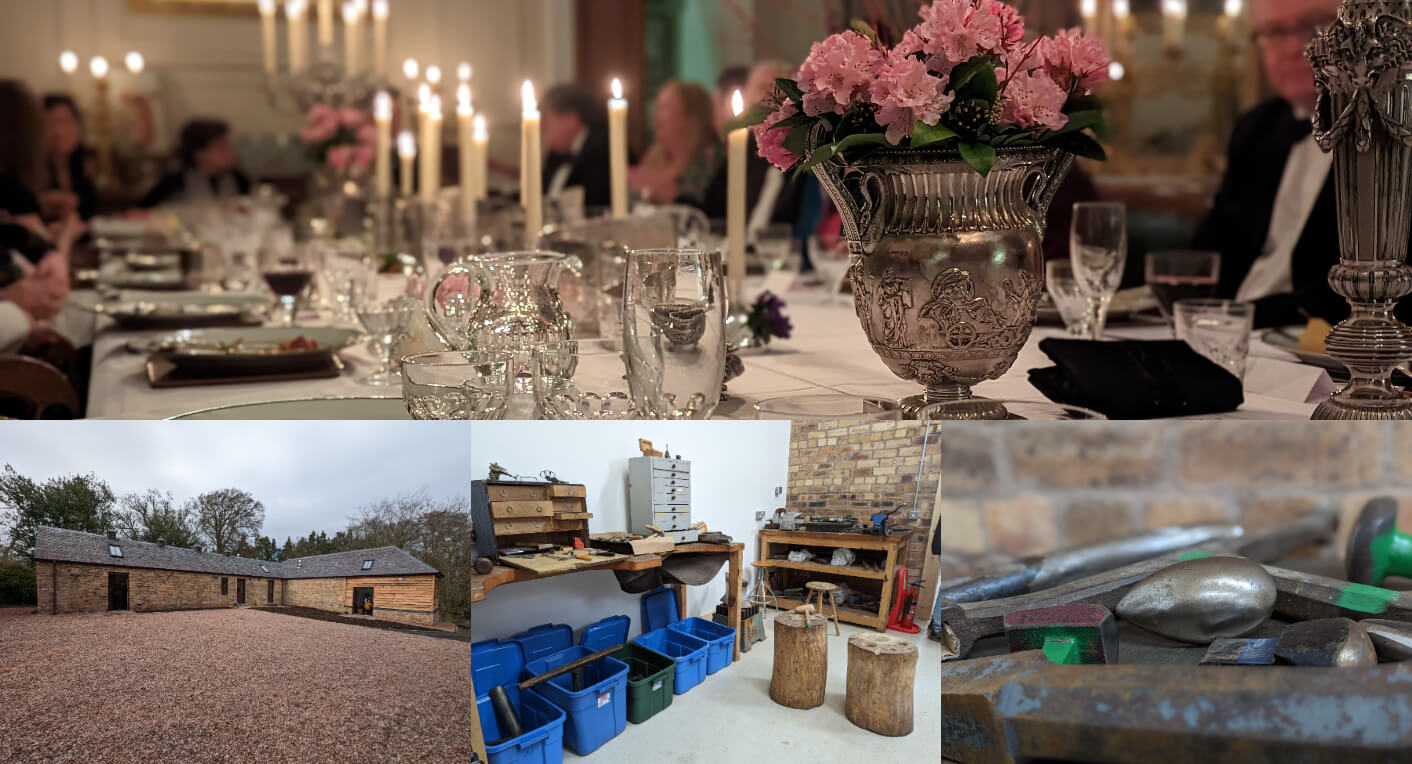 It was indeed a fabulous weekend. Something, we feel, that needs to occur more regularly in industry. The immersive experience of being hauled up with members of the sector, industry, professionals, and interested parties, was such a valuable part of the weekend, that it only makes partnerships, collaboration and relationships stronger, fostering ideas and reinvigoration of what is possible to make change and lasting impact.
In particular, Benchpeg would like to thank and acknowledge the hospitality of Lucy Brown and the Marchmont House Team for the warm welcome and second to none conviviality; The Scottish Goldsmiths Trust Team, Eda Obermanns, Digital & Communications Officer, Clare Hanna, Project Officer in particular for their overflowing knowledge and enthusiasm, as well as Lead Consultant for the weekend launch Karin Paynter. Ebba Goring, CEO of the Scottish Goldsmiths Trust must also be congratulated and acknowledged for her vision for such a project and pulling off such a faultless and successful event. The ability to bring the cohort of individuals together, many of whom travelled a great distance to be present, is a demonstration of the belief in the organisation, but also in the individual. The impact of the Marchmont Silversmithing Workshops will undoubtedly be a far reaching, and for generations to come.
For more information on the work of the Scottish Goldsmiths Trust or the Marchmont Creative Spaces, just follow the links. Its definitely work a click.
{{'2023-04-02T12:36:15.4996152+00:00' | utcToLocalDate }}