2021 Bright Young Gems winners announced
1 min {{readingTime}} mins
The winners of Bright Young Gems® 2021 mentoring scheme for graduating and recently graduated jewellery designers have been announced.
The talented line-up comprise Imogen Burch, Amber Doughty, Hannah Gower, Capucine Huguet and Andrea Jose Castro, all of whom will unveil their winning pieces as part of the National Association of Jeweller's showcase at the one-day UK Jewellery Festival, The Brewery, London, on September 1, 2021.
Thanks to support from the National Association of Jewellers, the winners will also benefit from dedicated mentoring from the NAJ jewellery experts before the event to ensure that they maximise the experience. The designers will also have a zoom with each of the judges to discuss their work, as well as receiving a special Bursary of £300 kindly donated by the Benevolent Society to help towards travel and showing costs.
Now in its' sixteenth year The Bright Young Gems®  project has evolved to become the foremost industry-recognised platform for new talent with many previous winners going on to carve out very successful award winning careers. To date the programme, set up by International Jewellery London, has enabled sixty-eight BYG® designers to showcase their work to the industry, retailers and opinion formers.
This year for the first time there are two judging categories . 'Show Off - Statement Pieces' - designs and/or finished pieces showing creative flair with innovative use of materials and which demonstrate potential commercial viability. The second being 'Responsible Thinking - Sustainable Eco-Heroes' - designs and/or finished pieces made with ethically sourced or sustainable materials and which demonstrate potential commercial viability .
These are the winning Bright Young Gems® 2021
Capucine Huguet is a French fine jewellery maker and designer. She started to study fine jewellery in the Haute Ecole de Joaillerie of Paris, France, immersed in the universe of the famous jewellers of Place Vendôme. After her graduation, she realized she wanted to work on another dimension of jewellery, and especially highlight environmental issues through jewellery design. This is why she joined the Master of Jewellery Design of the Central Saint Martins School. Indeed, she has always had a deep interest in Nature, nurtured
by her travels all around the world. Her need to protect the environment and spark a discussion with people about climate change led her to create her first collection called Wahlenbergbreen Mementos, with the aim to bring awareness about the ice melting in the Arctic.
Andrea Jose Castro is a MA graduate from Central Saint Martins in London, who strives to transform the way we view the resourcing and production of jewellery. Working in social development for mining projects, whilst learning jewellery techniques with master artisans, the particularly male dominated mining industry inspired and motivated Andrea Jose to value the work of strong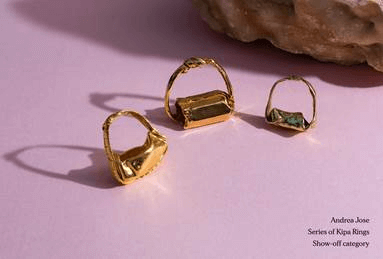 female community leaders. Her work celebrates the value of a reciprocal approach within the jewellery system
Highly Commended : Courtney Durka (CSM) and Emilia Naylor-Brown (CSM)
Imogen Burch graduated from Central Saint Martins. She is a jewellery designer and maker based in London. She explores the relationship between jewellery, emotions and people. She uses her luxury fine jewellery as a means to navigate identity in a playful and light-hearted way. By reinterpreting and updating traditional pieces, she challenges the assumptions of what is expected from fine
jewellery. She does this by designing objects that update traditional steadfast designs, in an attempt to connect people in a shared experience.
Amber Doughty is a designer who graduated in Jewellery & Metalwork Design, Duncan of Jordanstone College of Art and Design. She delights in the process behind each piece she makes - from researching to determining composition. She enjoys the simplicity of precious metals, creating classical pieces centred in shadow and symmetry. Inspired by classical civilisations and mythology, Amber's aesthetic is driven by elegance and the otherworldly; often luxurious in nature, she enjoys using repetition and movement to enhance her work.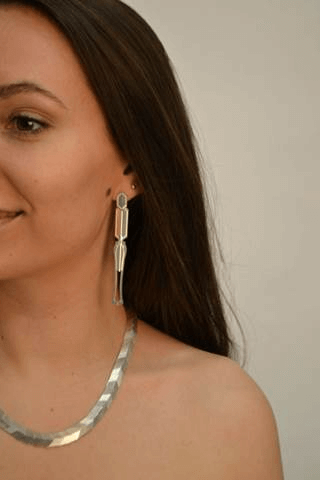 Hannah Gower is a Designer Maker based in Colchester, Essex. After graduating with a BA(Hons) in Jewellery and Objects from Birmingham School of Jewellery, she set up a studio in her hometown to carry on her practice. Hannah is inspired by asymmetry, imperfections, and is often influenced by the natural world around her. Most of Hannah's work is wax carved and cast in Sterling Silver,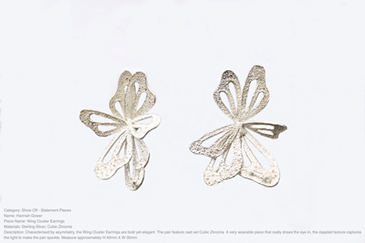 but she also enjoys the unpredictability of sand casting one of a kind pieces.
Highly Commended : Zoe Chutong Huang (CSM), Khristina Stolyarova (CSM) and Arlena Parashivescu (CSM)
The BYGs® were selected from final year students and students from UK colleges and universities who have graduated in the past two years, by a stellar committee of press and industry leaders, including Hilary Alexander OBE (President of the Graduate Foundation who has been involved since the scheme's inception), Imogen Belfield (award winning jewellery designer who herself started her career as a Bright Young Gem), Melanie Grant (Luxury Editor of the Economist's 1843 sister magazine, influential social media commentator and speaker on luxury, jewellery and watches), Katerina Perez (social media influencer with more than 12 years' experience in the jewellery sector) and Susi Smither (Founder of both The Rock Hound, East London's Gemmologist Jeweller, specialising in creating sustainable iconic design-led jewellery and, more recently, Fair Luxury, an independent collective of jewellery industry entrepreneurs with a shared vision for a responsible and sustainable industry).
All the judges were very impressed by the standard of entries. Hilary Alexander OBE commented: "In spite of a challenging year with limited access to studios and equipment, this year's cohort of Bright Young Gems® has produced a remarkable collection of designs, memorable for a high degree of ingenuity, creativity and technical excellence. UK jewellery's future is safe in the hands of the Bright Young Gems® 2021 winners."
Katerina Perez added, "What struck me about this year's entries was their ambition and unhindered design principles; it's fantastic to see such young designers challenging the status quo by proposing drilling holes in gemstones and using unconventional materials! There was also a confident use of scale and volume among the entries, which resulted in some statement pieces and proposed pieces that are still in the design stage.. Overall, I was impressed by this year's shortlist and choosing my personal winners was certainly no easy task. Of those I selected, I was most inspired by their use of colour, the creativity behind their design concepts, and the efforts they've gone to stand out from the crowd."
Melanie Grant agreed: "There has been a high standard of artistry and innovation throughout the competition" and was supported by Imogen Belfield, herself a former Bright Young Gem® in 2014, who said:"It has been a wonderful competition and we have five very deserving winners. It was extremely hard to choose as the quality, talent and inspiring ideas were in abundance."
Susi Smither summed up the standard of entries saying: 'All the entrants this year should hold their heads up high for they've overcome extraordinary challenges and delivered designs with depth, creativity and individuality. Our winners displayed an added edge of tenacity and flare which will hold them in good stead going forward. Our Responsible Thinking graduates stood out for their 360 approach to not only their exquisite designs created with responsible sourced materials, but also by recognising and harnessing the social and environmental impact their jewellery has too."
NAJ Head of Communications and Industry Liaison , Lindsey Straughton, commented: "Jewellery design and making is a hands-on skill degree that has been badly affected during this past year by the pandemic, especially through reduced access to workshops. So it is hugely impressive to see the standard of work achieved and how well entrants have embraced the criteria - as either Eco Warriors or Show Stoppers!"
In addition, the judges nominated seven promising designers who they collectively believe are 'Ones to Watch' within the industry. They are Finlay Grant (Dundee), Dameng He (RCA), Oria (Qi) Zang (CSM), Julia Baudler (RCA ), Si Rui Wang (CSM) , Fenghua Ye (Edinburgh) and Daniela Groza (Edinburgh).
Type your content here...
{{'2021-08-15T11:08:47.7677149+00:00' | utcToLocalDate }}