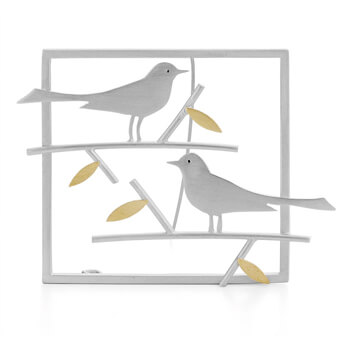 The Craft Centre & Design Gallery, Leeds, West Yorkshire
Tweet
16th March - 22nd June 2019
The Craft Centre & Design Gallery, Leeds, West Yorkshire
Makers inspired by the beauty of birds come together in this remarkable display of jewellery, ceramics, stone, wood and works in mixed media. Each maker translates their inspirations into unique handmade creations for you to own or admire.
Jewellery
Sally Ayling
Sally's jewellery is inspired by nature, in particular birds. The graphic images from field-guide books and wildlife illustrations, ordinance survey maps, charming old packaging, classic industrial design and many other bits and pieces Sally sees on her travels. Sally enjoys using unconventional materials and bold colour and has a huge collection of old (and some new) tin boxes and advertising items; all of which are religiously compartmentalised into different colour ranges. It's often hard to ruthlessly dismember a beautiful old piece of industrial design, illustration or typography from the 40's for example, but Sally gets a great sense of satisfaction when she thinks about people wearing the jewellery she has made and thus giving these objects a new lease of life. Sally first started drawing and designing bird jewellery after purchasing some of the RSPB bird pins. She loved the simple outlines and bright colours that portrayed the birds. Sally was fascinated by these creatures that can move so quickly it is hard to see there iconic liveries when they are in motion and loves the connection we have with our feathered friends who visit our garden feeders or birdbaths. Sally often enjoys watching the Sparrows and Great-Tits swooping in and out of the view from her studio window finding them to be a real source of inspiration.
Magnolia Restrepo
Magnolia is a Colombian jeweller, now based in Yorkshire. Having grown up surrounded by verdant tropical mountains, nature and the people who work closely with nature have been Magnolia's inspiration for as long as she can remember. Learning first from her eldest brother she started working with silver at the age of fifteen and has developed her jewellery ever since. Magnolia delights in giving life to each piece by fusing and transforming metals, often uniting them with precious and semi-precious stones. Magnolia strives to use Fairtrade gold, silver and ethically sourced gemstones in all of her work.
Becky Crow
Becky graduated in 1999 and has worked in Brighton ever since. Her work is a mixture of jewellery and three-dimensional illustration designed to be both worn and displayed. With drawing as a starting point and the great outdoors as a source of wonder and constant inspiration, elements of narrative are captured in silver and transformed into miniature scenes telling out across the surface of a brooch or hanging as a pendant. The pieces are individually made by hand from sheet silver and copper with 9ct gold and 22ct gold leaf for detailing. The metal is pierced out, then textures or patterns are applied to the surface using a rolling mill. These components are then layered together, soldered, and finished with matt, oxidised and polished surfaces to add depth and tone.
Anna de Ville
Anna is a self-taught jeweller based in Birmingham. The shape of her jewellery pieces are sawn from a sheet of silver and then built up a layer at a time. The final details are made with fine silver wire and by oxidising the background and polishing the foreground a dramatic effect can be achieved. All of Anna's inspiration comes from the natural world. Ever since she started showing her work at the British Bird Watching Fair each summer at the RSPB reserve at Rutland Water she has become obsessed with trying to create the character of native birds and animals. Sometimes they are humorous, some times more stylised. These handmade pieces are a real joy to work on and make Anna want to get up in the morning.
Becca Williams
Becca makes jewellery and silverware inspired by the natural world. Her work is characterised by a subtle sense of balance where she creates pieces with graceful shapes and sweeping curves in silver, gold, platinum & palladium. Becca graduated in 2008 and after 10 years based in the Birmingham Jewellery Quarter she packed up her workshop and moved to the Cornish seaside. A love of the coastline comes from a myriad of childhood holidays in Wales, spent exploring the rivers, fields and beaches around her father's family home. These translate themselves into shapes and textures which then come together to form work characterised by its bold simplicity and subtle balance.
Kate Rhodes
Kate grew up in the picturesque landscape of the Lake District. She studied an experimental foundation course at Cumbria College of Art and Design and received a BA (Hons) degree in Jewellery and Silversmithing from Loughborough University. Kate's jewellery is inspired by everyday doodling of shapes, patterns and natural forms. The metals she uses and loves give her a colour palette of rich, warm tones. Kate can blend them to give subtle, stylish effects or contrast them to make vibrant stand-out pieces. Beautiful rich colourful metals, when combined with inlaying, engraving, hammering and hand cutting, give the work the fluidity of the original doodle. Over the years Kate has built up a visual language of shapes that she constantly adds to and re-works. This comes together with the materials she uses to define her style. Inspired by nature, Kate is a keen gardener and walker, and her Birds and Flowers collection is probably the most personal of all her collections. It focuses on the everyday passing of time, seasons and observations. The work is connected to the landscape and nature that features in the artist's day-to-day life.
Claire Gent
Claire designs and makes contemporary jewellery from her workshop on the edge of Dartmoor. Claire produces several ranges; some in sterling silver, some in anodised aluminium and some combining both. Claire's inspiration comes from many sources; living on the edge of Dartmoor means flora and fauna feature heavily in her designs. Claire feels incredibly fortunate to do what she loves as a job, and appreciates each and every customer for liking her work enough to buy it.
Leoma Drew
Leoma's jewellery evolved from a fine art background. She uses saw piercing, shape forming and stone setting to create beautiful nature inspired jewellery. Leoma incorporates motifs with solid shapes and stone setting for an abstract and contemporary look to her collections. The black and white effect is contrasted with bright and unusually cut stones that complement each other perfectly. Leoma's jewellery has a sentimental feel to it which is enhanced by the intimacy created between object and body.
Alison Haddon
Alison's jewellery is inspired by her particular fascination and amusement with birds. Alison studies the different structures of their habitats (spikey hawthorn, leafy beech and berried bramble) and recreates these scenes for her unique necklaces, brooches and pins. Semi-precious stones and pearls used in the collection cleverly become Rosehips, Haws and Elderberries.
Laura Baxter
Nature has always been central to Laura's life and work and she has always enjoyed making things, particularly small things. Laura was born and raised in the countryside of the Lincolnshire Wolds and from an early age she made tiny objects as homes for ladybirds, seeds and tiny flowers from the garden. Life in miniature and delicate features in plants and nature, have always captivated her and made her smile. As a child both of Laura's parents taught her the art of seeing and to understand and appreciate the beauty of the natural world. Laura's immediate surroundings, plants and wildlife remain a boundless source of inspiration for her work and life. Laura has been making precious jewellery and objects in metal for 16 years and in that time she developed a distinctive and unique voice for her work.
Date
16th March - 22nd June 2019
Venue
The Craft Centre & Design Gallery, City Art Gallery, The Headrow, Leeds, West Yorkshire, LS1 3AB
www.craftcentreleeds.co.uk/tweet