The Scotland Craft & Design Pavilion, Craft Scotland as part of London Design Fair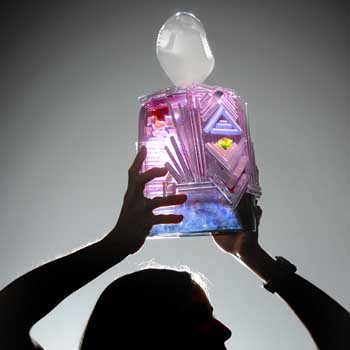 Old Truman Brewery, Brick Lane, London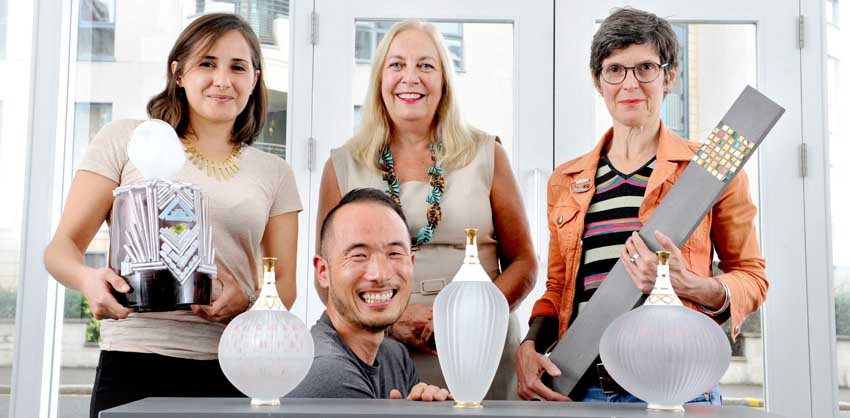 First ever Scottish pavilion at London Design Fair.
More than 20 cutting edge craft makers have been selected for a showcase of Scottish excellence at the London Design Fair.
It will be the first time Scotland has had its own pavilion at the prestigious four-day event and aims to raise the international profile of its talent in everything from ceramics, lighting and jewellery to glass, furniture and textiles.
The Scotland: Craft & Design pavilion is an initiative between Craft Scotland (the national agency for craft) and Emergents, a community interest company supporting the development of creative careers, enterprise and the economy in the Highlands and Islands.
The partners will also be leading a panel debate to discuss Scottish creative identity from the rich heritage of the past to the pioneering spirit of today.
Fiona Logue, Director of Craft Scotland said, "We are very proud to be able to such an outstanding body of finely crafted and beautifully designed work in the Scotland: Craft & Design pavilion. Scottish craft is contemporary and cutting-edge. There is a real appetite from the industry and design-savvy public for quality pieces that show both a mastery of a craft and design execution.

"Not only are our makers and designers among the very best, but the whole sector is full of vitality and energy – that's the message we want to get across to design fair visitors from all over the world. As this is Scotland's Year of Innovation, Architecture and Design it is exactly the right moment to be celebrating our achievements and helping generate new business opportunities."
Pavilion visitors can discover the geometric patterns of Catherine MacGruer's soft merino textiles, Lizzie Farey's organic sculptural forms in willow. They can find hand-built vessels by ceramicist Lara Scobie and contemporary vernacular furniture by maker Kevin Gauld.
Another of the participants is Juli Bolaños-Durman a designer and glassmaker based in Edinburgh who will unveil a range of glass "headdresses". Her Made-Up Museum of Artefacts series is inspired by precious heritage objects from past civilizations, their craftsmanship and cultural legacy.
The 22 exhibitors come from all across Scotland, from Dumfries and Galloway to Orkney.
Pamela Conacher, Director of Emergents, added, "We are delighted to be working in partnership with Craft Scotland to showcase the very best Highlands and Islands makers alongside their contemporaries from the rest of Scotland. Scotland: Craft & Design at London Design Fair will place Scottish craft on an international stage, reflecting the importance of our heritage and cultural identity."
Located in the creative heart of East London, the fair is part of the wider London Design Festival and brings together 450 exhibitors from 29 countries, including independent designers, brands, international country pavilions and galleries. It attracts over 25,000 influential retailer buyers, architects, interior designers, press and designers.
There will be live demonstrations by some Scottish exhibitors, and makers will also be present to discuss their work with potential clients.
The pavilion has been designed by GRAS, a Scottish design studio and the graphics produced by Graphical House, a design consultancy located in Glasgow.
Craft Scotland and Emergents are also part of the fair's Super Talk Programme and will present a debate entitles A New Scottish Craft Vernacular - Scotland: Craft & Design Debate.
This will explore a new vernacular for Scotland's thriving creative scene. The panel will consider how Scotland, from its rich heritage, cultivates a pioneering spirit, innovative approach and creates cutting-edge designs.
There will also be the opportunity to see a project facilitated by Craft Scotland and presented by the Department of Material Practice at Edinburgh College of Art. This will transform a disused outdoor roof space into an attractive, partially covered seating area using innovative design and materials.
The Scotland Craft & Design Pavilion, Craft Scotland as part of London Design Fair
Dates:
Thursday 22 to Sunday 25 September 2016
Venue:
Old Truman Brewery, Brick Lane, London. E1 6QL
www.londondesignfair.co.uk
www.emergents.co.uk
www.craftscotland.org