The Goldsmiths' Company Jewellery Materials Congress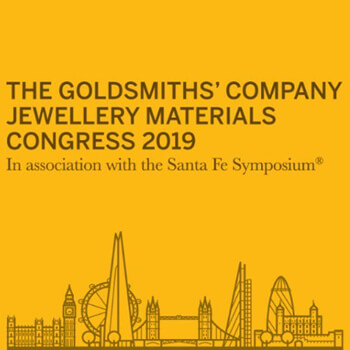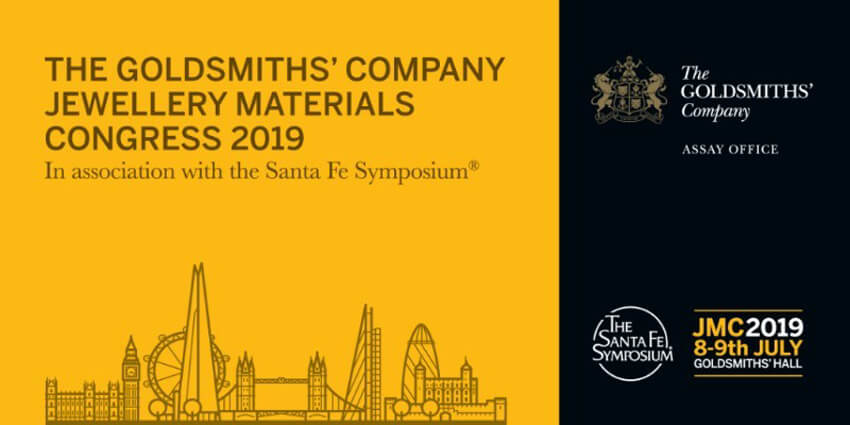 The Goldsmiths' Company Jewellery Materials Congress
Monday, 8 - Tuesday, 9 July 2019
Goldsmiths' Hall, London
The Goldsmiths' Company will be holding its first Jewellery Meterials Conference from 8 to 9 July 2019 at Goldsmiths' Hall. This Congress forms part of a series of activities designed to advance and disseminate knowledge and to encourage research and its exploitation in the field of jewellery & silverware technology.
About the Congress
The Goldsmiths' Company Assay Office will be holding a major international conference on 8 and 9 July 2019, at Goldsmiths' Hall.
The Jewellery Materials Congress will support the jewellery and silverware community by providing a collaborative, non-commercial forum to share knowledge and foster technological and operational innovation in materials development. It will be the largest jewellery technology conference held in the UK and the largest specialising in jewellery materials in the world.
This Congress forms part of a series of activities by the Goldsmiths' Company to advance and disseminate knowledge and to encourage research and its exploitation in the field of jewellery & silverware technology. Its aim is to promote participation in new technologies and best practice that will lead to innovative design, improved quality and production efficiency, and increase the expertise within the industry.
Keynote Speakers
Eddie Bell, Rio Grande Executive Vice President Emeritus and Co-Founder of the Santa Fe Symposium® (pictured below)
Grant Macdonald, Founding Director, Grant Macdonald Silversmiths, London UK (pictured below)
Tim Burstein, Professor of Materials Chemistry & Corrosion, University of Cambridge, UK
Chris Corti, MD, COReGOLD Technology, Reading, UK
Day 1
Keynote:
Eddie Bell, Rio Grande, USA -
"What is Changing in Jewellery Making and Are We Keeping Pace?"
Teresa Frye, Techform, USA -
"Platinum Jewellery Casting Alloys: A Comparative Study of Solidification Behaviours"
L R Owen et al, Camb Univ –
"Order-Disorder Transition in 12ct Rose Gold"
Dippal Manchandra, Birmingham Assay Office -
"Gold Allergy: Differentiating Myth From Reality"
Keynote:
Grant Macdonald Grant Macdonald Silversmiths -
Title TBC
Jörg Fischer-Bühner et al, Legor SpA Italy –
"A New 925 Silver Alloy with Increased Tarnish Resistance: From R & D over real-life tests to manufacturing"
Day 2
Keynote:
Prof Tim Burstein Cambridge University –
"The Tarnishing Conundrum of Silver"
Ulrich Klotz, FEM Germany –
"Investment Casting of Platinum Group Metals"
Peter Oakley, Royal College of Art –
"Ethical Gold: Why Manufacturing Methods Matter"
Jochen Heinrich et al, C Hafner GmbH, Germany -
"Opportunities by Applying Powder Metallurgy and Additive Manufacturing to Palladium and Platinum Jewellery Alloys"
Calina Shevlin, Aterlier Guilloché Switzerland -
"Guilloché"
Keynote:
Chris Corti, COReGOLD Technology –
"Jewellery Alloys: Past, Present and Future"
Chris Manning, Silver Hand Studios, Canada -
"Lead-free Niello for the Modern Jeweller"
Jim Binnion, JB Arts USA –
"A New Method for Preparing 3D-Printed Acrylic Photopolymers for Investment Casting"
Lynne Bartlett –
"Titanium, The Magic Metal"
Conference Fees
Tickets to the event cost £480 including VAT which includes lunch on both days, plus a ticket to the Gala Dinner which will take place at Goldsmiths' Hall on Monday 8 July. A limited number of free student places are also available.
Book here.
Practical Information
Catering
Lunch will be provided on both days of the conference. There will be a gala dinner in the spectacular surrounds of Goldsmiths' Hall on the night of Monday 8 July. There will be accompanying entertainment.
Optional Tours
On Wednesday, 10th July, there will be tours open to all delegates to The London Assay Office (at Goldsmiths' Hall), to the Goldsmiths Centre at nearby Clerkenwell, in the heart of the London jewellery industry and to a leading silver manufacturer.
Hotel Accommodation
There is a range of hotels available near Goldsmiths Hall. A list is available on request. Hotel/accommodation costs are not included in the price of the Congress.
Transport
There are good public transport links to Goldsmiths Hall – bus and underground railway. It is accessible from all main railway termini in London There are several airports serving London. The nearest are London City, London Heathrow and London Stansted whilst London Gatwick has direct rail links into London.
Date
Monday, 8 - Tuesday, 9 July 2019
Times
9am – 5pm
Venue
Goldsmiths' Hall, Foster Lane, London EC2V 6BN
To Book
For more information