The Art Of Jewellery: Jessica Trafford, Gill Wing Gallery – Islington, London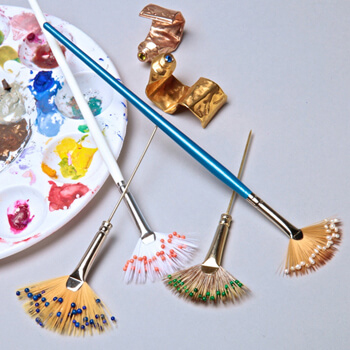 Gill Wing Jewellery, 182 Upper Street, London. N1 1RQ
At Gill Wing Jewellery Gallery our team are made up of makers with a love of sharing the artist's process.
We seek to showcase jewellers with unique skills developed through hands on practice and a dedication to their craft. The exciting work they produce couldn't be achieved without allowing themselves the freedom to explore ideas, the spontaneity invaluable in the advancement of their field.
We chose to celebrate this artistic approach to jewellery with a solo show by new Central Saint Martin's Jewellery graduate Jessica Trafford.
Jessica's work reminds us of the value of the artist's skills honed during their creative journey by visiting the colour splattered studio of a phantom painter.
Amidst the beautiful chaos caused by an intense flurry of inspiration we find their tools transformed by Jessica's own skills as a jeweller into wearable pieces in precious materials.
The trompe l'oeil begins with a squeezed tube of paint which curls around the fingers as a gleaming gold ring. Discarded twists of masking tape are immortalised as sculptural bronze pendants and the bristles of a fine brush glisten with delicate jewels to evoke vivid droplets of paint.
The paintbox itself houses an exquisite array of solid colours, which are all in fact semi-precious stones hand carved by Jessica using lapidary techniques which can be removed to interchange into rings or as brooches.
Dates:
29th September-20th October 2016
Open:
Mon-Sat, 10.00am - 6.00pm, Sun, 12.00 – 6.00pm
Venue:
Gill Wing Jewellery, 182 Upper Street, London. N1 1RQ