Sp-Ring Exhibition @ Anne Morgan Jewellery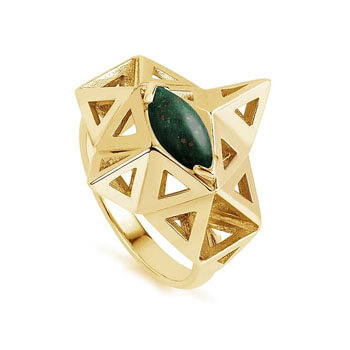 Sp-Ring Exhibition
Anne Morgan Jewellery, Penarth, Wales
14 February - 31 May 2020
Exclusive contemporary jewellery exhibition showcases cutting edge alternative engagement and wedding rings from UK designer/makers this February.
This February 14th sees the return of the annual Sp-Ring exhibition at Anne Morgan Jewellery. An award winning contemporary jewellery maker in her own right Anne also owns and runs her beautiful shop and gallery in Penarth, in the Vale of Glamorgan. Now in its third year, the exhibition continues to go from strength to strength, showcasing high-end work from some of the UK's most celebrated and visionary independent jewellery designers.
Running until 31 May, this exclusive exhibition features incredibly beautiful hand crafted rings made in silver, gold and precious gemstones using a range of design techniques. The exhibition is made up of eye-catching signature collections from Deborah Cadby, Ulla Hornfeldt, Natalie Jane Harris, Roxanne Gilbert, Justin Duance & Yen . And following the success of last year's showcase they also welcome back collections from Helen Brice and Alison MacLeod.
"This exhibition realises the incredible and progressive talent of the UK's leading jewellers, and is a perfect opportunity for those seeking an alternative engagement or wedding ring. This may be the only chance you'll get to see, touch and try these rings, in the flesh, in South Wales, and it really is a once-in-a-lifetime opportunity –jewellery lovers should not miss this!" said Anne Morgan.
Deborah Cadby
Cadby & Co are a family business that specialise in using old cut diamonds and fine gem stones. The company combines Deborah Cadby's designs and skills with Jeff Cadby's many years of dealing in antique jewellery. Together they are creating a beautiful collection of jewellery, using certified diamonds and coloured stones set in 22ct gold for its rich warm colour and platinum for its elegant, steely subtlety. Unique hand cut stones have a nature of their own, with irregular shapes, unusual dimensions and uneven facets with each piece of jewellery designed to suit the stones.
cadbyandco.co.uk
Alison Macleod
Alison Macleod makes jewellery in silver and gold, inspired by vintage and antique treasures and the stories they tell. Based in Dumfries and Galloway, she has been running her jewellery business since leaving art college 11 years ago and now has a studio in the centre of Glasgow.
Alison's Catkin Collection draws on a pattern seen long ago on an antique ring, which inspired her to develop her unique technique of layering sometimes hundreds of tiny disks to make a pattern reminiscent of the Spring catkin flower.
alisonmacleod.com
Ulla Hornfeldt
Ulla Hornfeldt was raised in Stockholm and after an early career in the field of scientific research, Ulla returned to her early interest in silversmithing by attending Sir John Cass School of Art. She has since been based in workshops in London, New York and most recently Sweden and exhibits her work throughout the UK, Europe and leading US galleries. Her current work focuses on gemstones with strong shapes and unusual markings. The aim is to give each piece a sculpted quality that catches the eye and gives pleasure to its owner for years.
www.ullahornfeldt.com
Helen Brice
Helen is a self-taught Goldsmith, having studied a BA(Hons) in Design Crafts at Hereford College of Arts. Her asymmetric designs stem from a love of architectural and organic detailing, pattern and texture, and Helen uses different finishes and contrasting materials - mainly Gold, but also Sterling Silver, Platinum & Palladium - to compliment the specially selected gems.
helenbrice.co.uk
Natalie Jane Harris
Natalie started her business in 2006 after completing a degree in silversmithing and jewellery at Loughborough University and a post graduate year at Bishopsland workshops. Previously based at a studio space in Banks Mill, Derby, Natalie currently works from a studio at The Harley Foundation, which is set in the grounds of Welbeck Abbey on the edge of Sherwood Forest. This stunning location provides a calm and peaceful place for Natalie to focus on her work. Gemstones are the primary focus of Natalie's jewellery and design always begins with highlighting the stones natural beauty.
nataliejaneharris.com
Roxanne Gilbert
Roxanne Gilbert creates one-of-a-kind, wearable sculptures from her studio in South London. Roxanne explores repetition and scale, building up multiple individual elements to create intricate textures and bold forms. Spheres and rounded surfaces currently feature prominently in her pieces as she continues to experiment with this shape. Roxanne injects colour and texture through her use of precious and semi-precious gemstones and pearls
roxannegilbert.com
Justin Duance
Justin Duance and his team design and hand craft their work from a workshop in the woods in Tregwainton Pumphouse, Penzance. Justin is inspired by his environment with his work demonstrating the contrast between the textures of the land and sea. Justin achieves this by combining wood or sand with precious metals to give each design an elemental feel, or by texturing the metal in a way that creates a feeling of organic movement. Justin first developed his sandcasting technique over six years ago and it is this technique that gives the resulting piece an unusual and organic texture.
.justind.co.uk
Yen
Proud of her Vietnamese heritage and complemented by an early childhood spent in Wales, Yen takes delight from a diverse upbringing. Upon graduation from Sir John Cass in 1995, innovation drove her creative direction. Yen Jewellery, established in 1996, retains an uncompromising passion for thought-provoking design. Experimentation and re-creation enable the collections to remain fresh and contemporary. Yen Duong expresses her passion for art and design through jewellery. The core of the design process is to create jewellery that embodies comfort and radiates confidence when the distinctive pieces are worn. Yen's designs are engaging, the tactile nature of the jewellery invites touch and interaction. The physical movement and visual fluidity in her designs encapsulate a rare intriguing quality. Twenty three years on, Yen's work is still sold directly to her loyal customers from her central London studio in Bloomsbury. Prestigious exhibitions and galleries include Sotheby's, The Goldsmiths' Company and The Crafts Council, having also worked with Liberty of London, Selfridges and Harvey Nichols.
www.yenjewellery.com
Anne Morgan is an established, award-winning contemporary jeweller, specialising in handmade reticulated jewellery, a process that results in unique ridged and rippled textures on silver or gold. As well as her own work, Anne showcases striking pieces – made from a range of materials – by some of the UK's leading designers and makers at her jewellery shop and gallery in Penarth, in the Vale of Glamorgan. Alongside remodelling of old jewellery and commissions of new pieces, she also holds regular wedding ring workshops, allowing brides and grooms-to-be to design and make their own bespoke jewellery.
"At Anne Morgan Jewellery we create bold, beautiful & luxurious jewellery, showcasing unusual gemstones alongside textured silver and gold. Each piece is original and unique for the woman that wants to make a statement without saying a word."
Anne Morgan Jewellery, 10 Glebe St, Penarth CF64 1ED