Silent Protest - Political Jewellery by Mahtab Hanna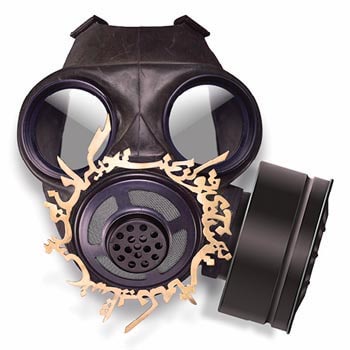 The P21 Gallery, London. NW1 1JD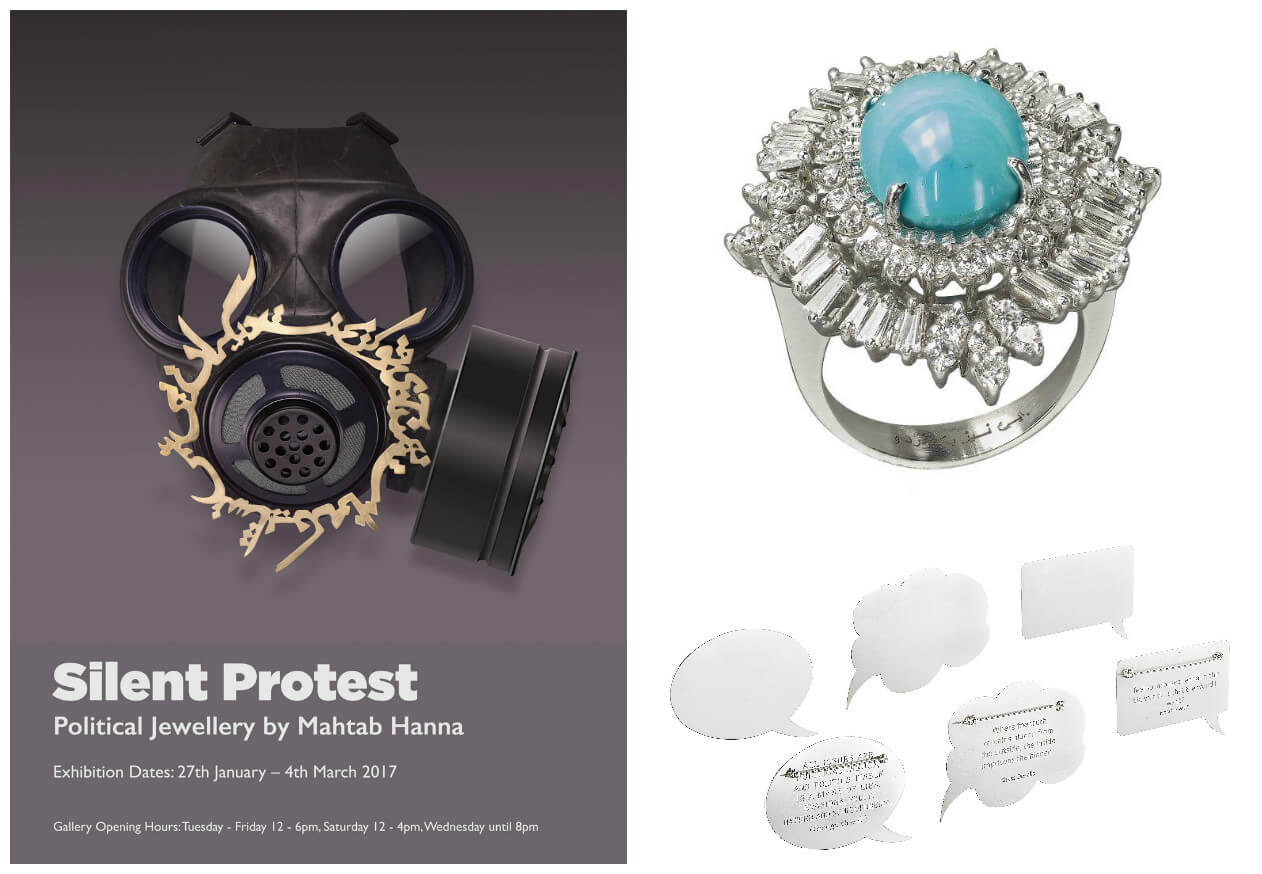 Silent Protest
Political Jewellery by Mahtab Hanna
Silent Protest is an interactive, thought-provoking and controversial show that fuses wearable art with social commentary.
Political jewellery is about perspective: the ability to transform an individual's or group's isolation and pessimism into a method of communication, to bring people together to share values, beliefs or ideals, in a single action.
War, identity, gender and consciousness are important themes within politics and therefore translate into interpreting political jewellery as progressive, oppressive or radical.
The beliefs of many can be divided: those who have invented messages, the patrons of the jewellery; those whose job is to proclaim and eulogise the meaning per a scripted message; and finally, the consumers, be they monopolists of thought or granters of freedom of thinking.
Whether it is a totalitarian state or regime, the politics and counter politics of jewellery illustrates the official and unofficial representation of power and struggle, and communication openly or covertly.
Silent Protest challenges the propaganda and the new world of 21st century protestation.
Jewellery is, at its purest, about the formation of community and communication, where individuality no longer must struggle to be heard above the din of cloned thinking.
Part evolution, Part revolution.
About the Artist
Mahtab Hanna is an award winning British jewellery artist and designer maker with a Persian heritage, whose designs are radically different from others – the cross pollinating of Eastern and Western history, culture, religion and politics play a large part in the inspiration process leading to her creations.
Mahtab gained her BA (Hons) from Sir John Cass (London Metropolitan University), MA from the Royal College of Art, and is undertaking her PhD in Jewellery at Central Saint Martins.
Talks Programme
All talks are free and take place at the P21 Gallery
Talk by Timothy Carson
8th February @ 6.30pm'
Punk? Are you serious!' Lecturer in Jewellery and Programme Leader BA Jewellery. Tim Carson produces badges and other works that explore questions surrounding authorship in conjunction with notions of misdirection and 'false' narratives. And if you were to deconstruct that work to identify the separate ingredients you'd find a bit of Punk, a smear of Dada, some Goons, a nod to Situationism, Jean Tinguely lurking, the dilapidated farm machinery of his youth and jokes that very much vary in quality.
Talk by Grant Gibson
22nd February @ 6.30pm
Grant Gibson is the editor of Crafts Magazine, and is UK-based design, craft and architecture writer whose contributions have been featured in The Observer, New Statesman, The Guardian, Daily Telegraph, FRAME, Dwell. Grant will be talking about the evolution of contemporary jewellery, and its future.
Talk by Mah Rana
1st March @ 6.30pm
Having graduated from the Royal College of Arts, (Jewellery) and from London Metropolitan University (Psychology), Mah Rana's work separates into distinct strands of research to include public participation, performance, arts and heath, that have several cross-over points; framed by a relational arts practice approach.
Mah Rana has worked closely with audiences through public participatory interventions. Using Jewellery is LifeTM as an umbrella title for work that is about the close relationship between people and jewellery.
Exhibition admission:
Free of charge
Exhibition run:
27th January – 4th March 2017
Gallery opening times:
Tuesday - 12-6pm
Wednesday - 12-8pm
Thursday - 12-6pm
Friday - 12-6pm
Saturday - 12-4pm
Sunday + Monday – Closed
Venue:
The P21 Gallery
21 Chalton Street
London
NW1 1JD