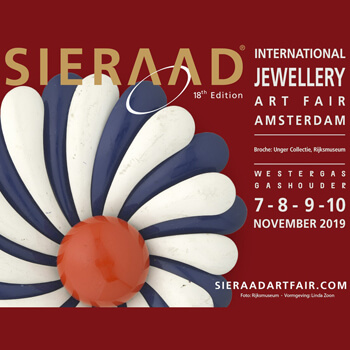 Gashouder WesterGasterrein, Amsterdam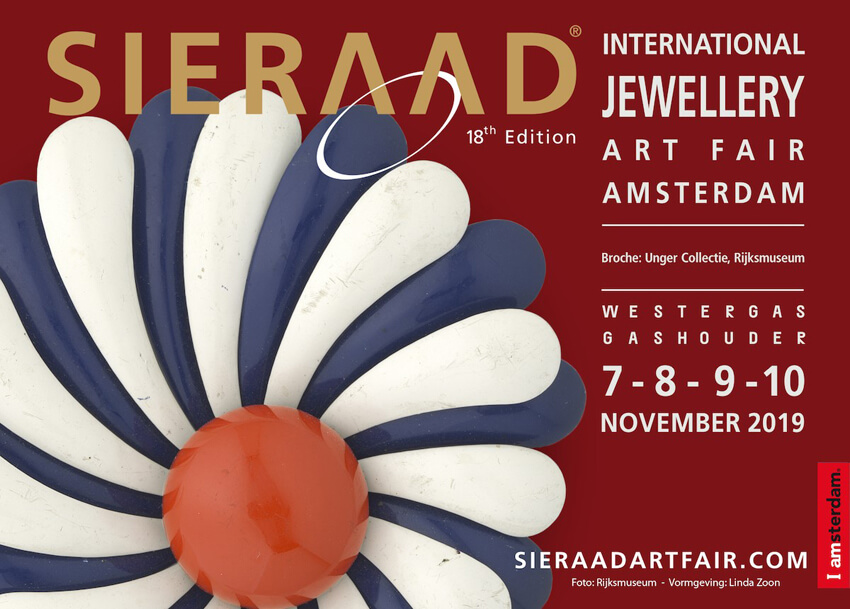 SIERAAD Art Fair 2019
7 - 10 October 2019
Gashouder WesterGasterrein, Amsterdam
The 18th edition of SIERAAD International Jewellery Art Fair will be held aa MARJAN UNGER TRIBUTE in cooperation with the Rijksmuseum Amsterdam.
Marjan Unger (1946-2018) was a well known Dutch art historian, writer, curator, teacher, design expert and a collector of jewellery but most of all a very dedicated promoter of jewellery design.
A warm, kind and humorous lady who was always curious and ready to cross boundaries. She was a reseacher, studied art history and completed her doctoral dissertation, but she also did an excellent job to place jewellery in its daily context. Her broad view on jewellery is reflected in her many publications of which the latest was called 'Jewellery Matters'. Also the title of a successful symposium held at the Rijksmuseum Amsterdam in autumn 2017 of which Marjan was one of the organisers. Marjan and her husband Gerard Unger (1942-2018), a world renowned typeface designer, donated a substantial collection of Dutch jewellery to the Rijksmuseum.
Sadly Marjan passed away last year.
A special exhibition of thirteen well known jewellery designers and their specific personal design that connects them with the versatile Marjan Unger.
The participating artists are: Melvin Anderson, Gijs Bakker, Paul Derrez, Mieke Groot, Maria Hees, Felieke van der Leest, Chequita Nahar, Willem Noyons, Evert Nijland, Ruudt Peters, Marleen Rameckers, Beppe Kessler and Ravage.
The MARJAN UNGER TRIBUTE will be curated by John de Greef, a fashion writer and dear friend of Marjan. He finds it heartwarming to receive so many enthusiastic reactions from the designers and to hear about the very special place Marjan Unger had in their careers. 'Everybody reacts with a sincere "It's a real honour to participate!". And the same is true for me!'
To add lustre to this edition of SAF there will be some special events and striking presentations.
SIERAAD is a very special fair where artists from all over the world sell their jewellery directly and in person to shops, galleries and consumers SIERAAD Art Fair presents; unique, personally designed and crafted pieces of jewellery Here, the emphasis is on jewellery as pieces of art in which ideas are packaged in materials such as rubber, textile, photos, plastics, wood or ceramics, as well as silver and gold. Also on display will be traditional pieces of art produced by contemporary silver and goldsmiths. Artist-designers from all corners of the globe, including highly talented emerging designers from internationally acclaimed academies, will be exhibiting exciting work not found anywhere else.
Dates and Times
Thursday November 7 October - 14.00 -21.00
Friday November 8 October -11.00 -18.00
Saturday November 9 October - 11.00 -18.00
Sunday November 10 October - 11.00 -18.00
Venue
SIERAAD ART FAIR
Gashouder WesterGasterrein
Klönneplein 1
1014 DD Amsterdam