Ruth Brown Jewellery Pop Up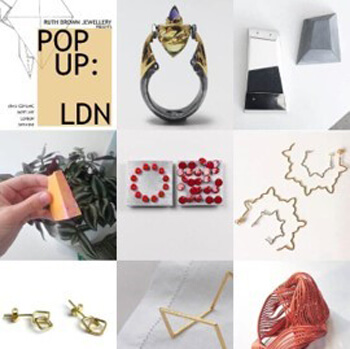 Pop Up: LDN
65a Sheen Lane, London
10 - 23 August 2018
'Pop Up: LDN' in Mortlake showcases innovative work by new and emerging makers across various design disciplines.
This August, Glaswegian Jewellery Designer/ Maker Ruth Brown will bring together a curated selection of new work by independent designers across a range of disciplines.
Alongside Ruth's own jewellery collection, the Pop Up will show a diverse range of work by designers: Douglas Pattison (Graphic Design and Illustration); Claire Scott (Ceramics); Aillie Anderson, Dominika Kupcova, Ellys Woods, Odette Jewellery, Shona Dobie, Sophie Daw, and Zoe Rogers (Jewellery and Silversmithing).
A recent graduate of The Glasgow School of Art, Ruth has a passion for contemporary design. She strongly believes in the importance of supporting small businesses, and the promotion of independent creatives.
"There are really exciting things happening at the moment in terms of British design. I see all of the amazing work that is coming out of art schools in the UK, but as a creative start up, it is really difficult to get a platform from which to launch your business, particularly when you are making contemporary, art jewellery as I -and so many of my peers- are. This show was conceived to be an independent, commission-free platform for my contemporaries to show and sell their work to new audiences, and to increase the profile of handmade, contemporary jewellery and design."
Ruth Brown Jewellery was established in 2016, following Ruth's studies at The Glasgow School of Art. Ruth's work is inspired by distorted and fragmented reflections in the urban environment, and explores illusion and perception through the sculptural frameworks of jewellery objects. She works primarily in precious metals and resin, to create work which echoes the allure of the intangibility of one's movement through a city. Ruth exhibits nationally, and is currently working towards her first international exhibition since graduating. She has previously hosted several pop up events and exhibitions in Glasgow, and is currently based in West Sussex, where she is Jeweller in Residence at Hurstpierpoint College.
Open
10th - 23rd August, from 11am- 7pm.
Venue
65a Sheen Lane
London
SW14 8AD