Electroforming Jewellery Workshop @ K2 Academy of Contemporary Jewellery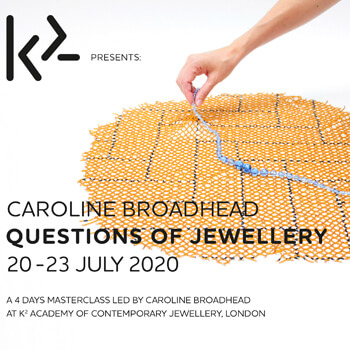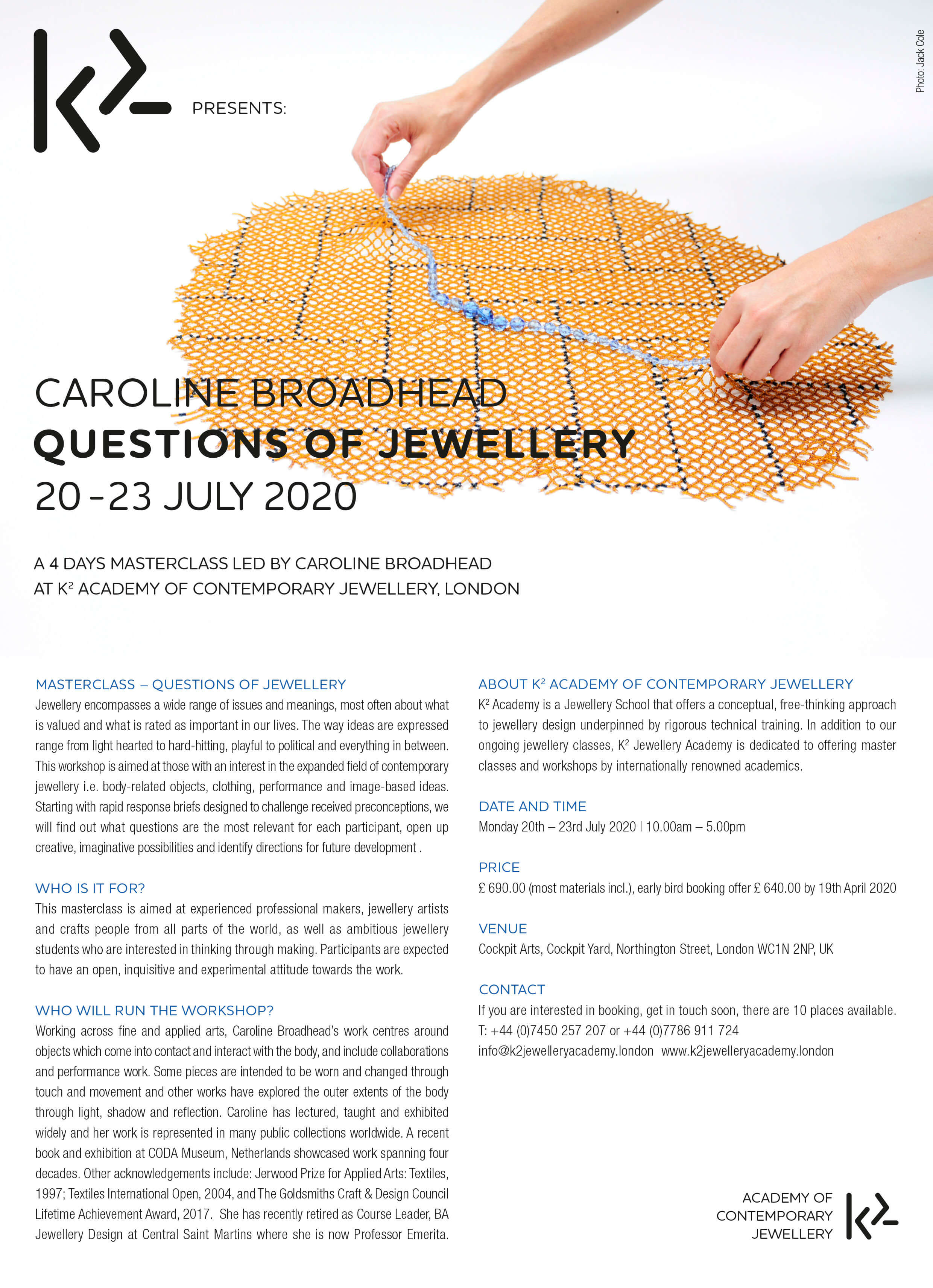 Caroline Broadhead: Questions of Jewellery
20 -23 July 2020
K2 Academy of Contemporary Jewellery
Masterclass - Questions Of Jewellery
Jewellery encompasses a wide range of issues and meanings, most often about what is valued and what is rated as important in our lives. The way ideas are expressed range from light hearted to hard-hitting, playful to political and everything in between. This workshop is aimed at those with an interest in the expanded field of contemporary jewellery i.e. body-related objects, clothing, performance and image-based ideas.
Starting with rapid response briefs designed to challenge received preconceptions, we will find out what questions are the most relevant for each participant, open up creative, imaginative possibilities and identify directions for future development.
Who Is It For?
This masterclass is aimed at experienced professional makers, jewellery artists and crafts people from all parts of the world, as well as ambitious jewellery students who are interested in thinking through making. Participants are expected to have an open, inquisitive and experimental attitude towards the work.
Who Will Run The Workshop?
Working across fine and applied arts, Caroline Broadhead's work centres around objects which come into contact and interact with the body, and include collaborations and performance work. Some pieces are intended to be worn and changed through touch and movement and other works have explored the outer extents of the body through light, shadow and reflection.
Caroline has lectured, taught and exhibited widely and her work is represented in many public collections worldwide. A recent book and exhibition at CODA Museum, Netherlands showcased work spanning four decades. Other acknowledgements include: Jerwood Prize for Applied Arts: Textiles, 1997; Textiles International Open, 2004, and The Goldsmiths Craft & Design Council Lifetime Achievement Award, 2017. She has recently retired as Course Leader, BA Jewellery Design at Central Saint Martins where she is now Professor Emerita.
About K2 Academy Of Contemporary Jewellery
K2 Academy is a Jewellery School that offers a conceptual, free-thinking approach to jewellery design underpinned by rigorous technical training. In addition to our ongoing jewellery classes, K2 Jewellery Academy is dedicated to offering master classes and workshops by internationally renowned academics.
Date And Time
Monday 20th - 23rd July 2020 | 10.00am - 5.00pm
Price
£690.00 (most materials incl.), early bird booking offer £640.00 by 19th April 2020
Venue
Cockpit Arts, Cockpit Yard, Northinghon Street,
London WC1N 2NP, UK
To book contact
info@k2jewelleryacademy.london
T: +44 (0)7450 257 207 / +44 (0)7786 911 724