NOËL – Designer Gifts Fair 2018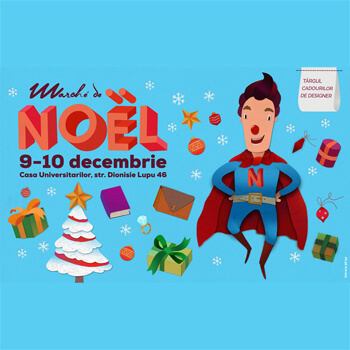 Casa Universitarilor, Strada Dionisie Lupu, nr. 46, București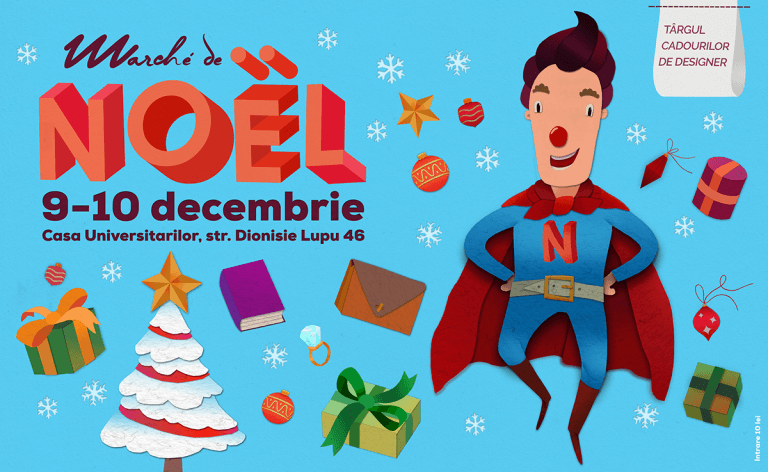 NOËL – Designer Gifts Fair 2018
9 - 10 December 2018
Over 80 designers attentively selected from Romania, Turkey, Bulgaria and Italy are welcoming you at the ninth edition of the designer gifts fair, NOËL – on 9th and 10th December, Casa Universitarilor, in Bucharest.

The longest-running and most selective designer gifts fair is inviting you on 9th and 10th December at Casa Universitarilor to seduce you and take you on a super-journey in the world of super-designer creations.
"With the occasion of the designer gifts fair's ninth edition, the image of NOËL is completed by the appearance of the super-hero NOËL. A funny, but kind character which will accompany us in the exploration of the creative designer gifts universe and will inspire us to be brave and confident about our choices. SUPER-NOËL plans to always be: New, Original, Enthusiastic, Loving, and through his superpowers to gather all that is authentic, unique and different for a surprising holiday season. All of this in a dreamy location in the center of Bucharest.", says Dan Piersinaru, the founder of NOËL concept.
Starting this year, NOËL is becoming international and you will have the opportunity to meet, for the first time, designers from Istanbul, Sofia and Merano, together with local designers from Bucharest, Timișoara, Cluj, Roșia Montană, Iași, Suceava, Brăilă, Constanța and Techirghiol.
During the two fair days, you can find the most authentic and creative Christmas presents for the special ones in your life and you can pick your choice from a variety of categories: fashion, jewelry, object design, accessories, decorations and natural cosmetics.
Similar to previous years, NOËL is keeping the social footprint and supports initiatives which want to revive places and crafts almost forgotten: Made in Roșia Montană – knitted accessories brand by 50 women living in Roșia Montană and the social workshop Cosânzeana, situated in Aninoasa (Dâmboviţa) and employing only workers from the region, thus creating jobs for those in need.
SUPER-NOËL is ready for action and is waiting for you to test your superpowers and begin the Christmas presents finding adventure, through the freshest creations of Romanian and International designers. He promises the perfect recipe for a fairytale weekend and a shiny winter!

Open
Saturday, 9th December: 11.00 – 20.00
Sunday, 10th December: 11.00 – 20.00
Location
Casa Universitarilor, Strada Dionisie Lupu, nr. 46, București
Tickets
10 Lei
de-autor/noel-designer-gifts-fair/