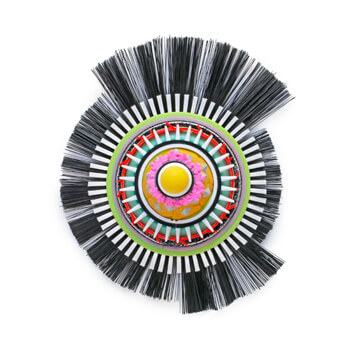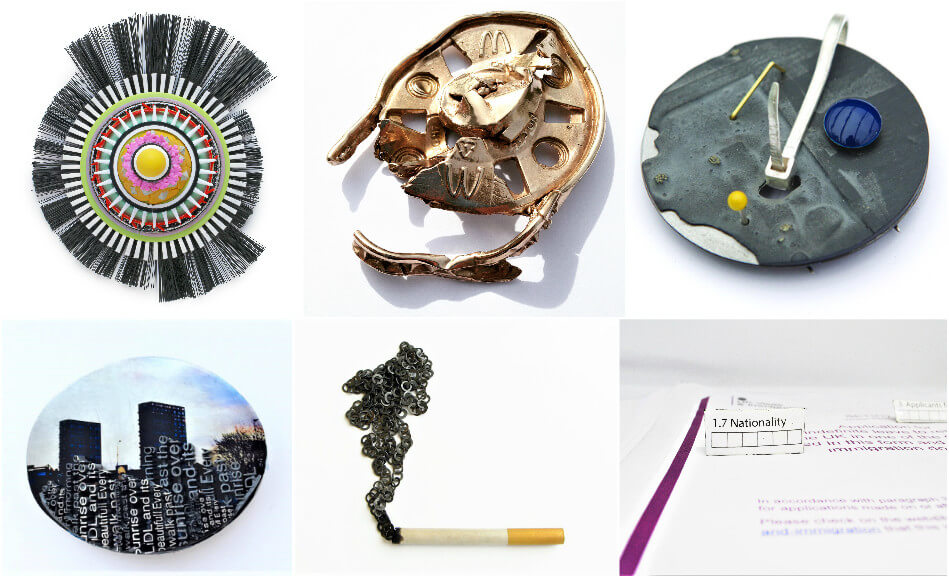 Modern Life…
Gill Wing Gallery
13 – 28 February 2018
Modern life is Gill Wing's 'New Year's Revolution', it's not about dramatic changes, vowing to be better, cleaner, healthier or trying to live up to an impossible ideal.
Modern Life for 2018 is about appreciating what already exists; the imperfect, the mundane. Being thankful for your home, wherever it may be, because you have one. Being thankful rather than guilty for your bad habits because you have the freedom to indulge them. Finding beauty and humour in everyday situations.
The gallery has selected 6 jewellers for their unique work investigating Modern Life in their own way. Joining the British jewellers are several international artists we met in Munich at the phenomenal gathering that is Munich Jewellery Week when jewellery lovers gather with a shared passion for wearing their hearts, (and values) on their sleeve.
Jonathan Boyd Glasgow/London
Jo Garner Dundee/London
Corrina Goutos New York/Hamburg
Akiko KuriharaTokyo/Milan
Holly O'Hanlon Galway/London
Christoph Ziegler Germany/Athens
Akiko Kurihara - Tokyo/Milan
Exploring the human spirit, Akiko's jewellery takes recognisable items from our daily life, recreating them in precious materials in playful ways. Often interactive or forming a visual pun these miniature wonders delight and also help us question what they mean to us. Akiko says;
"I expect that humor and wit in my work would connect me to the person wearing my piece, as well as to people seeing the piece."
From boobs to bombs, cigarettes to self medication these objects are part of our culture and have their own meaning to us in a modern language similar to how traditional jewellery motifs would have been in the past.
Corrina Goutos - New York / Hamburg
Corrina creates her "transient treasure" jewellery and objects as a souvenir for Generation Z, feeling a need for a permanent marker for an online culture. She takes discarded items found in the street to symbolise the lifestyle of the "selfie generation"; squashed coffee cups and flattened fast food packaging. These physical objects are the un-filtered truth left behind the perfect images, with a beauty of their own. Corrina captures their uniquely twisted forms casting them in metal using recycled silver and metals from other found objects like aluminium hubcaps and melts them in her own foundry in the rural outskirts of Hamburg making Corrina's work almost entirely manufactured and inspired by 21st Century human waste.
Christoph Ziegler - Germany / Greece
"Today's Trash is Tomorrow's Gold" - Christoph Ziegler
German artist Christoph Ziegler worked with sculpture, installation and performance before he became fascinated by jewellery. He finds the mobility of the medium offers the wearer the option to become an active part of the message implemented in each jewellery piece. A passionate recycler, the artist collects plastic trash wherever he finds it, washed up on Greek holiday beaches, flea markets, or on his travels to Hamburg, Berlin, Amsterdam - and assembles it into jewelry pieces. His series of concentric "Broom Brooches" refer to the shape and materiality of amulets and animistic jewellery of tribal cultures, replacing the organic, primitive components like bones, teeth, shells and animal hair with plastic fragments and synthetic broom bristles, questioning patterns of consumption and visualising a hypnotic throw-away culture.
Holly O'Hanlon Galway/London
Holly O'Hanlon is a new graduate from Central Saint Martins already achieving recognition. Fixing a moment forever with a golden pin, Holly's unique jewellery compositions draw attention to the overlooked and mundane details of our surroundings which we often miss on our daily journeys. Her assembled slate and steel layers are textured and marked to evoke the patterns building up from signs and posters being pasted, torn and weather worn. Their messages and information was time sensitive, replaced, faded and disintegrating, but she makes these remaining traces permanent and precious using solid gold staples and hand-enameled silver drawing pins to fasten them in place. "Framing the unseen and relocating it on the body, giving a new mantle to the unseen and unappreciated."
Jo Garner - Dundee / London
Scottish jeweler Jo Garner freshly completed her MA at the Royal College of Art in 2017 following nearly ten years as a jeweler in Scotland following her degree at Duncan of Jordanstone in Dundee in 2007. Witnessing the huge effect of the EU referendum across the nation from the capital city the artist felt moved to document those who were making their views public;
"Badges create a public display of our affiliations and serve to bolster our feelings of connectedness and belonging whilst asserting pride in your associations. We are living through times of extreme disconnect and division in terms of our political allegiances thus making the accessories we wear even more loaded. My Visa application badges look particularly at government categorisation and how that affects our sense of belonging. Statements and questions taken from UK Visa and refugee applications, designed to categorise us. Dividing us by age, income, country of birth, sex etc they group us in a way which is purely factual, emotionless and yet poignant." - Jo Garner.
Jonathan Boyd - Glasgow / London
"Every morning on my way to work I walk past the sunrise over Lidl and it is beautiful" - Jonathan Boyd
Senior tutor in jewellery & metalwork at the Royal College of Art, Jonathan's work combines intensely researched concepts with complex casting techniques. Using images and text from films made around the city, Jonathan is currently exploring how language and environment overlap and ways that the city and our surroundings can shape and define us. Jonathan's thought provoking pieces have joined museum collections worldwide, believing that as an art form jewellery connects with us on a visceral, emotional level and we embed memories in the objects we choose to adorn us. For him, jewellery is a perfect medium for exploring the human experience, the largest project being the Medals and memorabilia he designed for the 2014 Commonwealth games, seen by over 2 million people.
Modern Life…
Gill Wing Gallery
13 – 28 February 2018
182 Upper St, London N1 1RQ