Making Impact - Ethical Jewellery Conference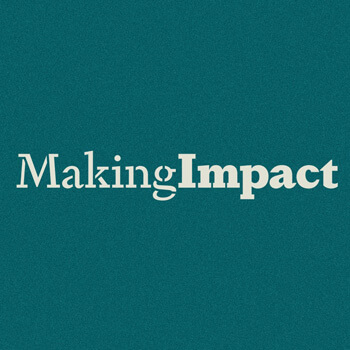 Edinburgh College of Art, The University of Edinburgh
Making Impact - Ethical Conference
Presented by The Incorporation of Goldsmiths and Fair Luxury
Edinburgh College of Art, The University of Edinburgh
3 April 2019
The Incorporation of Goldsmiths and Fair Luxury are partnering once again – this time for Making Impact – a conference for jewellers and silversmiths to explore how the UN Sustainable Development Goals (SDGs) relate to jewellery and metalwork practice in the UK. More and more businesses are using the SDGs to help them prioritise and communicate areas for social, environmental and economic impact and we will be looking at how they can become a set of tools to enable us to make a positive impact in our field and in our practice.
From innovative product packaging to sourcing materials from unexpected places, we want attendees to start thinking outside the box for how they can do more with less.
Subjects and Speakers include:
Keynote speaker – Emily Auckland from the UK Stake Holders for Sustainable Development (UKSSD). UKSSD is a cross-sector network of organisations who work together to drive action on the UN sustainable development goals in the UK.
Simon Forrester on the National Association of Jewellers Better Business Pathway
Stuart Pool will talk about the GIA (Gemmological Institute of America) and PACT Tanzania Project, helping artisanal women miners in Tanzania build better livelihoods.
Dr Sandra Wilson – Urban Gold Rush: Recovering precious metals from electronic waste.
Hannah Bedford and Stephanie Cheong talk about Ethical Jewellery in Practice.
Plus updates from the Incorporation of Goldsmiths Ethical Making Programme, news from other industry bodies and jewellers about their ethical making journey
Date and Time
Wednesday 3 April 2019 9:00 – 18:30
The conference formally ends at 17.00; please join us afterwards for a chance to chat and network over a glass of wine until 18.30.
Location
Edinburgh College of Art, The University of Edinburgh
West Court Lecture Theatre
ECA Main Building
74 Lauriston Place
Edinburgh
EH3 9DF
Refreshments
Refreshments will be served through the day although delegates will be required to bring or buy their own lunch.
For More Event Details
Click here for event details, booking and directions
For the welcome reception the evening before the conference, click here
To Book
The Eventbrite links
Conference - www.eventbrite.co.uk
Welcome Event - www.eventbrite.co.uk
www.incorporationofgoldsmiths.org